Earth Week at Husson University Features a Campus Clean-Up, Seedling Plantings, a Farmers Market and More
Published on: April 21, 2022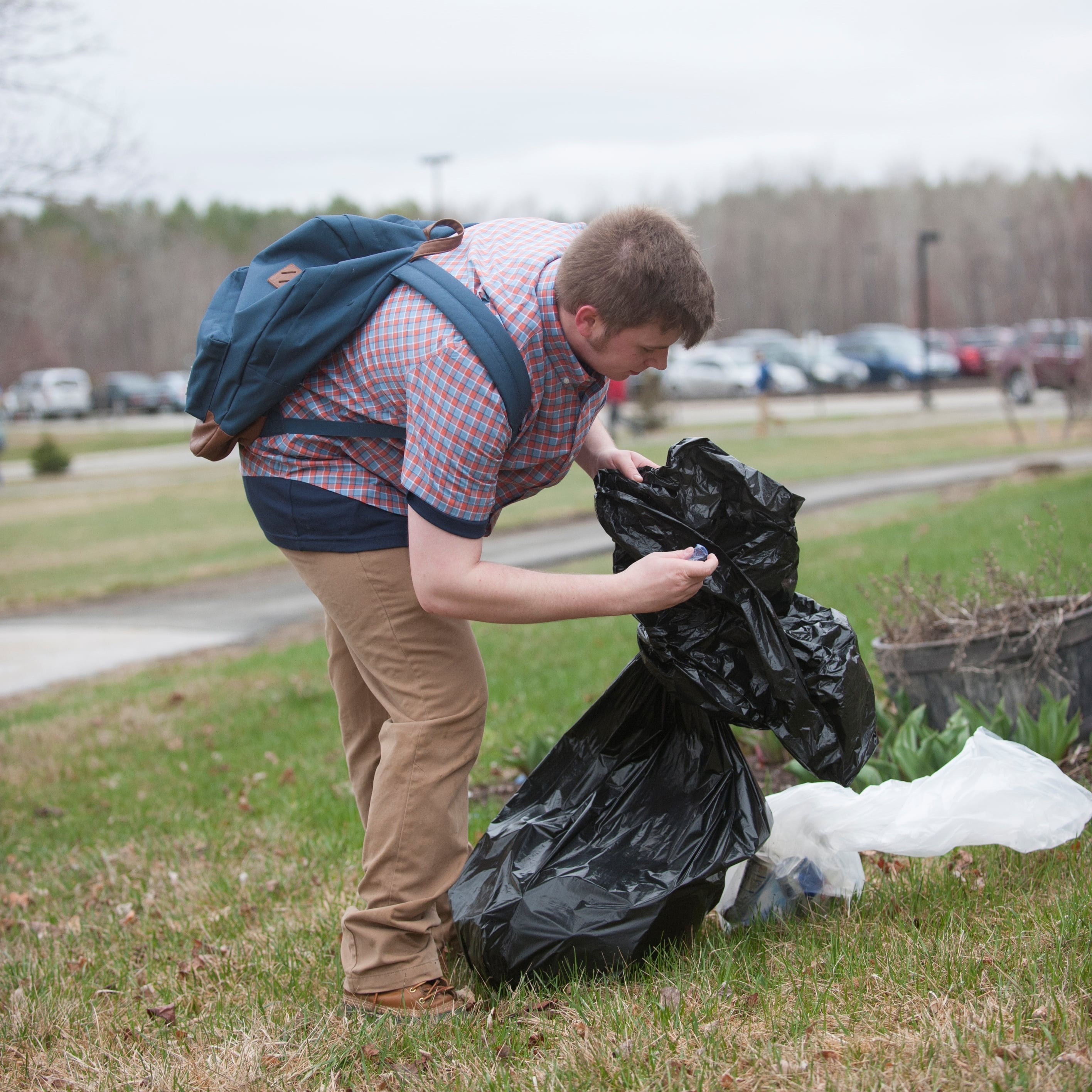 BANGOR, MAINE – Husson University released its full schedule of Earth Week related events this week. The events are designed to help protect the environment and increase ecological awareness on campus. Included in this five-day Earth Week celebration are two events where members of the campus community can explore their surroundings:
The first of these is a Nature Scavenger Hunt that runs from now until Earth Day on April 22, 2022. To participate, individuals go outside and visit places in the Bangor area. They then upload a selfie of themselves at each site they visit. The scavenger hunt list includes the Bangor City Forest, Penobscot River Walkway, Acadia National Park and numerous other scenic outdoor locations.  Each location visited earns the student additional chances in a raffle. 
Another event is the Nature Photography Contest, where participants submit their best pictures from nature. A panel from Husson Student Life and the art department will select their favorites with the top three photographs being framed, displayed and returned to the winners. The individuals who take the best picture will also receive a $25 gift card to Michaels in Bangor.
On April 21 from 11 a.m. – 2 p.m., artist Alison Dibble was at the University to answer questions about "Greenland Ice Sheet Imagined," a painting exhibition currently on display at the Robert E. White Gallery, adjacent to the Campus Center. "The paintings in this exhibition show a vast, forbidding place, where the rate of melting has reached new records due to global warming," said Dibble.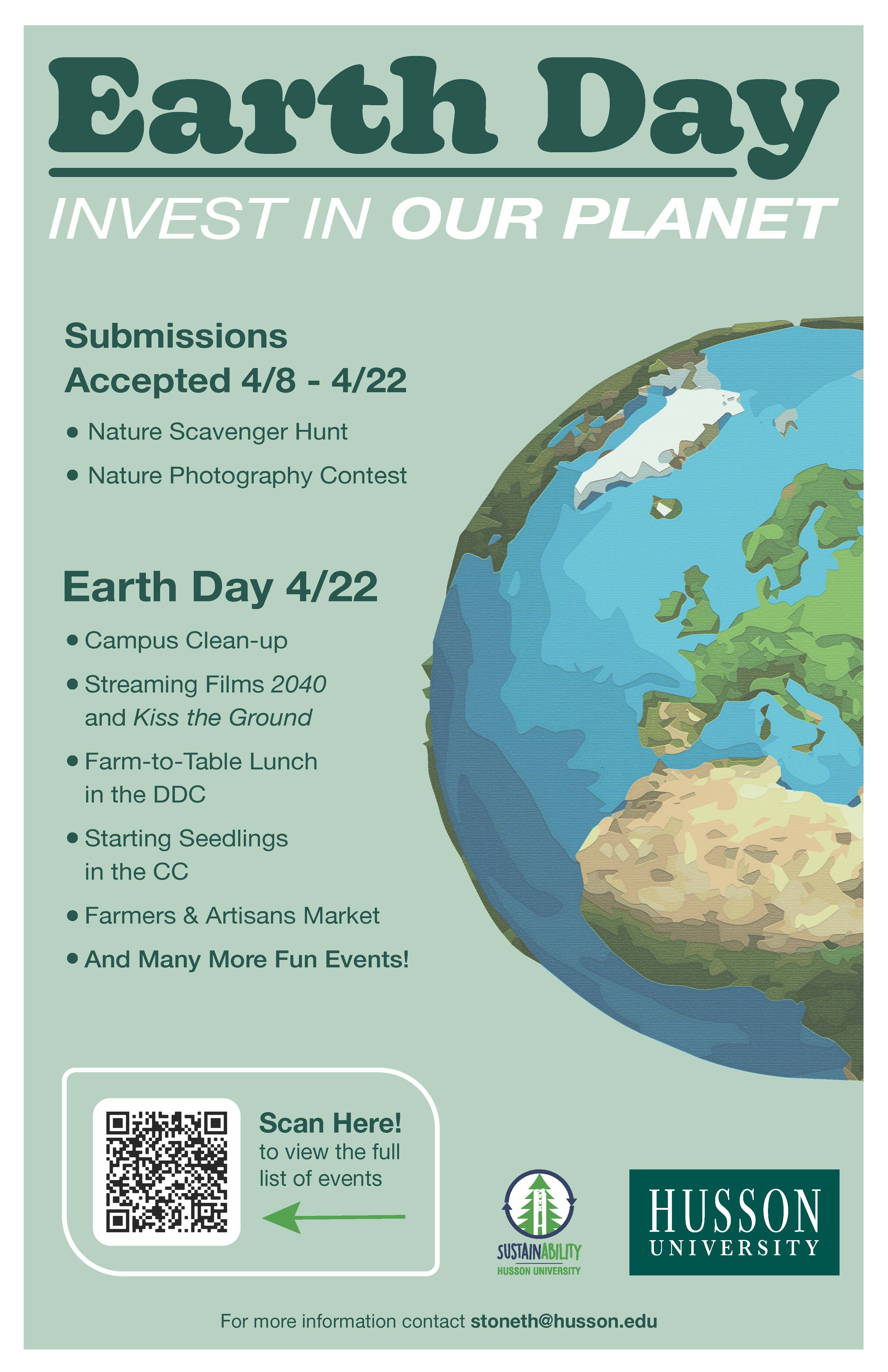 Other events are specific to Earth Day on Friday, April 22, 2022 and include:
A Book and Puzzle Exchange. From 11 a.m. – 2 p.m. in the Campus Center, students from the English/creative writing group "Get Lit" will host a free book and puzzle exchange. Individuals can choose a used book or puzzle for themselves and leave a book or puzzle for others.
Farmer and Artisans Market. Local growers and crafters will be on the patio outside of the Campus Center sharing their wares from 11 a.m. – 2 p.m. Participating vendors included faculty and staff who farm, garden, bake, cook (jams, jellies, etc.), create recycled clothing and household goods, knit, and weave.
The Gratitude Flag Project. The Art & Design Club is inviting individuals to come to their table in the Campus Center and create their own small flags from 11 a.m. – 2 p.m. in the Campus Center. The flags will symbolize what the individual is grateful for. This can include things like "clean water," "trees," or "clean air." Individuals can draw, write or use objects to represent their feelings of gratitude.        
Campus Clean-Up. Participating students will be provided with gloves and bags to pick up trash they find on campus. The event is hosted by the University's Environmental, Health and Safety Office. The event will run from 11 a.m. – 2 p.m. Participants will meet in the Campus Center to get their materials before heading outside.
E-Waste Recycling. Anyone with outdated personal electronics they need to dispose of is welcome to bring these items to campus for collection and recycling. For more details on what kinds of items can be accepted, please contact Wynne Guglielmo, Husson University's environmental, health and safety compliance officer at guglielmow@husson.edu or 207.941.7853.
Environmental Science Database. The Husson University library has compiled all of their books, journals, films, databases and other environment science resources into one easy website search. Anyone interested can visit the library during normal operating hours to access the database.
Film Streaming. From now until April 2023, students will be able to access the streaming films "Kiss the Ground" and "2040." There is no charge for Husson students to view these films online during the next year.
Seedlings. Student Life, Student Government, and the Husson Garden are providing the supplies necessary for members of the Husson community to plant and grow their own succulents, tomatoes, basil and sunflowers. Seedlings can be picked up on April 22, 2022 from 11 a.m. – 2 p.m. in the Campus Center.
Microlending. Husson University has an active microlending program that anyone can participate in. Participants can lend a small about of money to individuals in other countries and help support agricultural, educational, environmental and other initiatives.   
Earth Day Themed Club Fair. At this fair, students can learn more about campus clubs they can join that have an impact on the environment. This can include clubs devoted to sustainable housing construction, therapy in nature, or environmental education and awareness. Like other Earth Day events, this one will be taking place from 11 a.m. – 2 p.m. in the Campus Center.
Lunch. Husson University's Dining Services team will be offering the campus community the opportunity to partake of a farm to table lunch in the Dickerman Dining Commons. The food being offered during lunch will all come from local growers and producers. 
Reduce, Reuse and Recycle. Disposable cups are filling our landfills. To address this issue, the bookstore is selling reusable water bottles and travel mugs all day on Earth Day. Purchasing one of these items can help cut down on the amount of waste being produced by all of us.
In addition to all of these events on Earth Day, students and other members of the Husson community can join The Friends of Acadia as part of the National Park Clean-Up. On Saturday, April 30, starting at 8:30 a.m., students can join members of the Husson Hiking Club in helping out with the annual road cleanup in and around Acadia. 
To help meet the increasing demand for knowledgeable environmental science professionals who can address global warming, Husson University offers a concentration in environmental sciences as part of its Bachelor of Science in biology degree. The program is designed to provide students with a strong, broad-based foundation in the natural and physical processes that affect the functioning of our planet, as well as the social and political factors that influence environmental policy and management.
The degree is ideal for anyone interested in positions with local, state, and federal government agencies, private environmental organizations, or educational institutions with scientific or policy-related environmental disciplines.
Earth Day began on April 22, 1970, when millions of people protested the negative impacts of 150 years of industrial development.[1] Evidence was growing that pollution led to developmental issues in children.[2] Biodiversity was in decline as a result of the heavy use of pesticides and other pollutants.[3] Today, Earth Day is a global event. It is estimated that more than 1 billion people in 192 countries take part in what is now considered the largest civic-focused day of action in the world.[4] It has become a day of political action and civic participation.[5] People march, sign petitions, meet with their elected officials, plant trees, clean up their towns and roads.[6] For more information, visit https://www.earthday.org/about/.
For more than 120 years, Husson University has shown its adaptability and strength in delivering educational programs that prepare future leaders to handle the challenges of tomorrow through innovative undergraduate and graduate degrees. With a commitment to delivering affordable classroom, online and experiential learning opportunities, Husson University has come to represent a superior value in higher education. The hallmarks of a Husson education include advanced knowledge delivered through quality educational programs in business; health and education; pharmacy studies; science and humanities; as well as communication. According to a recent analysis of tuition and fees by U.S. News & World Report, Husson University is one of the most affordable private colleges in New England. For more information about educational opportunities that can lead to personal and professional success, visit Husson.edu.
[1] "What is Earth Day, and what is it meant to accomplish?" Earth Day Network, Washington, D.C. https://www.earthday.org/earthday/, as of April 15, 2019.
[2] Ibid
[3] Ibid
[4] Ibid
[5] Ibid
[6] Ibid
Back to All Articles