Voting on Husson University's Campus Up in 2020
Published on: November 2, 2021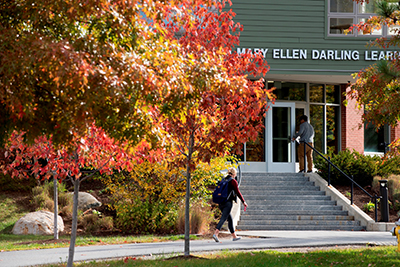 BANGOR, MAINE – Today, Husson University reported that student voting on its campus increased by 6.2% during last year's presidential election, rising to 64.5% in 2020 from a rate of 58.3% in 2016.
"While Husson University has no institutional political affiliation, we encourage our students to exercise their right to vote and actively work to improve their communities," said Pamela Kropp-Anderson, dean of Student Life. "Students learn what it takes to become responsible citizens by participating in democracy."
Today's report comes from the Institute for Democracy & Higher Education (IDHE), creators of the National Study of Learning, Voting, and Engagement, or NSLVE. Nationwide, the study's authors report a record-breaking set of findings. IDHE is located at Tufts University.
On campuses across the country, students built on the momentum swing of 2018 and voted at higher rates in the 2020 election, with voter turnout jumping to 66% in last year's presidential election. The 14 percentage point increase, from 52% turnout in the 2016 election, outpaces that of all Americans, which jumped 6 percentage points from 61% to 67%, according to the U.S. Census Bureau.
"That students, often younger and first-time voters, turned out at rates commensurate with the general public is nothing short of stunning," said IDHE Director Nancy Thomas. "We attribute this high level of participation to many factors, including student activism on issues such as racial injustice, global climate change and voter suppression, as well as increased efforts by educators to reach students and connect them to the issues and to voting resources." 
"Husson University's Gracie Theatre has become a preferred location for debates. Candidates for public office like the thoughtful and informed questions our students pose," said Lynne Coy-Ogan, senior vice president for academic affairs and provost. "Through reasoned political debate, students better understand the implications of their votes and how their participation in democracy affects change. Here at Husson, our students learn the importance of making informed decisions based on candidates' policy positions through experiential learning."
IDHE's National Study of Learning, Voting, and Engagement (NSLVE, pronounced n-solve) is the nation's largest study of college and university student voting. Institutions must opt-in to the study, and at this time, nearly 1,200 campuses of all types—community colleges, research universities, minority-serving and women's colleges, state universities, and private institutions—participate. The dataset reflects all 50 states and the District of Columbia and includes 49 of the nation's 50 flagship schools. IDHE uses de-identified student records to ensure student privacy. The 2020 dataset is robust with 8,880,700 voting-eligible students representing 1,051 colleges and universities.
For more than 120 years, Husson University has shown its adaptability and strength in delivering educational programs that prepare future leaders to handle the challenges of tomorrow through innovative undergraduate and graduate degrees. With a commitment to delivering affordable classroom, online and experiential learning opportunities, Husson University has come to represent a superior value in higher education. The hallmarks of a Husson education include advanced knowledge delivered through quality educational programs in business; health and education; pharmacy studies; science and humanities; as well as communication. According to a recent analysis of tuition and fees by U.S. News & World Report, Husson University is one of the most affordable private colleges in New England. For more information about educational opportunities that can lead to personal and professional success, visit Husson.edu.
Back to All Articles