The Fourth Annual Walk for Warmth 5K
Published on: March 1, 2021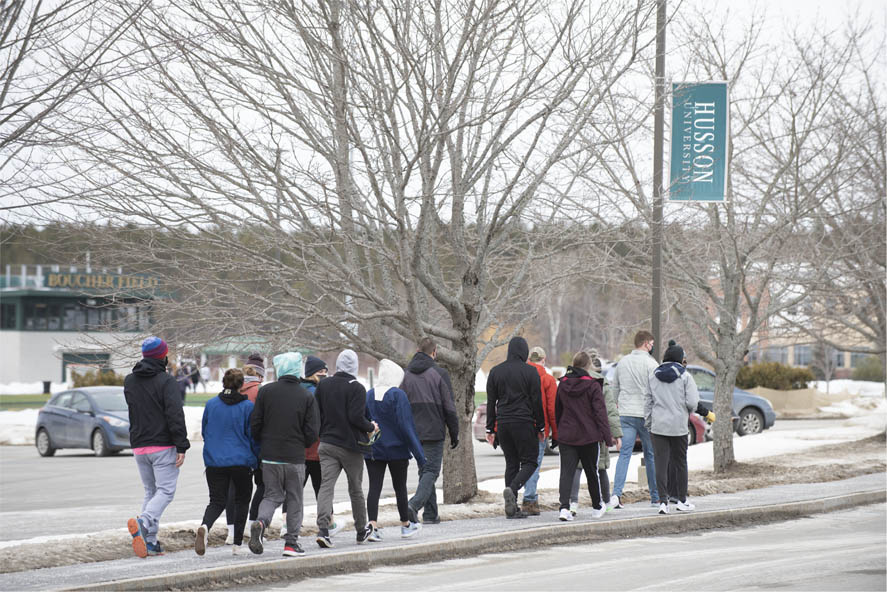 BANGOR, MAINE - Husson University Student Government, in partnership with the United Way of Eastern Maine, sponsored their fourth annual Walk for Warmth on Saturday, February 27, 2021. The walk took place on the University's Bangor, Maine campus at 1 College Circle.
Participants who were interested in registering for the five kilometer (5K) fun run and walk did so online by completing the form at https://www.raceentry.com/races/walk-for-warmth/2021/register prior the event. Individuals were also able to donate to this event from the webpage. For those who preferred to register the day of the event, cash only on-site registrations were open from 9:30 a.m. – 10:00 a.m. immediately prior to the Walk for Warmth. On-site registrations took place at Husson University's Newman Gymnasium.
The walk began at 10 a.m. Participants had the option to complete one, two or the full three miles.
"The pandemic created economic hardships for numerous Maine families this year," said Emma Grodan, the president of Husson University Student Government and a senior pursuing a dual bachelor's and master's degree in criminal justice administration with certificates in paralegal studies and national security. "Having heat during the winter is a basic need. This was a fun and healthy way to give back to the community. I urged every Husson student I knew to participate."  
As of Monday, February 15, 2021, the average Maine retail heating fuel price for home heating oil was $2.42 per gallon for Eastern and Downeast Maine[1]  Filling an average-sized 275-gallon residential fuel oil tank at that price would cost over $665 and most families need to have fuel oil delivered more than once to get through the winter. Nearly two-thirds of Maine households use fuel oil as their primary energy source for home heating, more than any other state in America.[2]
Registration was $10 for all participants. A limited number of t-shirts were available for purchase at the end of the race.
The total money raised by this event from registration fees, individual donations and t-shirt sales exceeded $1,000. The United Way of Eastern Maine will distribute this money to local families in need of heating assistance.
In addition to receiving community service credit toward their degree, Husson students who participated in the Walk for Warmth received tickets to put into this year's "Winter Week" drawing for Dysart's Restaurant gift cards.
For more than 120 years, Husson University has shown its adaptability and strength in delivering educational programs that prepare future leaders to handle the challenges of tomorrow through innovative undergraduate and graduate degrees. With a commitment to delivering affordable classroom, online and experiential learning opportunities, Husson University has come to represent a superior value in higher education. The hallmarks of a Husson education include advanced knowledge delivered through quality educational programs in business; health and education; pharmacy studies; science and humanities; as well as communication. According to a recent analysis of tuition and fees by U.S. News & World Report, Husson University is one of the most affordable private colleges in New England. For more information about educational opportunities that can lead to personal and professional success, visit Husson.edu.
[1] Governor's Energy Office, "Current Heating Fuel Prices," http://www.maine.gov/energy/fuel_prices/
[2] US Energy Information Administration (EIA), "Maine", https://www.eia.gov/state/analysis.php?sid=ME Information is based data from the U.S. Census Bureau, All states, Table B25040, House Heating Fuel, 2018 American Community Survey 1-Year Estimates.
Back to All Articles