Husson University Announces Major Commitment to Online Education
Published on: March 7, 2020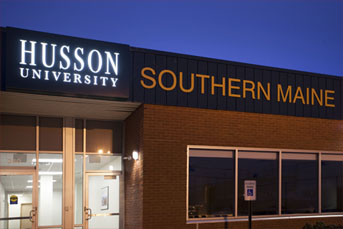 Recognizing the significant opportunities represented by its online educational offerings, Husson University announced today that it will be moving forward with a strategic initiative to extend its online educational outreach. This move represents a transition in its focus, as the University seeks to strengthen its educational offerings for Southern Maine and with students who reside out of state. 
"The market and technology have changed dramatically since Husson University first began serving the greater Portland area. Nationally, students have become very comfortable taking classes online," said Husson University President Robert A. Clark, Ph.D. "Online education has given us the ability to reach students in locations who would otherwise not be able to attend traditional classroom offerings."
The shift toward prioritizing online education is in response to consumer demand. The convenience of online degree offerings has made it our most popular educational modality among non-traditional students. Lynne Coy-Ogan, Ed.D., senior vice president for academic affairs and provost notes that, "This is a move forward. Through modern technology, it's no longer necessary to always have physical classroom space in various locations in order to provide coursework to students." 
Responding to the growing demand and rapidly increasing popularity of online education among students, Husson University plans to transition its Southern Maine operations to its online division, where all current Southern Maine students will be afforded the opportunity to complete their degree programs. 
This transition will include the sale of Husson's Southern Maine property located at 340 County Road in Westbrook, Maine. Students enrolled in courses at the Westbrook facility will be able to continue their studies online, beginning at the end of the current spring semester. This will ensure that no classes currently underway at the facility are disrupted.
"We remain strongly committed to the Southern Maine educational market. Based on continued student input, we feel this strategic shift to increased online offerings will allow us to better serve our students' needs and expand awareness of Husson's educational programs in Southern Maine," continued Clark.
The movement toward online education will be supported in the coming years by the new College of Business building on the University's Bangor campus. The advanced technology in this new facility will allow Husson University to better leverage the power of online education and serve the needs of Maine and beyond. Husson University is the home of Maine's largest College of Business. More students choose to get an MBA from Husson University than any other College of Business in Maine. The infrastructure upgrade in this new building will allow the University to expand its delivery of programs to a broader audience in a manner that supports its educational mission.  
Husson's experience in online education parallels national trends. According to Coy-Ogan, "Husson has experienced significant growth in the number of Southern Maine students taking their classes online or in a hybrid format that combines online and classroom instruction. This includes the continued growth of our MBA cohort program, where we work with companies such as L.L.Bean and Bangor Savings Bank to design an MBA experience specific to the needs of their employees." Husson will continue to work with corporate partners to deliver specialty-designed programs at corporate sites. Those corporations interested in customized programs should contact Dr. Marie Hansen, J.D., Ph.D., SHRM-SCP, dean of Husson University's College of Business and New England School of Communications (NESCom) by phone at 207.973.1081 or by email at hansenm@husson.edu.
"Growth brings change. While we wish we could accomplish this move without any disruption to students or staff, the current strength of the real estate market in the Portland area has convinced our Trustees that now is the time to transition our current physical presence in Southern Maine to a new model of delivery that offers students and their employers the continued quality education Husson is known for," said Clark. 
For more than 120 years, Husson University has shown its adaptability and strength in delivering educational programs that prepare future leaders to handle the challenges of tomorrow through innovative undergraduate and graduate degrees. With a commitment to delivering affordable classroom, online and experiential learning opportunities, Husson University has come to represent a superior value in higher education. The hallmarks of a Husson education include advanced knowledge delivered through quality educational programs in business; health and education; pharmacy studies; science and humanities; as well as communication. According to a recent analysis of tuition and fees by U.S. News & World Report, Husson University is one of the most affordable private colleges in New England. For more information about educational opportunities that can lead to personal and professional success, visit Husson.edu.
Back to All Articles