Greater Fort Kent Area Chamber of Commerce and Husson University Sign MBA Incentive Agreement
Published on: February 18, 2020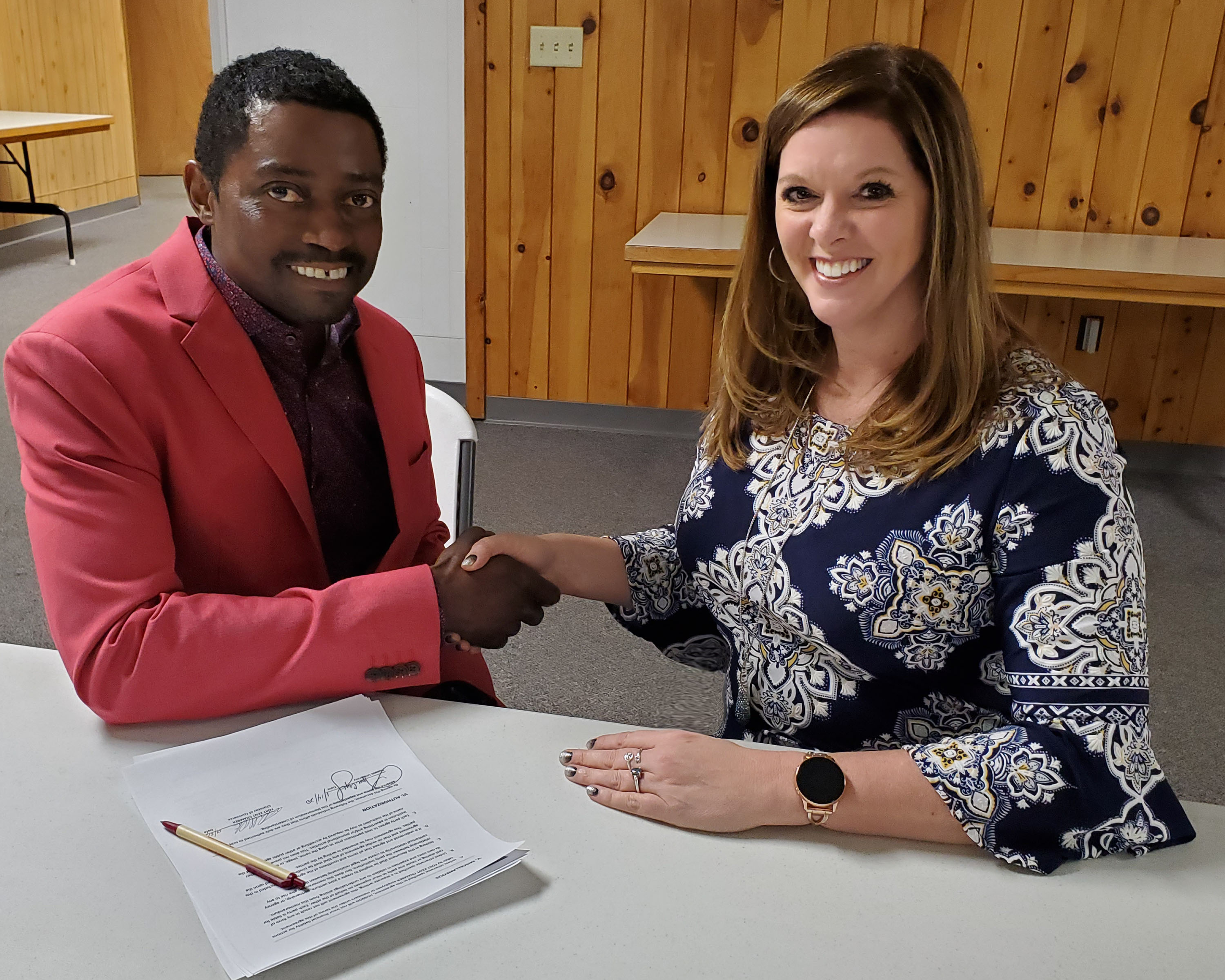 Greater Fort Kent Area Chamber of Commerce President Darnell Oliver with Jennifer Flynn, M.Ed., director of Husson University's Northern Maine Campus in Presque Isle
BANGOR, MAINE – The Greater Fort Kent Area Chamber of Commerce and Husson University announced today that they have signed an agreement to provide all of the Chamber's employees and the employees of their member organizations, who enroll in any of the University's Master of Business Administration (MBA) programs, with a 10% tuition discount.
"Since 1946, the Greater Fort Kent Area Chamber of Commerce has worked to support the economic and community development of the Upper St. John Valley. Their mission to 'promote and advance a healthy business environment' includes making educational opportunities available to their members. Husson University is proud to work with the Chamber to provide their members with access to an affordable business education that can help increase economic growth and prosperity in Aroostook County," said Jennifer Flynn, M.Ed., director of Husson University's Northern Maine Campus in Presque Isle.
The 10% reduction in tuition costs applies to all of Husson University's MBA programs. These include the traditional Master of Business Administration (MBA) degree with a general/corporate focus and Husson MBA programs with concentrations in biotechnology and innovation, data analytics, healthcare management, hospitality management, organizational management and risk management.
"The Upper St. John Valley is full of progressive thinkers who are open to trying new things," said Greater Fort Kent Area Chamber of Commerce President Darnell Oliver. "The high-quality education offered by Husson University can help local area business leaders and employees improve their processes, products and profits. Successful businesses enhance the economic strength of our region. I encourage every businessperson who wants to grow personally and professionally to consider getting an MBA from Husson University."
Any employees working for the Greater Fort Kent Area Chamber of Commerce and its member organizations, who have completed a bachelor's degree from a recognized, accredited institution, are eligible to enroll in Husson's MBA programs. This includes individuals who have completed bachelor's degrees in disciplines other than business. To assist these students, Husson will offer a leveling course or courses that can be taken online. This will provide these students with the background business education they'll need to successfully complete their MBA studies.
In addition, any Chamber members' employees who have completed some graduate coursework are welcome to apply for transfer credit. Individuals interested in applying transfer credits to their MBA program should contact Husson University Graduate Admissions by calling them at (207) 404-5661 or emailing them at graduateschool@husson.edu. They are also more than happy to answer any other questions individuals may have about this program and the admissions process.
"Husson University has provided business education for 122 years. We can provide students with the knowledge they need to take their careers and their organizations to the next level," said Dr. Marie Hansen, JD, SHRM-SCP, dean of the College of Business. "We offer students an incredible value - a high quality education at an affordable price. That's makes Husson University the smart choice for business education."
"That's why more students choose to get their MBA education from Husson University than any other business school in Maine," continued Hansen. "Husson University is the home of Maine's largest College of Business, with over 1,400 students enrolled in our business programs."
The mission of the Greater Fort Kent Area Chamber of Commerce is to promote and advance a healthy business environment through tourism, economic vitality and community development while preserving the region's rich cultural heritage. The Greater Fort Kent Area covers a significant section of the Upper St. John River Valley and includes the communities of Allagash, Cross Lake, Eagle Lake, Fort Kent, Frenchville, New Canada, Portage Lake, St. Agatha, St. Francis, St. John, Sinclair, Wallagrass and Winterville. Learn more at FortKentChamber.com.
For more than 120 years, Husson University has prepared future leaders to handle the challenges of tomorrow through innovative undergraduate and graduate degrees. With a commitment to delivering affordable classroom, online and experiential learning opportunities, Husson University has come to represent superior value in higher education. Our Bangor campus and off-campus satellite education centers in Southern Maine and Northern Maine provide advanced knowledge in business; health and education; pharmacy studies; science and humanities; as well as communication. In addition, Husson University has a robust adult learning program. According to a recent analysis of tuition and fees by U.S. News & World Report, Husson University is one of the most affordable private colleges in New England. For more information about educational opportunities that can lead to personal and professional success, visit Husson.edu.
Back to All Articles