Husson University Students Demonstrated Their Final Augmented Reality App Projects
Published on: December 19, 2019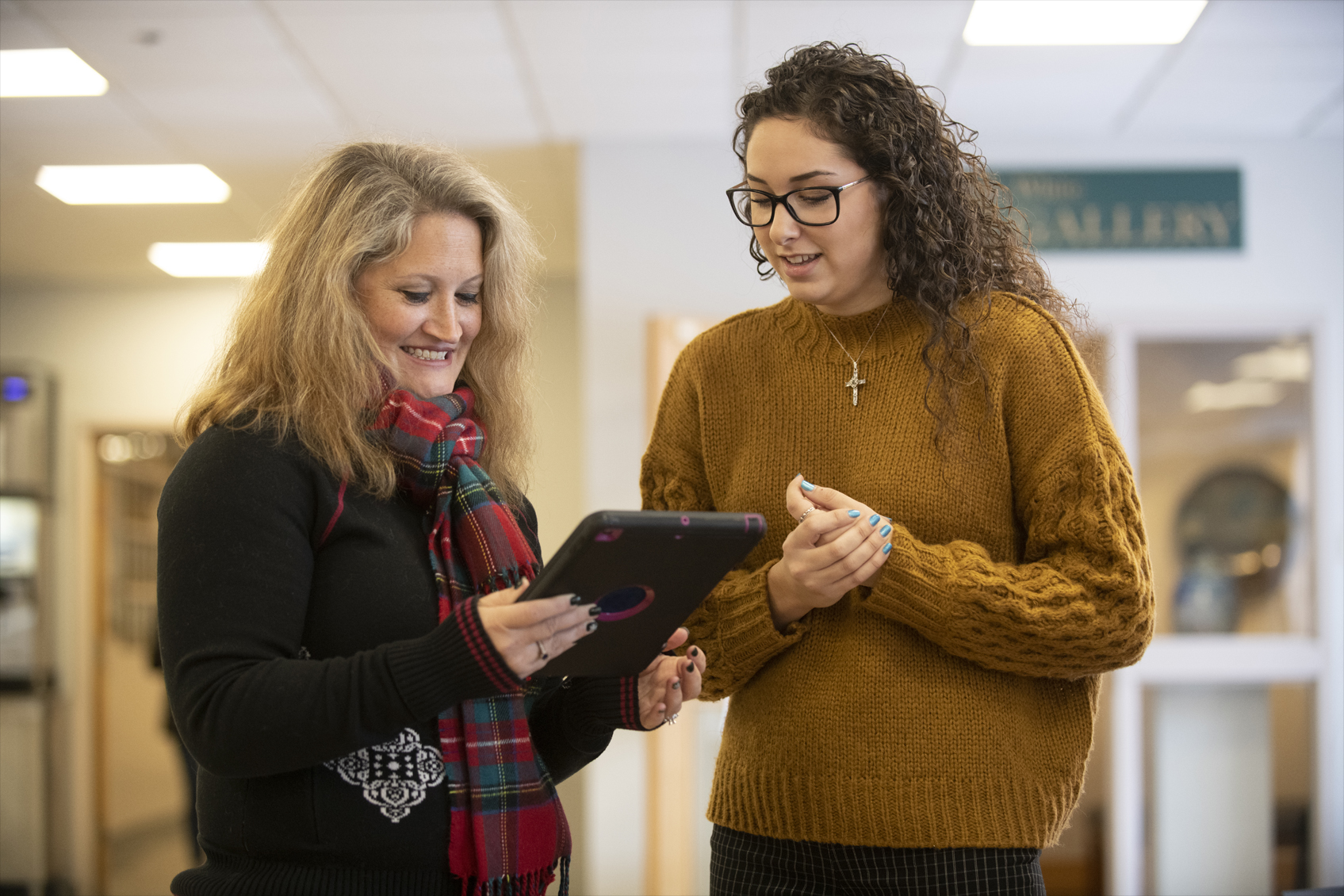 BANGOR, MAINE - Students in Husson University's integrated technology program enrolled in the "IT 499 Topic/Creating iOS Apps with an Intro to ARKit" course presented their posters and demonstrated the augmented reality (AR) apps they developed on Friday, December 20, 2019 from 8 – 10 am in the G. Peirce Webber Campus Center in Peabody Hall on the University's Bangor Campus. iPads were available for people to try out the apps. 
"This demonstration allowed the students in our course to showcase what they have learned over the semester about programming and the use of augmented reality (AR) drawing applications," said Dr. Laura Gurney, an assistant professor of integrated technology at Husson University. "There are numerous career opportunities for graduates who are skilled in creating augmented reality and virtual reality presentations. Here at Husson University, our integrated technology program is helping students prepare for this growing career field." 
The industry is currently experiencing explosive growth. In 2019, the AR/VR market generated $16.8 billion in sales according to International Data Corporation (IDC).[1] According to a conservative estimate by Wikitude, the AR market could grow to $61.4 billion by the year 2023.[2]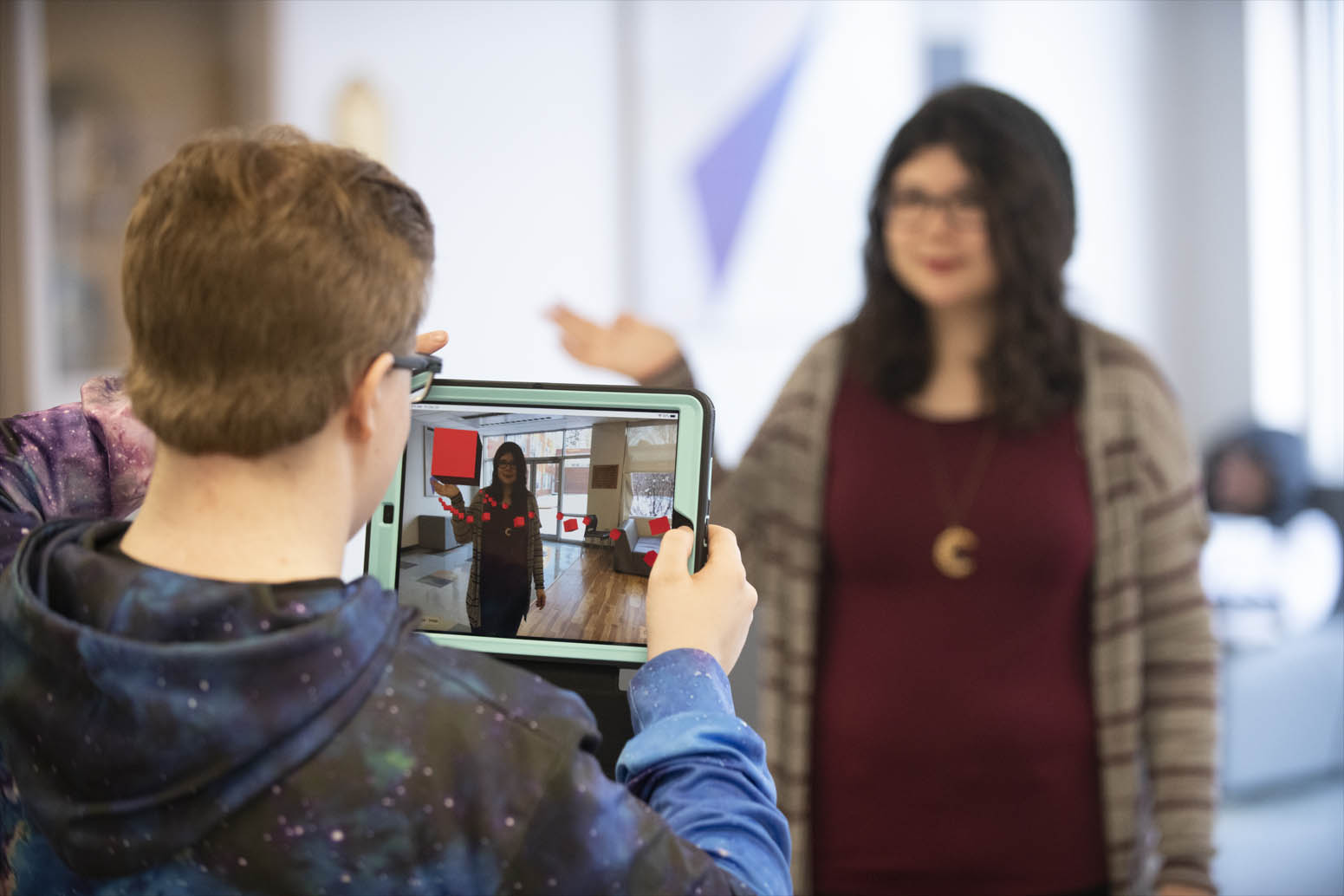 Graduates with programming skills in AR and virtual reality (VR) skills are in demand. According to the U.S. Bureau of Labor Statistics' Occupational Outlook Handbook, the employment of software developers is projected to grow 21 percent from 2018 to 2028, much faster than the average for all occupations.[3] Careers in software development can pay well. In May 2018, the median annual wage for software developers who specialize in developing applications was $103,620 while the median annual wage for software developers who create systems software was $110,000.[4]
"As part of this course, students learned about programming, augmented reality, usability and interface requirements for iOS and Android. They also brainstormed about monetizing the apps they developed," continued Gurney. "Companies need people with this knowledge. Today, software developers create the products and applications that order basic goods and services. They have become an integral part of what makes commerce possible."
The event was free and open to the public. Members of the Husson University community also attended the demonstration and experienced the augmented reality presentations.
Husson University's Integrated Technology Program
"IT 499 Topic/Creating iOS Apps with an Intro to ARKit" is just one of a series of courses in Husson University's integrated technology program. The Bachelor of Science in integrated technology from Husson University is designed to provide students with the skills they need to help organizations achieve business goals by creating computer information systems, developing software, and engaging in web design and development. The comprehensive program provides students with an in-depth understanding of enterprise software and specialized utility programs. The hands-on curriculum teaches students to effectively analyze customer needs and develop solutions.
Students in the program learn how to identify issues and problems; collect and analyze data; manage projects; and more. Graduates of this degree program are highly trained professionals with expertise in areas ranging from building direct hardware interfaces to enterprise application development.
To learn more about the integrated technology program call Husson University Undergraduate Admissions at (207) 941-7000 or email them at admit@husson.edu.
For more than 120 years, Husson University has prepared future leaders to handle the challenges of tomorrow through innovative undergraduate and graduate degrees. With a commitment to delivering affordable classroom, online and experiential learning opportunities, Husson University has come to represent superior value in higher education. Our Bangor campus and off-campus satellite education centers in Southern Maine and Northern Maine provide advanced knowledge in business; health and education; pharmacy studies; science and humanities; as well as communication. In addition, Husson University has a robust adult learning program. According to a recent analysis of tuition and fees by U.S. News & World Report, Husson University is one of the most affordable private colleges in New England. For more information about educational opportunities that can lead to personal and professional success, visit Husson.edu.
[1] CitrusBits, "35 Essential Augmented Reality Stats, Facts, and Trends for 2020 and Beyond,"  https://citrusbits.com/stats-and-facts-about-augmented-reality/
[2] Ibid
[3] Bureau of Labor Statistics, Occupational Outlook Handbook, Software Developers, https://www.bls.gov/ooh/computer-and-information-technology/software-developers.htm
[4] Ibid
Back to All Articles