Husson University Sorority Delta Sigma Delta Joins Bar Harbor Bank & Trust's Efforts to Help Needy Families
Published on: December 12, 2019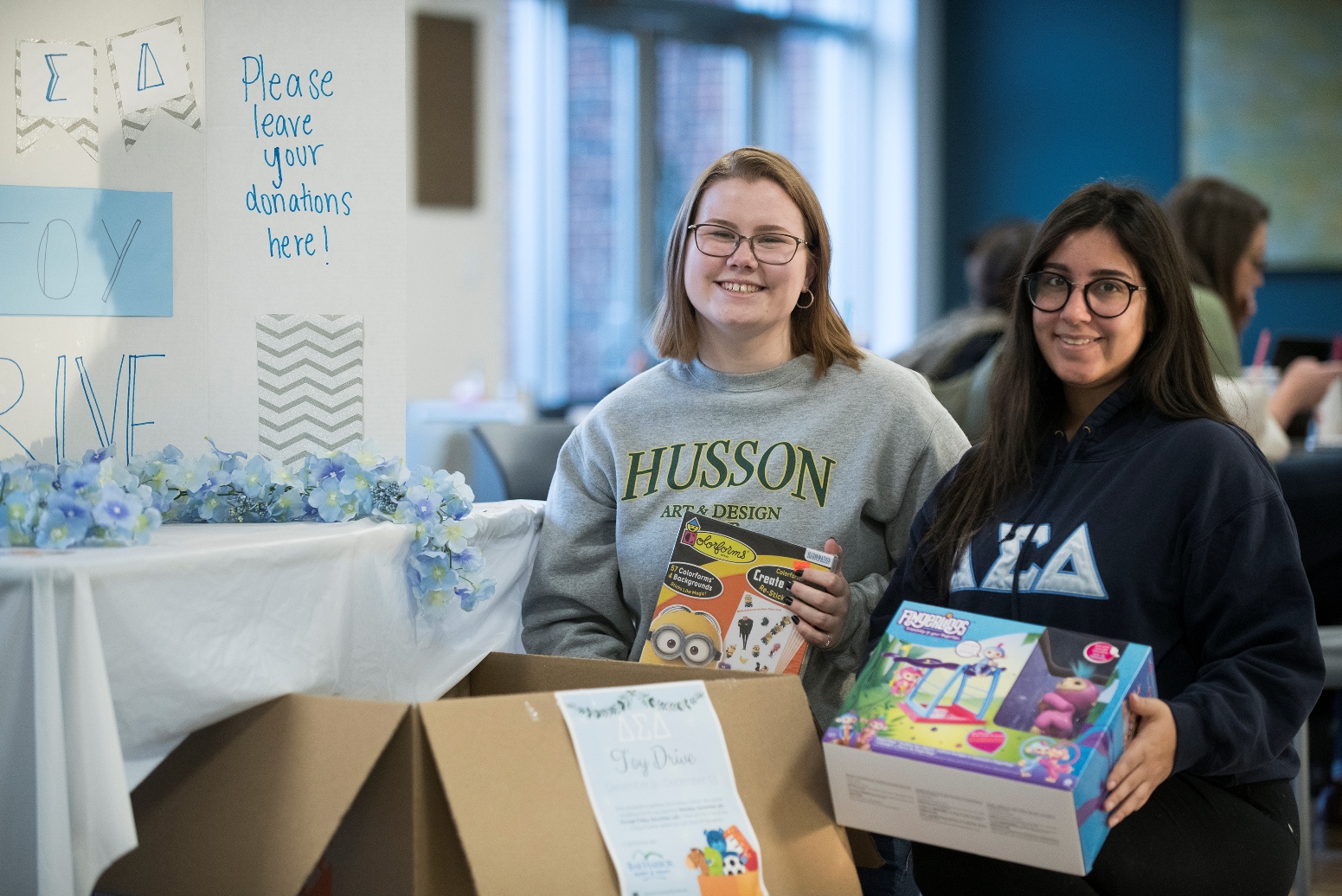 Bangor, Maine - Husson University's Delta Sigma Delta sorority is collaborating with Bar Harbor Bank & Trust to bring some happiness to the children of needy families in our area this holiday season. The sorority is accepting toys for children of any age at the G. Peirce Webber Campus Center in Peabody Hall from now through Friday, December 13, 2019. All Husson University students, faculty and staff are encouraged to donate a new, unwrapped toy to the effort.  
On Friday, December 13 at 2 p.m., the sorority will deliver all the toys they collect to Bar Harbor Bank & Trust at 201 Main Street in Bangor. The toys collected will benefit Community Health and Counseling Services. 
"The holiday season reminds us to remember those who are less fortunate than ourselves," said Ana Goncalves Reyes, president, Delta Sigma Delta Sorority. "Giving to others not only helps to make the world a better place, it helps make you a better person." 
The Class of 2020, marketing and communications major from São Paulo, Brazil continued: "Delta Sigma Delta is a sorority dedicated to community service. I'm proud to say that we have more service awards than any other Greek organization on campus. Working together with Bar Harbor Bank & Trust on this toy drive is one of many ways our Husson University family helps make life better for local area residents."
"We appreciate the contributions Delta Sigma Delta and Husson University are making to our toy drive," said Joseph Schmitt, SVP, chief marketing officer at Bar Harbor Bank & Trust. "Children in our community in need of holiday cheer will know the joy that comes from receiving a new toy as a result of our partnership."
Community Health and Counseling Services (CHCS) is a private non-profit organization that provides community-based home health, hospice and mental health services to adults and children in Central, Eastern, Southern and Northern Maine. More than 9,000 people benefit each year from the efforts of professional, support, and management staff from the agency. CHCS provides services to adults with severe and prolonged mental illness who need assistance in achieving and maintaining independence while living within their community. The organization also assists children and their families who are in need of intensive help in dealing with emotional and behavioral problems and persons who are homebound and recuperating from a serious or terminal illness or who may be in need of home health or hospice services while dealing with a disability or end-of-life process. To learn more, visit CHCS-ME.org.
The sisterhood of Delta Sigma Delta (DSD) sorority is a group of girls, both past and present, who are there for each other long after their years at college are finished. Since being established in 1956 at Husson University in Bangor, Maine, Delta Sigma Delta has proudly excelled in the areas of service, academics and membership growth. Through service, philanthropy and social activities, members often find lifetime friendships and valuable connections for the future. In the past, the sorority has had the highest average cumulative grade point average (GPA) of any Husson Greek organization. For more information visit https://deltasigmadelta56.wixsite.com/husson.
Bar Harbor Bankshares (NYSE American: BHB) is the parent company of its wholly owned subsidiary, Bar Harbor Bank & Trust. Operating over 50 locations across Maine, New Hampshire and Vermont, Bar Harbor Bank & Trust is headquartered in Bar Harbor and has more than $3.6 billion in assets. As a leading Northern New England community bank, Bar Harbor Bank & Trust offers a full range of personal and business banking services, as well as wealth management services through its subsidiaries Bar Harbor Trust Services and Charter Trust Company. For more information about Bar Harbor Bank & Trust, visit barharbor.bank or call 888-853-7100. Member FDIC.
For more than 120 years, Husson University has prepared future leaders to handle the challenges of tomorrow through innovative undergraduate and graduate degrees. With a commitment to delivering affordable classroom, online and experiential learning opportunities, Husson University has come to represent superior value in higher education. Our Bangor campus and off-campus satellite education centers in Southern Maine and Northern Maine provide advanced knowledge in business; health and education; pharmacy studies; science and humanities; as well as communication. In addition, Husson University has a robust adult learning program. According to a recent analysis of tuition and fees by U.S. News & World Report, Husson University is one of the most affordable private colleges in New England. For more information about educational opportunities that can lead to personal and professional success, visit Husson.edu.
Back to All Articles