Husson University School of Occupational Therapy's Third Annual Evidence-Based Practice Symposium
Published on: December 10, 2019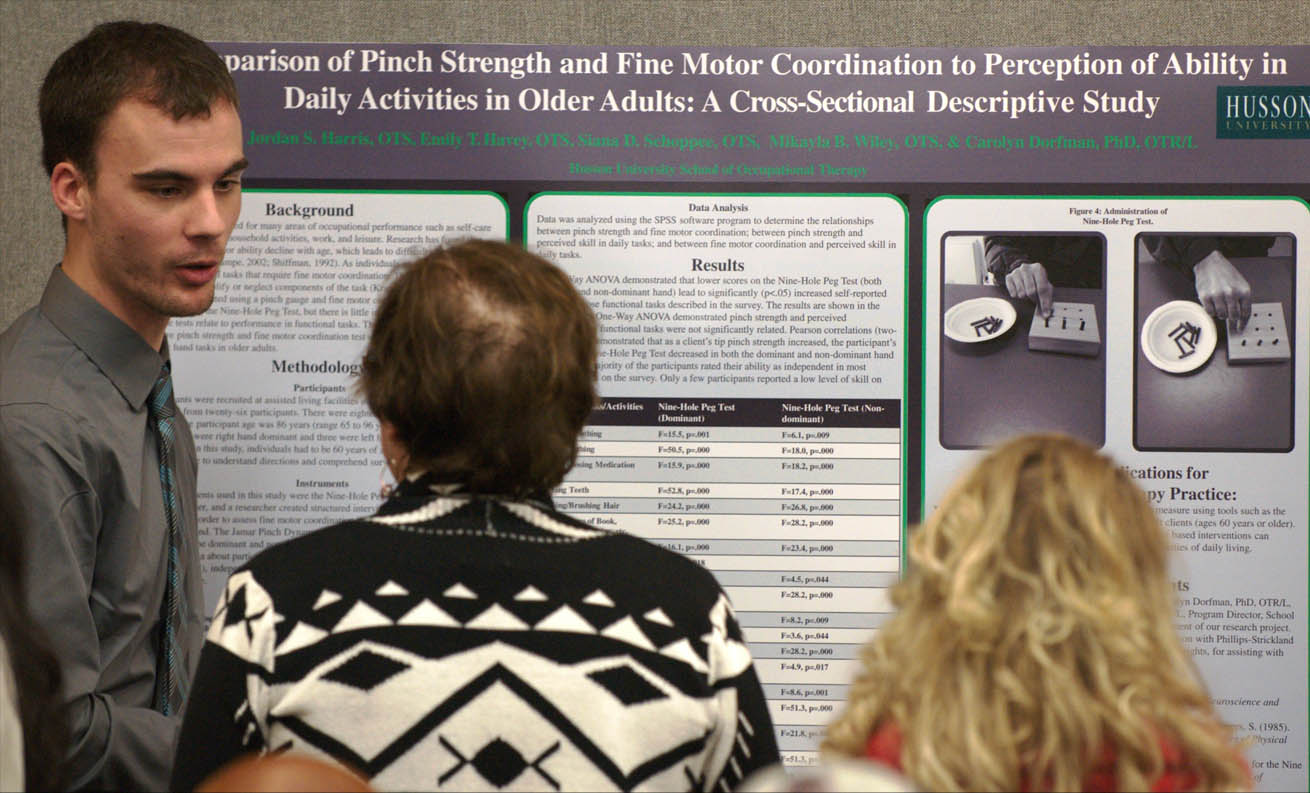 BANGOR, MAINE - Husson University's School of Occupational Therapy will be presenting its annual Evidence-Based Practice Symposium on Wednesday, December 11, 2019, from 3:30 p.m. - 7:00 p.m. at the Richard E. Dyke Center for Family Business on their Bangor campus. This free and informative event is open to Husson University students, faculty, staff, area healthcare providers and members of the public. 
Occupational Therapy (OT) student posters and oral presentations will cover the most current evidence available on a range of clinical conditions such as fear of falling, breast cancer-related lymph edema, rheumatoid arthritis, type II diabetes, and more. The participating students are enrolled in Husson's five-year Master of Science in occupational therapy program and will be graduating in the spring.
Evidence-based occupational therapy practice integrates the best research with both clinical expertise and clients' preferences, beliefs and values. This approach helps OT professionals provide care that blends both the clients' goals with best clinical practices from the scientific community. 
"The event will consist of a series of brief oral presentations that summarize student's findings on a particular topic," said Laurie Mouradian, ScD, ATR, OTR/L, chair of Husson University's School of Occupational Therapy. "This process allows students to become deeply informed about their topic, but more importantly, teaches students the skills necessary to stay current as practicing therapists after graduation. During their career, as new interventions are developed, they will have the skills to evaluate them critically to provide the most up-to-date therapy to their clients. This is just one way Husson provides students with practical skills for the present and the future. Sponsoring this symposium each year allows students to share their findings with area clinicians and the public."
"Members of the public benefit as well," said Rhonda Waskiewicz, EdD, OT, dean of the College of Health and Pharmacy. "More information about specific healthcare conditions not only helps those with health challenges, it helps increase understanding among all the members of a patient's support community including caregivers, friends and family."
Waskiewicz concluded: "Finally, it's also a big event for our students. This presentation represents the culmination of three semesters' worth of work. I take pride in witnessing the mastery of scientific knowledge by our soon-to-be OT graduates. Those who attend the event get to see first-hand why Husson University has become the region's leading healthcare educator."
For more than 120 years, Husson University has prepared future leaders to handle the challenges of tomorrow through innovative undergraduate and graduate degrees. With a commitment to delivering affordable classroom, online and experiential learning opportunities, Husson University has come to represent superior value in higher education. Our Bangor campus and off-campus satellite education centers in Southern Maine and Northern Maine provide advanced knowledge in business; health and education; pharmacy studies; science and humanities; as well as communication. In addition, Husson University has a robust adult learning program. According to a recent analysis of tuition and fees by U.S. News & World Report, Husson University is one of the most affordable private colleges in New England. For more information about educational opportunities that can lead to personal and professional success, visit Husson.edu.
Back to All Articles