Fifth Anniversary of Husson University's Open Studio Event
Published on: December 16, 2019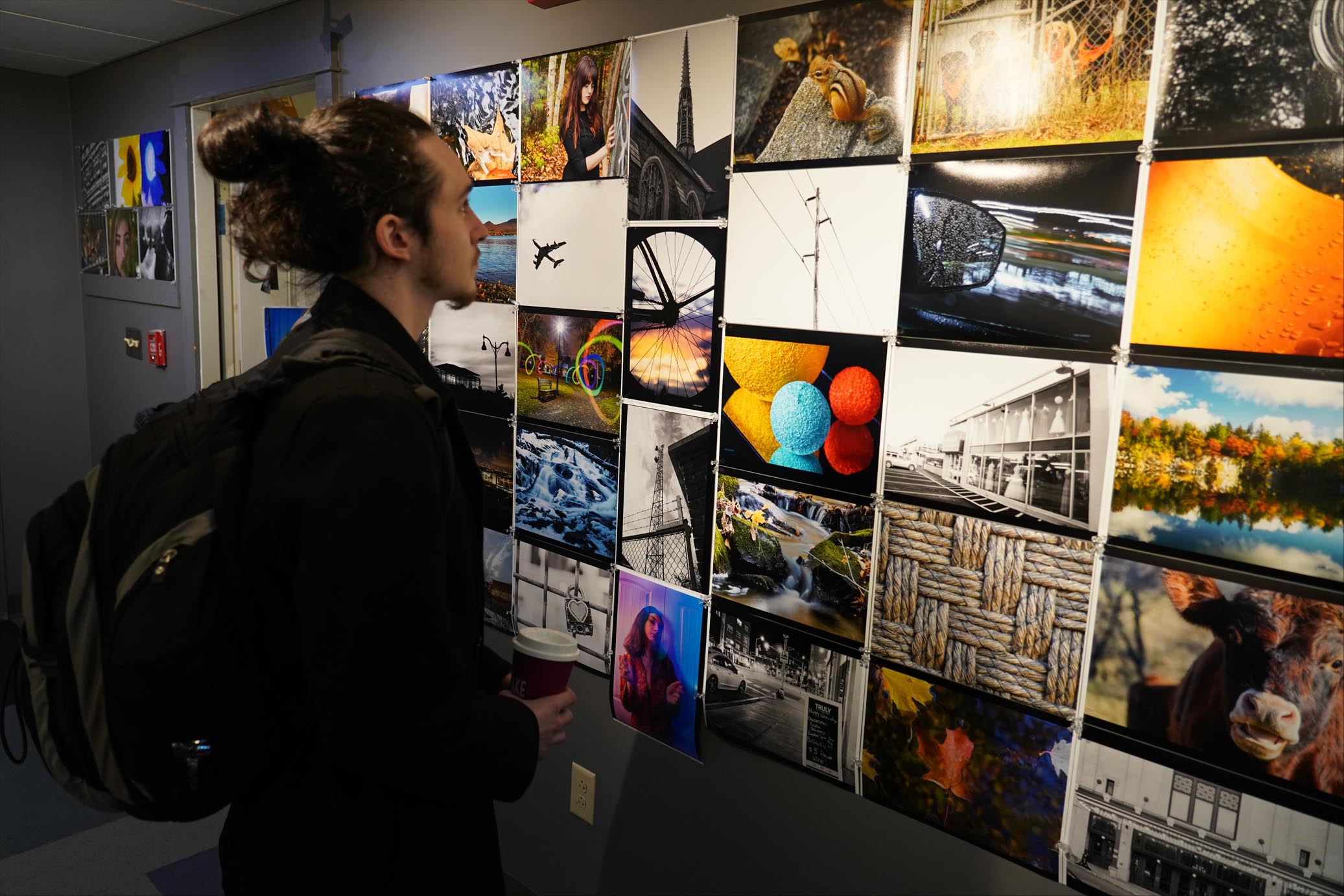 BANGOR, MAINE, Five years ago, Husson University began hosting a bi-annual showcase in the Hart Art Studio in an effort to provide more visibility to creative talents of Husson students. On Tuesday, December 17, 2019, the University will celebrate five years of remarkable exhibitions with its 11th Hart Open Studio Event & Student Art Show from 12 p.m. – 6 p.m. in the basement of Hart Hall in the Hart Art Studio.
"What started out as a small student art show has evolved into so much more," said Kathi J. Smith, an assistant professor of studio arts and art appreciation at Husson University's College of Science and Humanities. "Exhibitions have included art devoted to the disappearing passenger pigeon population, a pop-up shop with handmade gifts, and new forms of expression created with the help of visiting artists. Our exhibitions are continuing to grow and evolve along with our students."
The upcoming exhibition will feature a variety of artistic works made by Husson University students. The creative expressions in this show include a variety of different mediums. Student drawings, paintings, pastels, photography, graphic design, set design, digital illustration, collages, assemblages, and batik prints will all be on display. 
The artistic expressions in this show were conceived in a variety of fine arts courses offered by Husson University's College of Science and Humanities. In addition, video, photography and graphic design pieces made by students at Husson University's New England School of Communications will be on display. Individual student submissions are also included. 
Students from the following courses contributed work to this show: CT 345 Photography II, EP 122 Entertainment Design and Technology, EP/IT 299 3D Modeling for Virtual and Augmented Reality, FA 101 Art and Human Experience, FA 110 / CT 245 Photography, FA 120 Drawing 1, FA 125 Art for Children, FA 205 Painting 1, FA 230 Mixed Media Exploration, MC 245 Graphic Design, MC 248 Typography, MC 329 Digital Illustration and MC 347 Photojournalism. It addition, the show will feature selections created by Husson University's Art and Design Club.
Those interested in art are encouraged to visit Imprint, and exhibition of ceramic works by Husson's Fall 2019 visiting artist Penny Huynen at the Robert E. White Gallery. The gallery is immediately adjacent to the campus center in Peabody Hall. 
Both exhibitions are free and open to the public. No tickets are required.
"We are very excited about this fifth anniversary student art show. Each semester, I think students are surprised at the way their art courses give them new ways to see the world. They gain valuable experience in seeing and thinking in different ways, particularly in the fine arts classes, where students use their own creative talents to draw, paint, and fabricate the works they've imagined. Not only are these skills that employers value, but painting, drawing or taking photographs can also become lifelong hobbies that give pleasure and fulfillment long after the course is finished," said Patricia Bixel, dean of Husson University's College of Science and Humanities.
For additional information about these shows, contact Kathi Smith by phone 207-941-7004 or by email at smithk@husson.edu.
More about Kathi Smith:
Smith joined Husson University in 2014 as an assistant professor in studio arts and art appreciation. For over 15 years, she has been practicing and educating within the discipline of art here in New England. She holds a Bachelor of Fine Arts in painting and drawing, with a minor in art history from the University of Southern Maine, and a Master of Fine Arts in painting from the University of New Hampshire.
Smith's has a strong presence as a contemporary artist in the Maine arts scene. She has participated in numerous regional and national exhibitions and significant artist residencies. These include a full fellowship supported by the Joan Mitchell Foundation to the Vermont Studio Center and The Alfred and Trafford Klotts International program for artists in Brittany France.
Smith was cited as "one to watch" by Dan Kany in his piece "Art Review: Energetic pair of painters show in Portland" (May 2018) and was listed in ArtMaine 2019 as a notable Maine artist. In May 2018, The Maine Sunday Telegram article, "Art Review: Energetic pair of painters show in Portland" also discussed Smith's work.
Previous press attention includes articles in Artscope Magazine, Kathi Smith's New England, (July 2013) as well as Maine Home + Design Expressive Impression, (May 2016). 
She was recently featured in an exhibition of new landscape paintings called "Real and Remembered" in the fall of 2019 at Portland's newest contemporary art venue, Cove Street Arts.
Awards include a Distinguished Community Service Award for faculty at Husson University (2016) and the Distinguished Teaching Lecturer Award at Plymouth State University (2014).
She exhibits her work in New England regularly and is represented by Greenhut Galleries in Portland. She also maintains a working studio in Bangor, Maine. Smith practices primarily in the arena of painting and drawing, though she also has facility in ceramics, printmaking, and other mediums. 
For more than 120 years, Husson University has prepared future leaders to handle the challenges of tomorrow through innovative undergraduate and graduate degrees. With a commitment to delivering affordable classroom, online and experiential learning opportunities, Husson University has come to represent superior value in higher education. Our Bangor campus and off-campus satellite education centers in Southern Maine, Wells, and Northern Maine provide advanced knowledge in business; health and education; pharmacy studies; science and humanities; as well as communication. In addition, Husson University has a robust adult learning program. According to a recent analysis by U.S. News & World Report, Husson University is the most affordable private college in New England. For more information about educational opportunities that can lead to personal and professional success, visit Husson.edu.
Back to All Articles