Gracie Theatre Says Hello to "Farewell Angelina"
Published on: November 1, 2019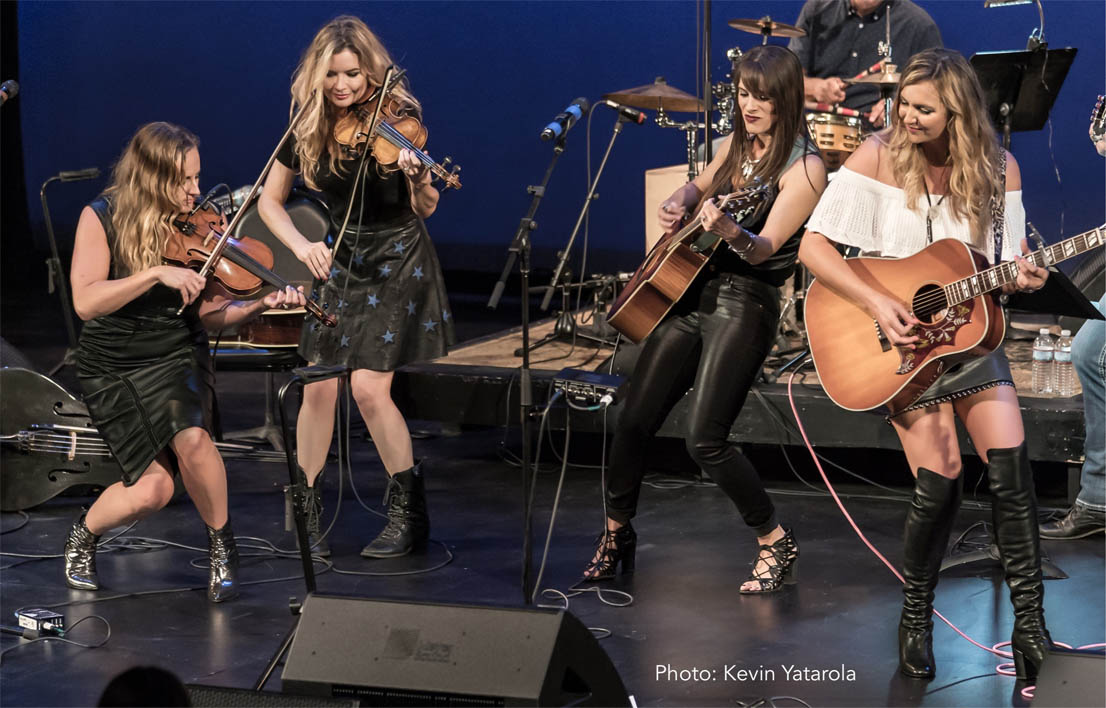 Photo Credit: Kevin Yatarola
BANGOR, MAINE - Farewell Angelina is an all-female country group with four powerhouse vocalists, dynamic songwriters and accomplished multi-instrumentalists. They'll be performing at Husson University's Gracie Theatre as part of their "Women & Wine Tour" on Saturday, November 9, 2019 at 7:30 p.m. Support for this concert is being provided, in part, by Bangor Savings Bank, the theatre's founding season sponsor.
"Country fans are in for a true treat with Farewell Angelina. Not only are they taking Nashville by storm, they were named by Rolling Stone magazine as one of the 'New Artists You Need to Know.' Having seen them perform, it's easy to understand why they earned such high praise," said Jeri Misler, managing director of The Gracie.
Named after a haunting Bob Dylan song, Farewell Angelina's stellar blend of heart-stopping harmonies are combined with blazing double violins and guitars. Their unique sound has earned the group soaring praise. Roughstock called them a "Superstar act… with killer songs." Rolling Stone said that Farewell Angelina consisted of "wickedly smart songwriting delivered with a healthy dash of sass… deft playing… into one sonic knockout punch."
The band is comprised of four longtime friends: Nicole Witt, Andrea Young, Lisa Torres and Ashley Gearing. They all met while they were pursuing their dreams in Nashville, TN. Each member grew to deeply respect and admire their fellow band members as they were building successful solo careers, touring, recording with top artists, and writing songs for some of country music's biggest hitmakers. When they heard the undeniable magic of their voices together for the first time, they couldn't wait to take their show on the road. Major opportunities soon followed including singing the national anthem for Thursday Night Football, the Unbridled Eve Gala for the Kentucky Derby, the ACM All-Star Jam, and the Albisguetli Schutzenhaus Festival in Switzerland. 
Farewell Angelina's chemistry becomes most evident when these four musicians work together to make each other shine. They enjoy creating moments every night with the country music fans they love so much. Their relationships with their audiences won them the fan-voted "Hot Seat" spot of the Taste of Country 2017 "RISERS" program by over 20,000 votes.
The band has opened for Kenny Chesney, Old Dominion, Frankie Ballard, Jake Owen, Billy Currington, Maroon 5, and Trace Adkins, to name a few. They joined the Bacon Brother's (Kevin and Michael) as their opening act for many of the shows on the brothers' last two summer tours. The band's highly popular "Women and Wine" album was released in January 2019. Their "Women & Wine Tour" is packing crowds across the U.S.A. At the end of 2018, Farewell Angelina will have played over 75 shows. 
Farewell Angelina will be performing at the Gracie Theatre on the campus of Husson University on Saturday, November 9, 2019 at 7:30 p.m. Tickets cost between $22.00 and $37.00 and can be purchased by calling the Gracie Theatre box office at 207-941-7888, visiting the theatre's Facebook page, or by going to GracieTheatre.com. 
In honor of Veterans Day, a 20 percent discount is available to current and past members of the armed services. Any veteran or active service member interested in applying this discount to their ticket purchase is asked to contact the Gracie Theatre box office at 207-941-7888.    
This concert is part of the Gracie Theatre's eighth Bangor Savings Bank season. In addition to support from Bangor Savings Bank for the season, The Gracie also gratefully acknowledges the generous support provided throughout the season by additional show sponsors including Downeast Toyota, Pepsi, the Quirk Auto Group, and The Dead River Company.
Farewell Angelina is just one of the many exciting shows that the Gracie Theatre is bringing to Bangor over the next nine months. 
This season, the Gracie is offering a "You Pick 4" plan that allows patrons to sculpt their own season package. When a patron selects any four shows, the prices of each ticket are automatically reduced by 20 percent. Patrons who select this plan will be offered individual discounts for some of the other shows in the season and have their choice of seats in our premium section for the plan shows.
This "You Pick 4" discount offer is only available at the Gracie Theatre box office by calling (207) 941-7888, or by stopping by the box office located in the Beardsley Meeting House on the campus of Husson University in Bangor. Single show tickets are also available at their regular price. Ticket prices range from $15-$40.50, depending on the show, and are available by calling (207) 941-7888 or online at GracieTheatre.com.
Completed in October of 2009, the Gracie is Husson University's center for the fine and performing arts. This beautiful 500-seat theatre is considered one of Maine's premier performance venues. In addition, the Gracie also serves as a learning platform for students from the New England School of Communications in digital audio, sound mixing, set design and construction, lighting, acting and electronics. For more information, visit GracieTheatre.com.
For more than 120 years, Husson University has prepared future leaders to handle the challenges of tomorrow through innovative undergraduate and graduate degrees. With a commitment to delivering affordable classroom, online and experiential learning opportunities,
Husson University has come to represent superior value in higher education. Our Bangor campus and off-campus satellite education centers in Southern Maine, Wells, and Northern Maine, provide advanced knowledge in business; health and education; pharmacy studies; science and humanities; as well as communication. In addition, Husson University has a robust adult learning program. According to a recent analysis by U.S. News & World Report, Husson University is the most affordable private college in New England. For more information about educational opportunities that can lead to personal and professional success, visit Husson.edu.
Back to All Articles