The Tragedy of Young People Mixing Alcohol and Prescription Drugs
Published on: October 15, 2019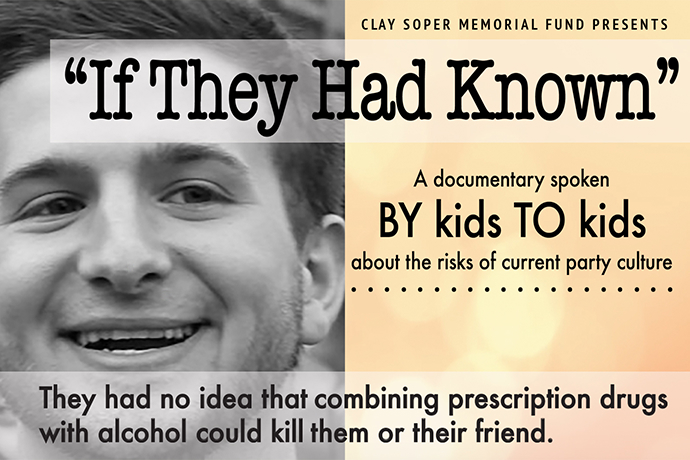 BANGOR, MAINE – Husson University's Student Health Services will be sponsoring a free screening of "If They Had Known," a documentary film featuring interviews with teenagers talking about the tragic consequences that result when young people mix alcohol and prescription drugs. The film will be shown at Husson University's Gracie Theatre on October 16 at 7 p.m. The Gracie Theatre is located at 1 College Circle in Bangor.  A trailer about the film can be found at https://www.facebook.com/watch/?v=560397864361722. 
"Last April we screened this documentary on our campus for the first time," said Jackie Ireland, RN, BSN, the clinical director of Student Health Services at Husson University's Wellness Center. "The student response was terrific. They asked serious and thought-provoking questions of our panel members. If viewing this video helped prevent even one tragedy caused by mixing alcohol and prescription drugs, then it was well worth the investment." 
Immediately following the screening, there will a group of eight experts participating in a panel discussion about today's party culture and the health issues that can occur when young adults mix drugs and alcohol. Participating in the panel discussion will be (in alphabetical order):
Vijay Amarendran, MD, MS, Director of Addiction Services, Penobscot Community Health Center (PCHC). Amarendran is board certified in psychiatry and addiction medicine and a Fellow of the American Psychiatric Association. He also has an active Suboxone practice at the PCHC - Brewer Medical Center. He completed his medical degree in Chennai, India in 1997 and his master's degree in molecular biology at the University of Wyoming in 2003. He did his residency training in psychiatry at SUNY Buffalo and worked at The Acadia Hospital from 2007- 2018. He works part-time at PCHC and part-time at his private practice in Bangor, Maine.
Leona Cerkovitz, DNP, APRN, CS, FNP-BC, Assistant Professor, Husson University School of Nursing. Dr. Leona Cerkovitz obtained her Doctor of Nursing

 

Practice degree from the University of Southern Maine in 2017 with a focus on preconception counseling in women with substance abuse issues. She is dually certified as a Clinical Specialist in Psychiatric Nursing and as a Family Nurse Practitioner with over twenty-years of clinical experience. In her current role at Husson University, Dr. Cerkovitz instructs graduate students in the psychiatric mental health nurse practitioner program. In addition, she also provides healthcare services to students at the Husson Wellness Center several days a week. Her professional interests include complementary medicine, integrative health models of care, mind/body research and biomedical research. 
Laurie Eddy, MSN, RN, FNP-BC, WHCNP, Assistant Professor, Husson University.

Eddy began working at Husson University in 2003 as an adjunct faculty member. In 2006, she became a full-time faculty member. She also provides healthcare services to students at the Husson Wellness Center. Eddy graduated from the Eastern Maine Medical Center School of Nursing with a nursing diploma. She received her Bachelor of Science degree at St. Joseph College and then spent the following five years in Alaska in obstetrics/labor and delivery. When she returned to the "Lower 48," she went back to school for her Women's Health Nurse Practitioner certificate. Eddy worked as the director of Penquis Family Planning for 23 years. During that time, she received her Master of Science in nursing (MSN) and her family nurse practitioner (FNP) degrees from the University of Maine. She's very interested in women's and global health. Since coming to Husson, Eddy initiated an interprofessional student project involving nursing, occupational therapy, physical therapy, and pharmacy students. These students, along with students from the University of Southern Maine (USM), travel to the Dominican Republic each winter to deliver healthcare services to underserved populations. Eddy has conducted research on mothers with substance abuse issues and has presented a poster in a national conference on her research.

 

Phil Hamm, Assistant Fire Chief, Firefighter / Paramedic, Bangor Fire Department. Phil Hamm has been a firefighter/paramedic for the Bangor Fire Department since 1997. While moving through the ranks of lieutenant and captain, he served in various roles that encompassed the field of emergency medical response. Since 2018, Hamm has overseen daily operations as assistant fire chief. The Bangor Fire Department averages 26 fire and emergency medical services (EMS) calls a day. The department also responds to over 7800 EMS calls a year.
Lauren Haines, BSN, RN, Emergency Department Clinical Educator, Northern Light Eastern Maine Medical Center.

Lauren is a Husson University School of Nursing graduate (Class of 2013). She has worked at Northern Light Eastern Maine Medical Center for the past six years as an emergency room nurse and is the clinical educator for the Emergency Department and Short Stay Unit at Northern Light EMMC.

 

 
Jason Moffitt, Brewer Chief of Police, Public Safety Director, Brewer Police Department. Chief Moffitt received a Bachelor of Arts degree in psychology from the University of Maine. He also holds two master's degrees from Husson University; a Master of Science in business and a Master of Science in criminal justice with a certificate in counterterrorism and security. He is a graduate of the Maine Criminal Justice Academy, where he holds a current executive certification and is a certified instructor. Moffitt has been a law enforcement officer since 1996, beginning his career with the Penobscot County Sheriff's Office as a rural patrol deputy. In 2000, he joined the Brewer Police Department as a patrol officer, where he served in a variety of roles. His responsibilities included supervising patrol and investigative functions. Currently, he is serving as the public safety director for the City of Brewer where he is responsible for the leadership and management of the police and fire departments. Chief Moffitt is an active member of the Maine Chiefs of Police Association and the International Association of Chiefs of Police.

 

Colleen Owens, LCPC, Husson University, Director of Counseling Services. Owens is a licensed clinical professional counselor (LCPC). She received her master's in mental health counseling from Gallaudet University in Washington, DC. Owens has worked in a variety of healthcare settings including hospitals, private, and non-profit organizations.

 

She has been the director of counseling services at Husson University for the past three years and has worked as a counselor at the University for six. 
Captain Kevin Rice, Assistant Director of Safety and Security, Husson University Kevin Rice has three decades of experience in public safety, investigations and law enforcement. He has served in various positions in the private sector as well as local and federal law enforcement. He began his career as a police officer for the Orlando Police Department and spent 25 years as a federal agent with the United States Secret Service. He retired from the Secret Service as the special agent in charge of the Phoenix Field Office. He has a bachelor's degree in criminal justice, a master's in public administration, and is a graduate of Northwestern University's Center for Public Safety School of Police Staff & Command.
The mixing of mind-altering substance is more common than many people realize. According to the 2016 National Survey on Drug Use, an estimated 2.3 million people aged 12 or older had both an alcohol use disorder and an illicit drug use disorder in the past year  
Non-medical use of prescription pain relievers is more likely among young adults living in Maine between the ages of 18 and 25 compared to adults age 26 and older. Seven percent of 18 to 25 year olds reported having misused pain relievers in the past year. 
Husson University's Student Health Services (SHS) unit is dedicated to facilitating the academic success and retention of students by delivering quality medical care in a welcoming, confidential and professional environment. If students are not feeling well, sustain an injury, have a medical concern or illness or need to talk or discuss a medical condition with a health care provider, they can contact Student Health Services by calling (207) 941-7625 or emailing them at studenthealth@husson.edu.  
For more than 120 years, Husson University has prepared future leaders to handle the challenges of tomorrow through innovative undergraduate and graduate degrees. With a commitment to delivering affordable classroom, online and experiential learning opportunities, Husson University has come to represent superior value in higher education. Our Bangor campus and off-campus satellite education centers in Southern Maine, Wells, and Northern Maine, provide advanced knowledge in business; health and education; pharmacy studies; science and humanities; as well as communication. In addition, Husson University has a robust adult learning program. According to a recent analysis by U.S. News & World Report, Husson University is the most affordable private college in New England. For more information about educational opportunities that can lead to personal and professional success, visit Husson.edu.
Back to All Articles