Legendary Musicians, The Hit Men, are at Husson's Gracie Theatre for Two Nights During Homecoming Weekend
Published on: October 16, 2019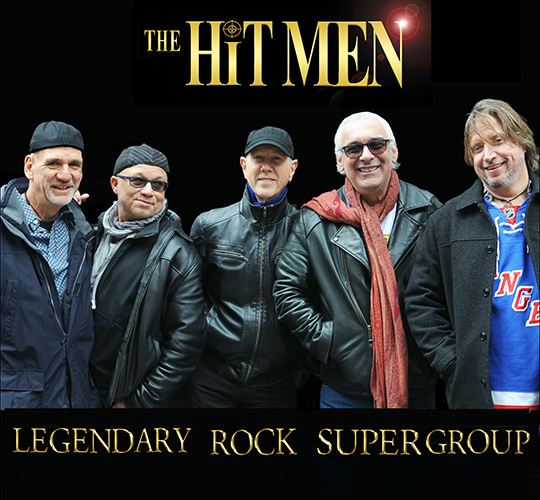 BANGOR, MAINE – The Hit Men: Legendary Rock Supergroup & Musicians Hall of Fame Honorees, a group comprised of rock and roll legacy performers, will be performing at the Gracie Theatre on October 18 and 19, 2019 at 7:30 p.m. each evening. 
This supergroup includes Lee Shapiro, Jimmy Ryan, Jeff Ganz, Russ Velazquez and Steve Murphy. Each of these performers either played, sang or performed on stage with one or more of the megastars of the 60s, 70s and 80s. Members of The Hit Men performed and recorded with Frankie Valli & The Four Seasons, Tommy James and the Shondells, Carly Simon, Cat Stevens, Jim Croce, and Elton John.  
"Music fans are in for unforgettable evening, reliving every hit they grew up with, performed by the real guys who made them. We are honored to have these rock and roll legends at the Gracie," remarks Jeri Misler, managing director of the Gracie Theatre.
During the show, these artists will be performing some of the most memorable hits of the era, including "Who Loves You," "Oh What a Night," "You're So Vain," "The Loco-motion," "Mony Mony," "Joy to the World," and many more. Their contributions to these songs helped make these records gold and platinum hits.
The Hit Men are not actors from Broadway shows. They are the real stars who used to tour the world with rock and roll greats across the US. During this multi-media experience, they'll perform many more #1 songs they helped make famous as they share stories from their days on the road and in the studio with Frankie, Tommy, Carly, Cat, Jim and Elton. 
In April of 2019, The Hit Men became recipients of the first-ever "Road Warrior Award" from the Musicians Hall of Fame and Museum. This prestigious, Nashville-based organization honors talented but often overlooked musicians who played on the greatest recordings of all time. The award acknowledges The Hit Men's "years of dedication to the music, and the countless miles … that they have traveled in delivering so many hits throughout the world."
Hit Men founder and manager Lee Shapiro is a producer, arranger, singer and musician. As music director for Frankie Valli and The Four Seasons, he arranged and performed on some of their biggest hits. He also collaborated with Barry Manilow, Tony Orlando, and Tommy James and the Shondells. 
Hit Men co-founder Jimmy Ryan began his career in the 1960s as lead guitarist, singer and contributing songwriter for The Critters. Later, he became Carly Simon's music director and performed with her in the studio and on the road for twenty-one years. His guitar is heard on works performed by Cat Stevens, Jim Croce, Rod Stewart, Paul McCartney, Elton John and many others. 
Jeff Ganz is a bassist and singer who has performed with an eclectic array of artists including Blood Sweat & Tears, Johnny Winter, Cheap Trick, Lou Reed, Dr. John, Vanilla Fudge and jazz greats including Gerry Mulligan, Tito Puente and Larry Coryell. Russ Velazquez is a singer, composer and arranger whose credits read like a musical Who's Who. He has collaborated with everyone from Sting, The Ramones, and LL Cool J to Luther Vandross, Korn and Paula Abdul. He has earned four Emmy Award nominations for his songs on Sesame Street, and his song "2BA Master" hit the top of the children's music charts on Radio Disney.
Steve Murphy is a drummer/singer, who has toured with The Alan Parsons Project, Jack Bruce, Eric Burdon and the Animals. He has also toured with Chuck Negron (formerly of Three Dog Night), Felix Cavaliere (The Rascals), Dave Mason, Todd Rundgren, Christopher Cross, Mark Farner (Grand Funk Railroad), The Turtles, Mickey Dolenz, Gary Puckett, Mitch Ryder and over a dozen more major artists from the 60's, 70's and 80's. 
The Hit Men connect with audiences on a level rarely seen by today's musical artists. From the classic songs we all know and love (songs like "Oh What a Night" and "You're So Vain") to the backstage stories never told until today, a Hit Men show combines the music and the memories alongside exciting multimedia footage and visuals, evoking an unforgettable musical and visual experience. 
Lee Shapiro remarked, "Every story we tell is told with complete honesty and legitimacy, because we were there. We have an emotional connection with the audience that tribute bands and sound-alike bands can't claim. When we tell you how Warren Beatty had a door slammed in his face from Carly Simon's dressing room at the Troubadour in Los Angeles in 1971, we know it's true, because Jimmy Ryan was the one who did it!"  
The Hit Men perform at the Gracie Theatre on the campus of Husson University, October 18 and 19 at 7:30 p.m. Tickets cost between $28.00 and $40.50 and can be purchased by calling the Gracie Theatre box office at 207-941-7888 or by going to GracieTheatre.com.  
This concert is sponsored by The Dead River Company and is part of the Gracie Theatre's eighth Bangor Savings Bank season. In addition to support from Bangor Savings Bank for the season, The Gracie also gratefully acknowledges the generous support provided throughout the season by additional show sponsors including Downeast Toyota, Pepsi, the Quirk Auto Group, and The Dead River Company. 
The Hit Men is just one of the many exciting shows that the Gracie Theatre is bringing to Bangor over the next nine months.  
This season, the Gracie is offering a "You Pick 4" plan that allows patrons to sculpt their own season package. When a patron selects any four shows, the prices of each ticket are automatically reduced by 20 percent. Patrons who select this plan will be offered individual discounts for some of the other shows in the season and have their choice of seats in our premium section for the plan shows. 
This "You Pick 4" discount offer is only available at the Gracie Theatre box office by calling (207) 941-7888, or by stopping by the box office located in the Beardsley Meeting House on the campus of Husson University in Bangor. Single show tickets are also available at their regular price. Ticket prices range from $15-$40.50, depending on the show, and are available by calling (207) 941-7888 or online at GracieTheatre.com.
Completed in October of 2009, the Gracie is Husson University's center for the fine and performing arts. This beautiful 500-seat theatre is considered one of Maine's premier performance venues. In addition, the Gracie also serves as a learning platform for students from the New England School of Communications in digital audio, sound mixing, set design and construction, lighting, acting and electronics. For more information, visit GracieTheatre.com.
For more than 120 years, Husson University has prepared future leaders to handle the challenges of tomorrow through innovative undergraduate and graduate degrees. With a commitment to delivering affordable classroom, online and experiential learning opportunities, Husson University has come to represent superior value in higher education. Our Bangor campus and off-campus satellite education centers in Southern Maine, Wells, and Northern Maine, provide advanced knowledge in business; health and education; pharmacy studies; science and humanities; as well as communication. In addition, Husson University has a robust adult learning program. According to a recent analysis by U.S. News & World Report, Husson University is the most affordable private college in New England. For more information about educational opportunities that can lead to personal and professional success, visit Husson.edu.
Back to All Articles