Ribbon-Cutting Ceremony for Husson University's New Wellness Learning Center
Published on: September 5, 2019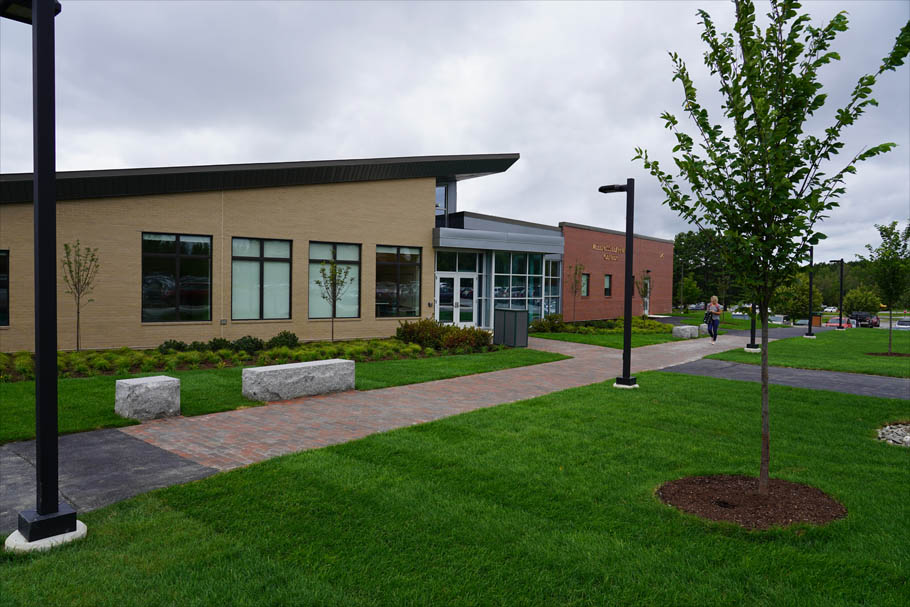 Husson University will mark the official opening of their new Wellness Learning Center on September 9, 2019 at 11:00 a.m. with a ribbon-cutting ceremony. The new facility is located between the Gracie Theatre and O'Donnell Commons on the University's Bangor, Maine campus at One College Circle. Tours of the new facility will be provided at the conclusion of the ceremony.
"Placing this building in one of the most visible locations on our campus clearly demonstrates our University's commitment to the health of our students and our healthcare-related academic programs," said Robert A. Clark, Ph.D., president and CEO of Husson University. "The new facility will also help ensure that students earning Husson degrees will be well prepared for the healthcare careers of the future."
Seventy-year-old Bangor construction firm Nickerson & O'Day built the new structure and is no stranger to the Husson campus having built the G. Peirce Webber Campus Center, the Wildey Communications Center, the Swan Fitness Center, O'Donnell Commons, the Gracie Theatre, and the Beardsley Meeting House. The firm also completed renovations to Carlisle Hall, Hart Hall, Bell Hall, and the Dickerman Dining Commons.
"We're very pleased to have been selected once again to add to the extraordinary growth of Husson over the last 25 years," said company President Karl Ward. "Despite starting construction almost two months later than originally planned, due to one of the coldest winters on record, we are proud that our all-Maine team finished on time and under budget", said Ward. 
Student Health Services and Counseling Services will be important parts of the new Wellness Learning Center. Both of these units make important contributions to Husson students' health and welfare.
Student Health Services makes high quality, inexpensive, convenient health care, and additional health-related resources available to all Husson University students. "Providing health services, not only helps keep our campus healthy, it also enhances academic success here at Husson University," said Pamela Kropp-Anderson, dean of Student Life at Husson University.
According to the Center for Education Policy Analysis at Stanford, health and education are related. Research indicates that unhealthy students are poorly positioned to learn.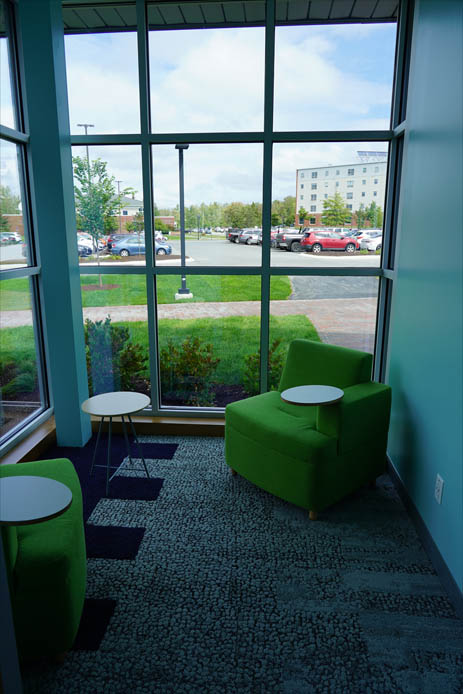 Their analyses consistently demonstrated that preventive and physical health services at school are positively related to educational outcomes. Students with health services at school had higher grade point averages and were less likely to fail courses.
In addition to student health services, the new Wellness Learning Center has space to assist students who would benefit from counseling services. University counselors help students use their strengths and resources to overcome barriers and to develop new strategies to improve mood, relationships and performance.
To accomplish this, Counseling Services offers free individual, group and couples counseling to students who need assistance. The counselors work with students who might need some help with improving their moods and function, transitioning to college, managing stress, being part of a relationship, or addressing mental health issues. They are also there for students who just need a space to work through challenges.
Some of the most innovative learning spaces in the new facility will be devoted to experiential learning. Four new simulation bays at the Wellness Learning Center will have programmable lifelike manikins. These manikins will help teach students how to work with acute care patients in simulated health care situations.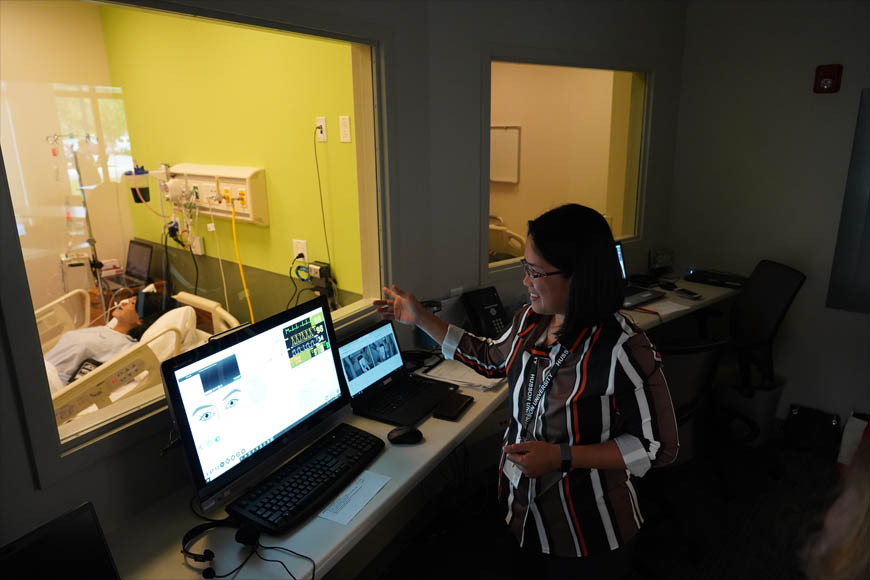 The simulations are quite realistic. Making these simulations as real as possible helps students learn how to handle real-life situations with actual patients.
"The manikins talk. They have a pulse, they breathe and they blink," said Diane Jenks, a simulation coordinator in Husson University's School of Nursing. "In programmed simulations, they give students the opportunity to experience the full range of bodily functions and patient reactions. For example, the manikins can have seizures, turn blue, vomit, cry and more. It's also possible to practice giving medications to the manikins."
Nick Eddy, a student pursuing his Bachelor of Science in nursing at Husson University feels that these simulation centers will make him a better professional. "As a future nurse, I never want to forget that I'll be responsible for well-being of my patients. The quality of their lives will be directly affected by what I do – or don't do."
"The education that I'll get in the Wellness Learning Center will allow me to practice my skills until that knowledge is internalized. Making good practices part of my regular skill set will help me to deliver quality healthcare each and every time."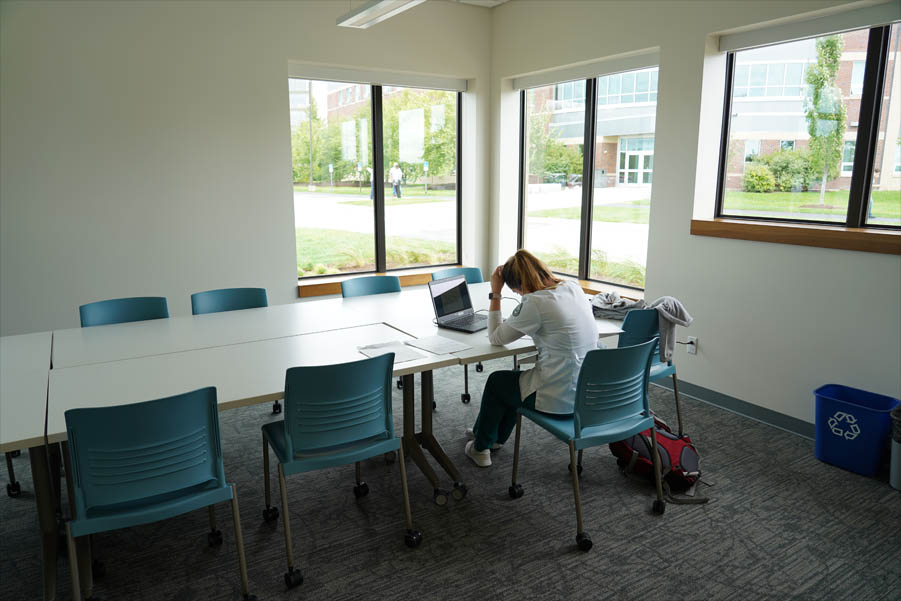 "Husson University provides education that leads to jobs and long-term career success. That's why we're Northern New England's leading professional educator," said Clark. "According to a survey of recent graduates, 100 percent of our nursing, physical therapy and occupational therapy graduates were employed or attending graduate school within one year of graduation.
"As Maine's population ages, it becomes more important that our communities have qualified, trained, and experienced professionals ready to deliver healthcare services. With programs in nursing, occupational therapy, physical therapy, pharmacy, counseling, health sciences, biology, and business with concentrations in healthcare management, Husson University is ready to help connect students with employers in their chosen fields," concluded Clark.
For more than 120 years, Husson University has prepared future leaders to handle the challenges of tomorrow through innovative undergraduate and graduate degrees. With a commitment to delivering affordable classroom, online and experiential learning opportunities, Husson University has come to represent superior value in higher education. Our Bangor campus and off-campus satellite education centers in Southern Maine, Wells, and Northern Maine, provide advanced knowledge in business; health and education; pharmacy studies; science and humanities; as well as communication. In addition, Husson University has a robust adult learning program. According to a recent analysis by U.S. News & World Report, Husson University is the most affordable private college in New England. For more information about educational opportunities that can lead to personal and professional success, visit Husson.edu.
Back to All Articles