Welcome Weekend at Husson University
Published on: August 28, 2019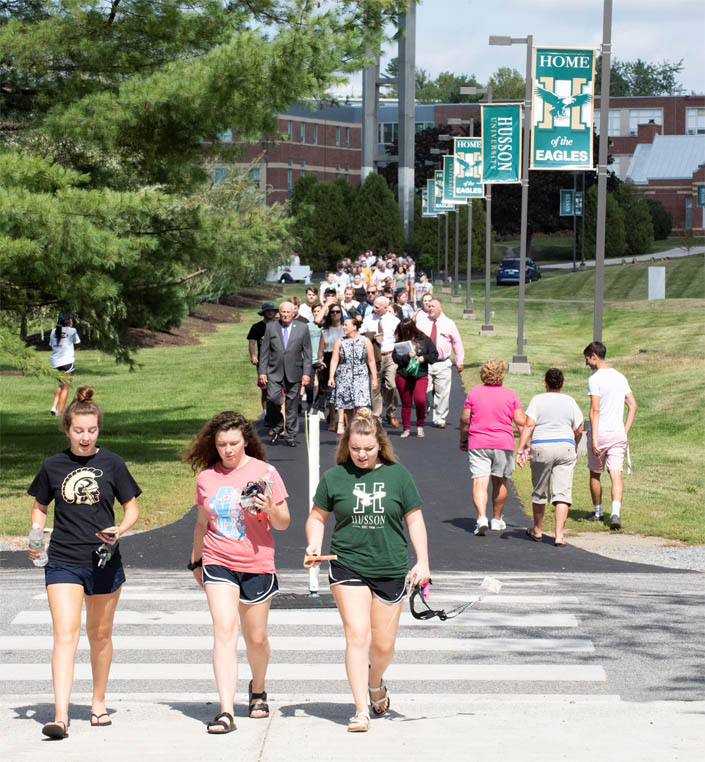 WHO: 
On Labor Day weekend, Husson University will be welcoming students back to campus for the beginning of the new academic year.
WHAT:
A variety of activities will be taking place on Sunday, September 1, 2019. Highlights include:
New Resident Student Check In. 8:00 a.m. – 1:00 p.m. in the first floor lobby of O'Donnell Commons. Husson students get the keys to their rooms in the residence halls and their new student orientation kits. This year there will be a significant volunteer presence comprised of current students, fraternity brothers, sorority sisters and staff members helping students move in and get settled into the residence halls.
Move into the Residence Halls. 8:00 a.m. – 1:00 p.m., Hart Hall, Carlisle Hall, Bell Hall, and the Living Learning Center. Catch the excitement as Husson students move into the residence halls that will become their "home away from home."
Bookstore is Open. 8:30 a.m. – 2:30 p.m. on Sunday, September 1 and from 10:00 a.m. – 3:00 p.m. on Monday, September 2, 107 Peabody Hall. Students who need to pick up books and other academic materials for the coming semester will be visiting the bookstore. It's also the place for Husson branded apparel, coffee cups, and more. 
Welcome Barbeque Lunch. 11:00 a.m. – 1:00 p.m., outdoor tent near the bell tower. A huge barbeque sponsored by Husson University will provide a delicious lunch to hundreds of students and family members as part of Welcome Weekend.
New Commuter Student Check-In, 1:00 p.m. – 1:30 p.m. Libra Lecture Hall, adjacent to the O'Donnell Commons lobby. This is an opportunity for commuter students to connect with each other and meet their commuter assistants (CAs). CAs are returning peer students who provide guidance on all things Husson.
Convocation.

2:15 p.m. – 2:45 p.m., Newman Gymnasium. The annual fall convocation ceremony formally begins the 2019-2020 academic year. President Clark and members of our campus community will come together to welcome students as they embark on 

the road to career success. Every student will receive a gift from the Husson University Alumni Association as they're leaving convocation!
First Class. 3:00 p.m. – 3:50 p.m. Multiple locations across campus. Just as students get settled in, they begin attending their first class. HE 111 Husson Experience is a class designed to assist entering students in making a successful transition to life at Husson University. The goals of this mandatory course include personal development and campus community engagement. Students work together to identify academic and social resources, develop skills for academic and social success, make meaningful connections with the campus community, and develop academic and career goals.
WHEN:
Sunday, September 1, 2019 and Monday, September 2, 2019. A full two-day event schedule can be found at https://www.husson.edu/student-life/assets/husson-studentlife-welcome-weekend-schedule.pdf
WHERE: 
Husson University
1 College Circle
Bangor, Maine 04401
WHY:
Welcome Weekend consists of two days of activities, events and fun at the beginning of the new school year and is designed to help students feel comfortable on campus. University offices are also open on these days to assist students with any last minute issues. 
HOW:
If you plan to cover part or all of Welcome Weekend at Husson University, please contact Eric B. Gordon, executive director of communications on his cell phone at 207.649.4647.
For more than 120 years, Husson University has prepared future leaders to handle the challenges of tomorrow through innovative undergraduate and graduate degrees. With a commitment to delivering affordable classroom, online and experiential learning opportunities, Husson University has come to represent superior value in higher education. Our Bangor campus and off-campus satellite education centers in Southern Maine, Wells, and Northern Maine, provide advanced knowledge in business; health and education; pharmacy studies; science and humanities; as well as communication. In addition, Husson University has a robust adult learning program. According to a recent analysis by U.S. News & World Report, Husson University is the most affordable private college in New England. Husson's MBA program is affordable, accessible and accentuates learning for career advancement. The University is Maine's leading provider of MBA graduates. For more information about educational opportunities that can lead to personal and professional success, visit Husson.edu.
Back to All Articles