Lessons Learned on Basketball Court and in Class Help Husson MBA Achieve Professional Success
Published on: August 19, 2019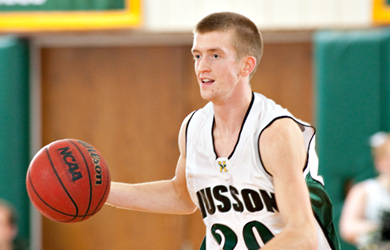 BANGOR, MAINE - Brock Bradford, the president and owner of NETCo, found professional success selling and servicing security equipment to the U.S. nuclear power industry. He credits the life and business lessons he learned on the basketball court and in class at Husson University with helping him reach his professional goals. 
"I played basketball all four years I was at Husson. During my senior year, I blew out my knee in a game in January. I found out that I tore my ACL. It's one of the key ligaments that helps stabilize your knee," said Bradford. "I was faced with the option of sitting out the rest of the year and having surgery or trying to rehab and come back finishing the year with a knee brace after making my body as strong as I could. I chose the latter and played out the rest of my senior year of basketball."
"The whole experience taught me a lot about dealing with adversity," said Bradford. "It was a big setback, but I gave it my all and pushed through it until I overcame the challenge. In life and in business, things get tough. Obstacles are thrown at you that you didn't expect - often in circumstances where you have no control. How you react and respond to these challenges is what makes the difference. You don't always get to write the script the way you want it, but you do get to choose how you respond to it."
"Brock is someone who understands the importance of resilience," said Marie Hansen, JD, PhD, SHRM-SCP, dean of the Husson University's College of Business. "His ability to persevere and passion for achieving goals creates an unwavering resolve for him to do his best – no matter what the situation is."
Bradford's whole career has been one of making the most of opportunities afforded to him.
"For as long as I can remember, my parents were self-employed," continued Bradford. "When I was in college, they bought the old Twin City Motor Inn in Brewer. I basically did all the accounting work for that hotel, all through college, as I studied to complete a Bachelor of Science in accounting at Husson."
"When I graduated, I worked for Lafayette Hotels in Hampden for six years. It was a tremendous professional experience for me. I had the opportunity to work with incredible people and in several management capacities, and during my last two years with the company as the organization's chief financial officer. It was a huge stepping stone and confidence booster for me both personally and professionally. 
That confidence led me to buy NETCo about three years ago. Today, I lead a third-party sales and service organization that offers metal detectors, baggage parcel inspection, x-ray machines, under vehicle inspection systems, and explosive detectors to nuclear power industry clients.

Bradford credits Husson University with giving him the foundation of knowledge he needed to get to where he is today.
"I really liked the professional focus of the MBA program. We went beyond the textbook and did a lot of case studies and research. The classes focused on concepts that could be applied in real world environments. I thought the MBA program was very helpful in preparing me for the kinds of situations you experience after graduation."
"I was also very impressed by how people-oriented the MBA program was," said Bradford. "I learned a key lesson at Husson: in business, it's all about people, your customers and your team. As a leader, it's my job to share a vision for where I want to take our company and get everyone in the organization on board."
"And it's not just the curriculum that's people focused, it's the way the whole program is set up. You're in small classes where you get a lot of interaction with professors who have actual professional business experience. It's not just someone teaching you out of a textbook. Instead, you get to talk to professors who can share things they've encountered in their professional lives out in the workplace. Working with these professors, I developed the confidence, skills and abilities that I needed to buy, own and run my own company," concluded Bradford.   
For more than 120 years, Husson University has prepared future leaders to handle the challenges of tomorrow through innovative undergraduate and graduate degrees. With a commitment to delivering affordable classroom, online and experiential learning opportunities, Husson University has come to represent superior value in higher education. Our Bangor campus and off-campus satellite education centers in Southern Maine, Wells, and Northern Maine, provide advanced knowledge in business; health and education; pharmacy studies; science and humanities; as well as communication. In addition, Husson University has a robust adult learning program. According to a recent analysis by U.S. News & World Report, Husson University is the most affordable private college in New England. For more information about educational opportunities that can lead to personal and professional success, visit Husson.edu.
Back to All Articles