Husson University is the First Private College to Participate in Maine National Guard Tuition Assistance
Published on: June 27, 2019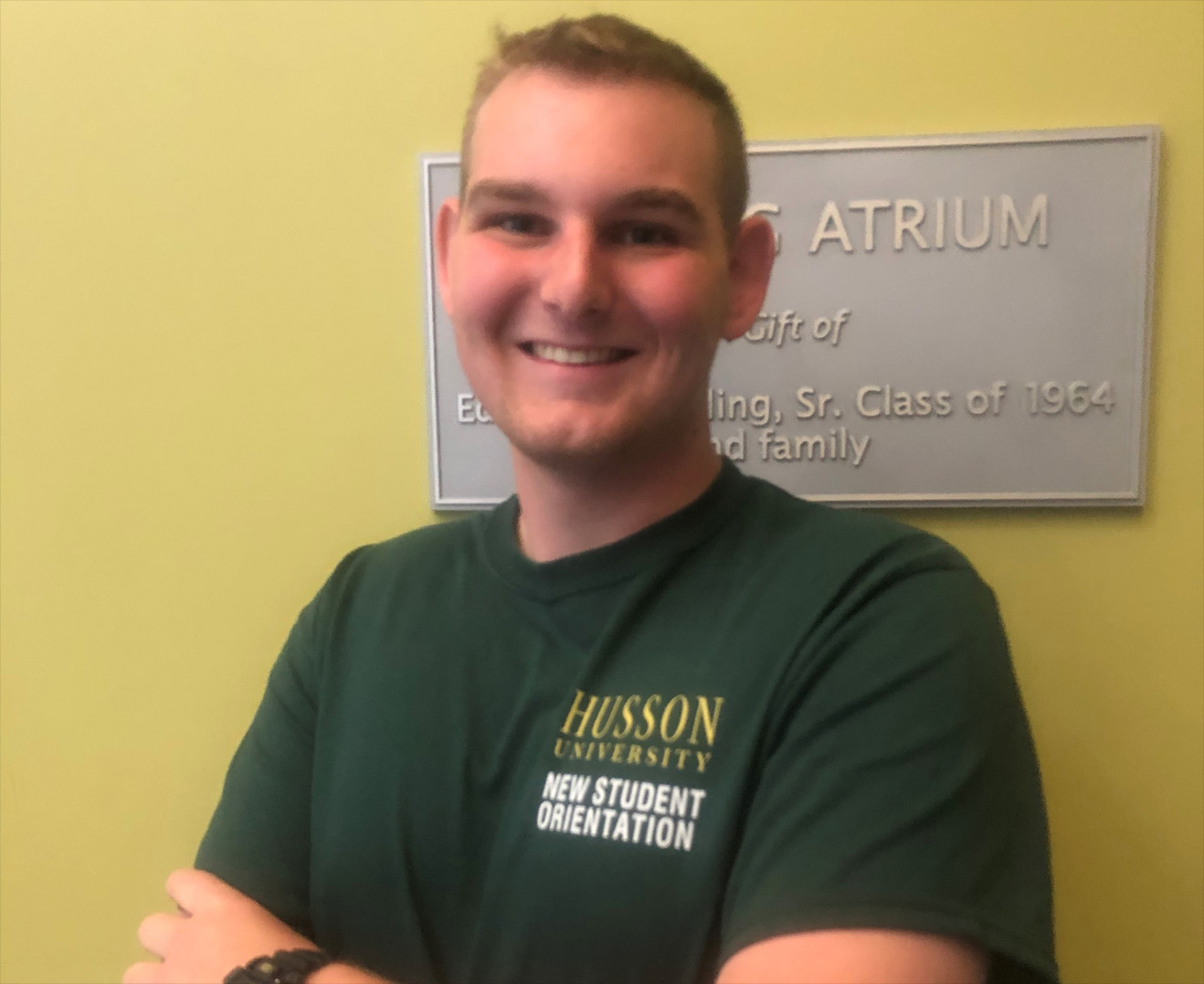 Jason Smith, Husson Student
BANGOR, MAINE - Husson University announced today that is the first private institution of higher education eligible to accept state financial assistance provided to National Guard members through Chapter 419 Public Law (S.P. 635 – L.D. 1736). This newly amended legislation, known as "An Act to Broaden Educational Opportunities to Members of the Maine National Guard and Provide Financial Assistance to Veterans" now gives Maine National Guard members the option to apply their tuition benefits at private universities, provided the educational institution has met the requirements set forth by the State of Maine's Military Bureau. Husson University is first private university in the state to have met these requirements.

Jason Smith is an E-5 (Sergeant) in the Maine National Guard. He is looking forward to taking advantage of this tuition benefit in the fall. "I've enrolled in Husson's 4 + 1 program. In just five years, I'll be able to complete a Bachelor of Science in Criminal Justice and a Master of Science in Criminal Justice Administration," said Smith. 
"My goals are to get a commission in the National Guard as an officer and then go on to be a member of the Federal Bureau of Investigation (FBI) or U.S. Customs and Border Protection," continued Smith. "I'm someone who wants to make a difference by helping to protect others and giving back to the community. That's why I joined the Maine National Guard. My education will allow me advance my career and someday serve at the national level."
Danielle Leighton, Husson University's assistant​ student accounts​ manager​ and Veteran's Administration certifying official, feels that tuition reimbursement programs like this one for active members of the armed services and veterans, are an important way to show our appreciation to those who serve our country. "The men and women of the Maine National Guard take time away from their families and their lives to serve our state in times of need. Providing them with educational opportunities is a way of saying "thank you," to all of the brave soldiers in the Guard who do so much for all of us."
"The Maine National Guard is incredibly grateful for the educational benefits offered to our Soldiers and Airmen through S.P. 635 - L.D. 1736," said Captain Carl J. Lamb, state public affairs officer, Maine National Guard. "We strive to foster a culture of lifelong learning, and Guard members are always encouraged to pursue civilian degrees and certificates in addition to their professional military education. We are pleased to see Husson announce their acceptance of state financial assistance, coming alongside public universities and community colleges, and we hope to see even more options become available for our Soldiers and Airmen in the near future."
"Our University has always had a strong commitment to the military community," said John Champoli, Husson's vice president for enrollment management. "In fact, Husson University President Robert A. Clark, Ph.D. was active in ROTC, was commissioned as a second lieutenant in the U.S. Army after College. While serving in Germany for four years, he was promoted to first lieutenant and then to captain. Later as a member of the active reserves, Major Clark was activated for the first Gulf War and received the Meritorious Service Medal for his leadership at the Pentagon's Army Casualty Operation Center during Operation Desert Shield and Operation Desert Storm."
"At Husson, we believe in the value of military services and look forward to helping members of the armed forces achieve career success. Over 96 percent of our graduates are employed or enrolled in graduate school after earning an undergraduate degree at Husson. Anyone who is interested in leveraging the power of education to begin the next chapter of their lives should contact us," concluded Champoli.
Members of the Maine National Guard interested in learning more about this tuition assistance program are welcome of contact Danielle Leighton at Husson University. Leighton's phone number is (207) 941-7034 and her email address is leightonda@husson.edu. She would be happy to answer any questions you might have and walk you through the enrollment process.
For more than 120 years, Husson University has prepared future leaders to handle the challenges of tomorrow through innovative undergraduate and graduate degrees. With a commitment to delivering affordable classroom, online and experiential learning opportunities, Husson University has come to represent superior value in higher education. Our Bangor campus and off-campus satellite education centers in Southern Maine, Wells, and Northern Maine, provide advanced knowledge in business; health and education; pharmacy studies; science and humanities; as well as communication. In addition, Husson University has a robust adult learning program. According to a recent analysis by U.S. News & World Report, Husson University is the most affordable private college in New England. For more information about educational opportunities that can lead to personal and professional success, visit Husson.edu.
Back to All Articles