Celebrate Husson! to Include Golf, a Lobster Bake, and the Music of Dean Martin. Now "That's Amore!"
Published on: June 17, 2019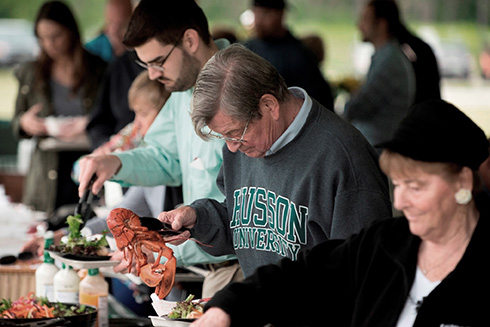 BANGOR, MAINE - Members of the community, including Husson University alumni, are invited to participate in Celebrate Husson! on Friday, June 21 and Saturday, June 22, 2019. The two-day event will feature fun for all ages with activities for both children and adults.
On Friday, June 21, at 12:30 p.m., Celebrate Husson! kicks off with the university's ninth annual golf tournament at the Bangor Municipal Golf Course. Alumni and friends of the University are welcome to participate. Husson Eagle Athletics is coordinating the tournament. Tricia Quirk Real Estate, a realtor affiliated with ERA™ Real Estate/Dawson Bradford Realtors, is sponsoring the tournament.
An All-Alumni Reunion Reception will kick off the activities on June 22 at 4 p.m. in the G. Peirce Webber Campus Center. While the event will honor the class of 1969, 1994 and 2009, all Husson University alumni are welcome to attend for free and enjoy an afternoon of socializing and hors d'oeuvres.
As Celebrate Husson! moves into the late afternoon, attendees will have even more opportunities for great food. Starting at 5:30 p.m., the All-Alumni Reunion Reception in the G. Peirce Webber Campus Center converts into a lobster bake. Alumni can enjoy Maine's favorite crustacean for only $25 per person. 
Immediately following the lobster bake at 7:30 p.m., there will be a special show at Husson University's Gracie Theatre. For one night only, the timeless music of Rat Pack legend Dean Martin will be brought to life. The show "An Evening with Dean Martin & Friends" features renowned Vegas performer and impressionist Tom Stevens.
"Tom Stevens is amazing as Dean Martin," said Jeri Misler, managing director of the Gracie Theatre. "His remarkable physical and vocal resemblance to 'The King of Cool' is uncanny. In fact, Dean Martin's own daughter, Deana, enthusiastically endorsed Tom's portrayal of her father, saying 'I've never seen anyone look and sound more like my Daddy.'"
Some of the musical numbers made famous by Dean Martin include, "Everybody Loves Somebody," and "That's Amore."
Martin isn't the only celebrity impersonation that Stevens will dazzle the audience with during his upcoming performance. Stevens also performs singing impersonations of Tom Jones, Neil Diamond, Elvis Presley, Ray Charles, Anthony Newley, Willie Nelson, Julio Iglesias, Bobby Darin, Louis Armstrong, Sammy Davis Jr., Frank Sinatra and Cher. His vocal impersonations evoke an era when Las Vegas was the capitol of cool. 
Along with his remarkable singing impressions, Stevens incorporates many other celebrity voices into his act including Jerry Lewis, Archie and Edith Bunker, Jimmy Stewart, Bill Clinton, George Burns, Paul Lynde, Johnny Carson, Jay Leno, Carol Channing, Bill Cosby, and Robert DeNiro, to name a few.
Stevens puts a lot of work into each impersonation. In an interview that appeared in the June 2014 edition of Vegas Indie Artists magazine, Stevens revealed that he spent years watching movies and videos of Dean Martin, practicing his voice, his accent, his mannerisms and his cadence of speaking. This same process has been repeated with the many other celebrities he impersonates. 
For those interested in just attending the show, tickets for the upcoming performance of "An Evening with Dean Martin & Friends" can be purchased by calling (207) 941-7888, visiting the Gracie Box Office in person, connecting online at gracietheatre.com or purchasing tickets at the door. It's the ideal show for anyone interested in reliving the golden age of Vegas showmanship. 
Alumni who choose to attend both the lobster bake and "An Evening with Dean Martin & Friends" are eligible to purchase combined tickets at a slightly reduced price. Tickets for the lobster bake and preferred seating at the show are available for just $50.  
To register for all or part of Celebrate Husson! visit https://www.husson.edu/alumni/19CelebrateHusson
For more than 120 years, Husson University has prepared future leaders to handle the challenges of tomorrow through innovative undergraduate and graduate degrees. With a commitment to delivering affordable classroom, online and experiential learning opportunities, Husson University has come to represent superior value in higher education. Our Bangor campus and off-campus satellite education centers in Southern Maine, Wells, and Northern Maine provide advanced knowledge in business; health and education; pharmacy studies; science and humanities; as well as communication. In addition, Husson University has a robust adult learning program. According to a recent tuition and fee analysis by U.S. News & World Report, Husson University is the most affordable private college in New England. For more information about educational opportunities that can lead to personal and professional success, visit Husson.edu.
Back to All Articles