Hooding Ceremony Honors Graduate Students at Husson University
Published on: May 7, 2019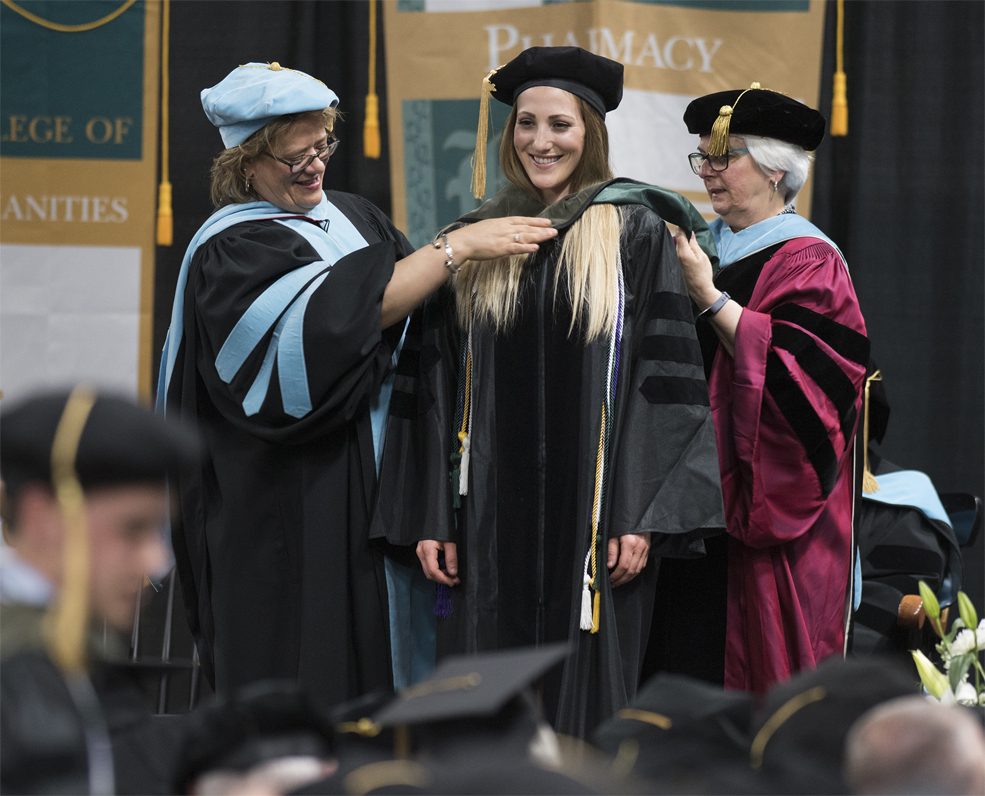 BANGOR, MAINE - A ceremony recognizing the next generation of professionals who completed their master's and doctoral degree studies at Husson University will take place at the Newman Gymnasium in Bangor at 7:00 p.m. on Friday, May 10, 2019.  Twelve-hundred people are expected to attend a ceremony celebrating the 364 graduate degrees earned by students this year. This includes 78 doctoral degrees and 286 master's degrees.
"Hooding ceremonies provide special recognition to students receiving advanced degrees," said Dr. Robert A. Clark, president of Husson University. "Earning a hood signifies that the degree recipient is now considered a scholar. The hood's length, lining colors and binding signify the degree, field of study, and the individual school where the graduate earned his or her degree."  
During a hooding ceremony faculty and students are dressed in academic regalia. Faculty members place the hood over the head of the graduate to signify his or her success in completing their degree.
History of Hooding:
The wearing of special gowns and hoods is a practice that dates back to the 12th and 13th centuries.[1] Clerical attire was the typical dress of scholars during those medieval times.[2] Long gowns provided necessary warmth in unheated buildings. Hoods as head-coverings helped students and faculty members resist the cold.[3] The Celts and their priests, the druids, initiated the wearing of hoods to distinguish a level of training.[4] Only the druids wore mantles with attached hoods to mark their superiority within society.[5]
Today, caps, gowns and hoods are associated with college graduation. Instead of being practical clothing, modern academic hoods consist of elongated scarves draped over an individual's shoulders with the lining turned inside out.[1] Although a hood is always black in color, the lengths have significance. A graduate earning a bachelor's degree receives a hood that's three feet long.[2] A master's degree graduate receives a hood that's three and one-half feet in length while four-foot hoods are given to doctoral recipients.[3]
Chesley H. Husson, Sr. Award
Each year, Husson University presents the Chesley H. Husson Sr. Award at the hooding ceremony. Chesley H. Husson Sr. was the founder of Husson College. He believed in academic integrity, hands-on education and community service. 
This year, the award is being presented to Professor Dewey Martin, MS, CPA, CMA, CGMA, director of the School of Accounting at Husson University's College of Business.
"While Dewey's students always have found his courses challenging, he truly garnered their respect, as well as that of his colleagues, through his knowledge, experience and advocacy," said College of Business and New England School of Communications (NESCom) Dean Marie Hansen, JD, PhD, SHRM-SCP. "His legacy will always be that he taught students how to strive to be the best in their professional and personal lives." 
Martin did not start out in life with aspirations to be a college professor. He began his career as a Certified Public Accountant at PricewaterhouseCoopers in Boston. During this time, his aunt, Sylvia Noyes, was a member of Husson's English faculty. She contacted him after she found out there was an opening for an accounting faculty member. Noyes thought that Martin would be an excellent addition to Husson's faculty. 
Martin and his wife, Linda both grew up in Maine and wanted to raise a family here, so he applied for the job at Husson and got it. He was first hired in 1980. His plan was to teach here for five years while the two of them saved up enough money to open their own accounting practice. After teaching for a few years, Martin decided that teaching was his professional calling. That was 39 years ago.
Professor Martin has a bachelor's degree in accounting and a master's degree in taxation. In addition, he is a Certified Public Accountant, a Certified Management Accountant, and a Chartered Global Management Accountant.
Besides being knowledgeable, Martin has received recognition for his many professional achievements. The Small Business Administration recognized him as the Accountant Advocate of the Year for Maine and New England. The Maine Society of CPAs presented him with their Public Service Award. The Hampden Business Association named him the Businessperson of the Year. Martin is also past-president of the Maine Society of CPA's and a long-term member of the National Federation of Independent Business's Guardian Advisory Council for Maine. He once testified before the Senate Finance Committee and House Ways and Means Committee in Washington, D.C. on small business tax reform. 
In his 39 years at Husson, he's almost never missed a day of work. He once said, "If the students are committed to being there than I am too. I feel beholden to them." 
Outside of his work at Husson University, Martin is the sole proprietor of a public accounting practice with numerous small business and personal clients.
Throughout his career, Dewey Martin has served as an example to students, faculty, and staff through his advocacy and leadership. He has vast experience and knowledge. The length of his tenure at the University has allowed him to teach generations of families. In addition, his community connections have served to extend awareness of Husson University and the College of Business throughout the state and beyond.
About Husson University:
For more than 120 years, Husson University has prepared future leaders to handle the challenges of tomorrow through innovative undergraduate and graduate degrees. With a commitment to delivering affordable classroom, online and experiential learning opportunities, Husson University has come to represent superior value in higher education. Our Bangor campus and off-campus satellite education centers in Southern Maine, Wells, and Northern Maine provide advanced knowledge in business; health and education; pharmacy studies; science and humanities; as well as communication. In addition, Husson University has a robust adult learning program. According to a recent tuition and fee analysis by U.S. News & World Report, Husson University is the most affordable private college in New England. For more information about educational opportunities that can lead to personal and professional success, visit Husson.edu.
[1] "Significance of the Graduate Hood," University of Alaska Anchorage, https://www.uaa.alaska.edu/students/commencement/graduate-degree-hooding-ceremony/significance-of-the-graduate-hood.cshtml
[2] "Academic Regalia in the United States," Wikipedia, https://en.wikipedia.org/wiki/Academic_regalia_in_the_United_States
[3] Ibid
[1] "Academic Regalia: Historical Overview of the Academic Costume Code," American Council on Education (ACE), http://www.acenet.edu/news-room/Pages/Historical-Overview-Academic-Costume-Code.aspx
[2] Ibid
[3] Ibid
[4] "Graduation Cap and Gown History," https://www.graduationsource.com/blog/graduation-cap-and-gown-history/
[5] Ibid
Back to All Articles