United States Senator Susan M. Collins to Deliver Husson University's Commencement Address
Published on: April 23, 2019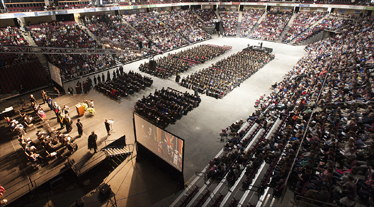 BANGOR, MAINE - United States Senator Susan M. Collins will deliver the commencement address to the Class of 2019 at Husson University's 120th Annual Commencement Exercises at the Cross Insurance Center in Bangor, Maine. The graduation ceremony begins at 10:30 a.m. on Saturday, May 11, 2019. 
"Being a United States Senator is a tough and demanding job," said Husson University President Robert A. Clark, Ph.D. "Working in the Senate entails long hours, hard work, as they address difficult decisions. Despite this, U.S. Senators try to make life better for their constituents while dealing with diverse issues. They must also navigate an increasingly challenging political landscape."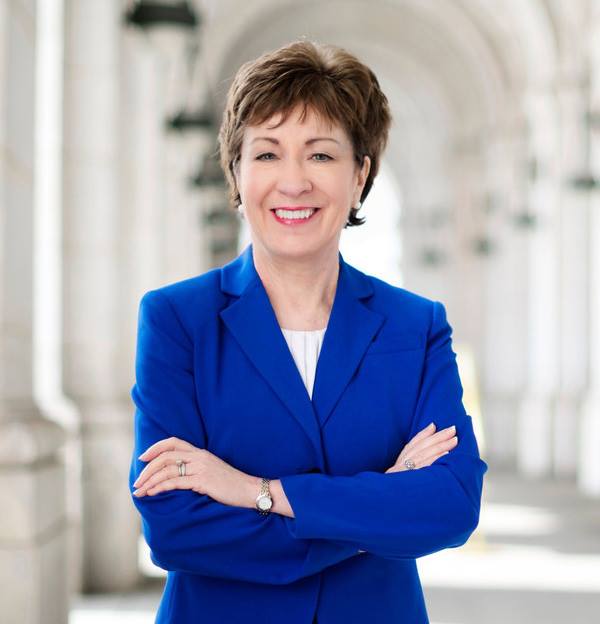 "Undeterred by this challenging work environment, Senator Collins has earned a national reputation as an effective legislator who works across party lines to seek consensus on our nation's most important issues," continued Clark. "She is constantly working to transform the lives of the people of Maine. Her insights into the importance of positive change, and the need to work with others, make her insights critically important during these difficult times. As an advocate for Maine's citizens, Senator Collins has completed more than 6,900 roll call votes, one of the longest consecutive voting records in the United States Senate."    
Like Senator Collins, Husson University is also committed to transforming lives. The construction of our new Wellness Learning Center, and University's plans to create a new state-of-the-art College of Business Building is transforming educational opportunities for students on our Bangor campus. 
"Husson University continues to grow and evolve," said Clark. "We are constantly evaluating our programs and developing new offerings. Husson is building new facilities and hiring knowledgeable faculty members who can help our students find career success in today's global economy. With a commitment to continuous improvement, Husson University serves a diverse student population as one of the nation's leading professional educators."   
About Commencement
Husson's graduation ceremony will recognize individuals who have completed their degrees from Husson University's College of Business, College of Health and Education, College of Science and Humanities, New England School of Communications (NESCom), and the School of Pharmacy. This year's Commencement will award over 880 degrees to approximately 810 graduates.
The Cross Insurance Center is located at 515 Main Street in Bangor, Maine. Individuals traveling to graduation from outside the area who need help finding accommodations are encouraged to contact the Bangor Convention and Visitors Bureau at (207) 947-5205. 
The commencement ceremony begins at 10:30 a.m. Guests not marching in the ceremonies are encouraged to arrive at the Cross Insurance Center by 10:00 a.m. Early arrival is recommended to avoid traffic congestion and to obtain choice seating. Tickets are not required. Those who arrive first, get to choose their seats first.
The Cross Center is fully ADA accessible for individuals with special needs. Individuals with special needs can find additional information at https://www.crossinsurancecenter.com/guest-services/accessibility-services-for-guests-with-disabilities/. Those who cannot attend are welcome to view the ceremony via streamed video online. More information about the streaming video and ceremonies is available at www.husson.edu.
More Information about United States Senator Susan M. Collins
Susan Collins, Maine's senior United States Senator, was first elected to the Senate in 1996. She ranks 12th in Senate seniority and is the most senior Republican woman. Senator Collins chairs the Senate Aging Committee and the Transportation, Housing, and Urban Development Appropriations Subcommittee. She also serves on the Intelligence Committee and the Health, Education, Labor and Pensions Committee.
Senator Collins has earned a national reputation for working across party lines. For the last six consecutive years, she has ranked as the most bipartisan member of the U.S. Senate. Known for her Maine work ethic, Senator Collins has never missed a roll call vote, casting more than 6,900.
A native of Caribou, Maine, Senator Collins graduated Phi Beta Kappa from St. Lawrence University and joined the staff of then-Congressman and later Senator William Cohen. She was appointed director of the Small Business Administration's regional office in Boston by President George H.W. Bush, and she was the founding executive director of the Richard E. Dyke Center for Family Business at Husson University in Bangor, Maine.
 Senator Collins received Husson University's honorary doctorate of public service in 1997.
About Husson University:
For more than 120 years, Husson University has prepared future leaders to handle the challenges of tomorrow through innovative undergraduate and graduate degrees. With a commitment to delivering affordable classroom, online and experiential learning opportunities, Husson University has come to represent superior value in higher education. Our Bangor campus and off-campus satellite education centers in Southern Maine, Wells, and Northern Maine provide advanced knowledge in business; health and education; pharmacy studies; science and humanities; as well as communication. In addition, Husson University has a robust adult learning program. According to a recent tuition and fee analysis by U.S. News & World Report, Husson University is the most affordable private college in New England. For more information about educational opportunities that can lead to personal and professional success, visit Husson.edu.
Back to All Articles