Trio to Perform Experimental and Electronic Music at Husson University
Published on: April 24, 2019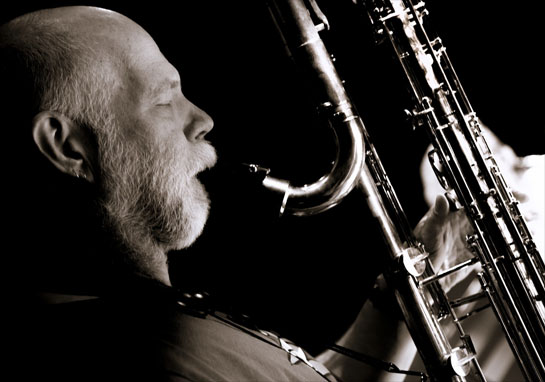 BANGOR, MAINE - Husson University's College of Science and Humanities will be sponsoring a performance of experimental and electronic music on Thursday, April 25, 5:30 p.m. in Peabody Hall's Kominsky Auditorium on the university's Bangor campus. The performance is free and open to the public.
The performers, Aldrich, Norton and Ross (AN&R), are a trio of Maine-based musicians who perform experimental and electronic music. The group includes Nate Aldrich (recordings), Steve Norton (reed instruments and electronics) and Leslie Ross (bassoon and electronics). With nearly 90 years of performance experience among them, AN&R creates improvised sound environments using extended instrumental techniques, electronic processing and field recordings that are rich in texture and subtlety.
"Experimental music challenges the audience to listen to compositions that are beyond melodies," said Cliff Guthrie, PhD, a professor at Husson University's College of Science and Humanities. "This music seeks to break the confines of traditional compositions and genres. Students and members of the public who attend this performance will be immersed in a musical experience unlike any other they're familiar with."
One of the performers is Husson University Adjunct Professor Nate Aldrich. He teaches a course on the "History of Rock and Roll" course at the University. This fall, he'll teach a course on "The History of Electronic Music." Aldrich is a new media artist and educator from Penobscot, Maine.[1] He creates installation, video, performance and acousmatic art.[2] Prior to earning an MFA in Electronic Music composition, he spent ten years as a theatre director and artistic director.[3]
Steve Norton is another member of the trio. He is a Master of Fine Arts student at the University of Maine who recently created a sound installation piece called "Requiem."[1] It made its Massachusetts debut at the Boston Nature Center in Mattapan last month.[2] 
Leslie Ross is a bassoon instructor at the University of Maine.[3] She studied modern bassoon with R. Mazzella in Montreal, Canada; G. Corey in Ottawa, Canada; and baroque bassoon with D. Godburn in New York City before dedicating herself to experimental and new music in the mid 1980's.[4] A baroque bassoon builder, Ross has also invented new musical instruments and created sound installations.[5] 
The performance is free and open to the public. Those interested in getting the best seats are encouraged to arrive early since seating is limited to 75 people. For more information, call Dr. Cliff Guthrie at (207) 941-7760 or email him at guthriec@husson.edu.
For more than 120 years, Husson University has prepared future leaders to handle the challenges of tomorrow through innovative undergraduate and graduate degrees. With a commitment to delivering affordable classroom, online and experiential learning opportunities, Husson University has come to represent superior value in higher education. Our Bangor campus and off-campus satellite education centers in Southern Maine, Wells, and Northern Maine provide advanced knowledge in business; health and education; pharmacy studies; science and humanities; as well as communication. In addition, Husson University has a robust adult learning program. According to a recent tuition and fee analysis by U.S. News & World Report, Husson University is the most affordable private college in New England. For more information about educational opportunities that can lead to personal and professional success, visit Husson.edu.
[1] https://intermedia.umaine.edu/2019/03/14/mfa-student-steve-norton-presents-requiem-in-boston/
[2] Ibid
[3] School of Performing Arts, University of Maine, https://umaine.edu/spa/leslie-ross/
[4] Ibid
[5] Ibid
[1] "MFA Student Steve Norton presents "Requiem" in Boston", Intermedia Programs, University of Maine, March 14, 2019, https://intermedia.umaine.edu/2019/03/14/mfa-student-steve-norton-presents-requiem-in-boston/
[2] Ibid
[3] Ibid
Back to All Articles