Smithsonian Senior Scientist Emeritus to Deliver Husson University's Inaugural Sustainability Lecture
Published on: April 19, 2019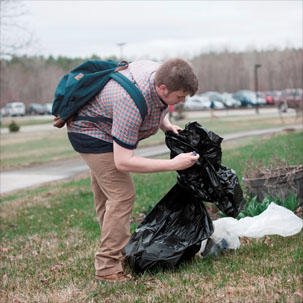 BANGOR, MAINE - Husson University announced today that the world renowned ecologist, paleobiologist, and conservationist Dr. Jeremy Jackson will be speaking at the Gracie Theatre on Monday, April 22 at 7 p.m. as part of the educational institution's Earth Day celebrations. The event is free and open to the public. This is the inaugural lecture in what will be an annual sustainability lecture series.  
Widely regarded as one of the leading climate researchers in the US today, Jackson's TED talk "How we wrecked the ocean," has been viewed more than 742,000 times. (To view the video go to https://www.ted.com/talks/jeremy_jackson.)
His upcoming talk at the Gracie Theatre will be about the environmental crisis in the United States. It will be based on his recent book, Breakpoint: Reckoning with America's Environmental Crisis. 
"Having a professor of Dr. Jackson's stature speak at Husson says a lot about how our University is viewed by our academic peers," said Nicholas Jenkins, PhD, an assistant professor at Husson University's College of Science and Humanities. "Jackson normally speaks at much larger universities. Having him come to Husson and share the results of his research benefits both our students and the community."
More about Dr. Jeremy Jackson:
Jeremy Bradford Cook Jackson[1] is an emeritus professor at the Scripps Institution of Oceanography, a senior scientist emeritus at the Smithsonian Institution, and a visiting scientist at the American Museum of Natural History Center for Biodiversity and Conservation.[2] He studies threats and solutions to human impacts on the environment and the ecology and evolution of tropical seas. Jackson has more than 170 scientific publications and 11 books to his credit.[3] In addition, there are nearly 40,000 citations of his work listed on Google Scholar.[4]
Jackson is a fellow of the American Association for the Advancement of Science and the American Academy of Arts and Sciences.[1] He received more than a dozen prizes and awards including the BBVA International Prize in Ecology and Conservation, the Paleontological Medal, and the Darwin Medal of the International Society for Reef Studies.[2] Jackson's work on the collapse of coastal ecosystems was chosen by Discover magazine as the outstanding scientific achievement of 2001.[3] His new book Breakpoint: Reckoning with America's Environmental Crisis was published by Yale University Press in April 2018 and is available through Amazon.com.[4] 
Dr. Jeremy Jackson's presentation is part of Husson University's Earth Week celebrations. This four-day event includes:
On Monday, April 22, 2019 - A campus clean up, recycling games, a BBQ lunch with outdoor games, and Dr. Jeremy Jackson's presentation.
In addition, there will be an oil spill demonstration. Run by Wynne Guglielmo, Husson University's environmental, health and safety compliance officer, this demonstration will consist of a small pool of water with oil placed in it. Students can then attempt to clean up the oil using a variety of methods including small booms made from absorbent pads, sphagnum moss and a dispersant. This demonstration will help demonstrate the benefits and limitations of different clean-up methods.
On Tuesday, April 23, 2019 - A round table sustainability discussion and a screening of "Paris to Pittsburgh." A trailer for this documentary motion picture can be found at https://www.youtube.com/watch?v=sFznn8FNRbU. 
On Wednesday, April 24, 2019 – A sustainable crafts fair where visitors can make native pollinator seed bombs, bee homes, beeswax sandwich bags, produce bags, homemade toothpaste, and sugar scrub. . 
On Thursday, April 25, 2019 - Concluding celebration with an open mic night and poetry reading. 
All week - Clothing swap, a collaborative mural, book recycling, and e-waste recycling. 
When asked about the importance of Dr. Jackson's presentation and the upcoming Earth Day events, Dr. Nicholas Jenkins said, "Our planet is at risk. If we don't act quickly to address climate change, our society faces a series of dire consequences. Earth Day provides us with a unique opportunity to draw attention to these issues and help students become more aware of decisions being made by our leaders and the effects they will have on the future."  
To help meet the increasing demand for knowledgeable environmental science professionals who can address global warming, Husson University offers a concentration in environmental sciences as part of its Bachelor of Science in biology degree. The program is designed to provide students with a strong, broad-based foundation in the natural and physical processes that affect the functioning of our planet, as well as the social and political factors that influence environmental policy and management.
The degree is ideal for anyone interested in positions with local, state, and federal government agencies, private environmental organizations, or educational institutions with scientific or policy-related environmental disciplines.
Earth Day began on April 22, 1970, when millions of people protested the negative impacts of 150 years of industrial development.[1] Evidence was growing that pollution led to developmental issues in children.[2] Biodiversity was in decline as a result of the heavy use of pesticides and other pollutants.[3] Today, Earth Day is a global event. It is estimated that more than 1 billion people in 192 countries take part in what is now considered the largest civic-focused day of action in the world.[4] It has become a day of political action and civic participation.[5] People march, sign petitions, meet with their elected officials, plant trees, clean up their towns and roads.[6] For more information, visit https://www.earthday.org/about/
Completed in October of 2009, The Gracie is Husson University's center for the fine and performing arts. Located at 1 College Circle in Bangor, Maine, this beautiful 500-seat theatre is considered one of the state's premier performance venues. In addition, The Gracie also serves as a learning platform for students from the New England School of Communications in digital audio; sound mixing; set design and construction; lighting; acting and electronics. Learn more at GracieTheatre.com.
For more than 120 years, Husson University has prepared future leaders to handle the challenges of tomorrow through innovative undergraduate and graduate degrees. With a commitment to delivering affordable classroom, online and experiential learning opportunities, Husson University has come to represent superior value in higher education. Our Bangor campus and off-campus satellite education centers in Southern Maine, Wells, and Northern Maine provide advanced knowledge in business; health and education; pharmacy studies; science and humanities; as well as communication. In addition, Husson University has a robust adult learning program. According to a recent tuition and fee analysis by U.S. News & World Report, Husson University is the most affordable private college in New England. For more information about educational opportunities that can lead to personal and professional success, visit Husson.edu.
[1] "What is Earth Day, and what is it meant to accomplish?" Earth Day Network, Washington, D.C. https://www.earthday.org/earthday/, as of April 15, 2019.
[2] Ibid
[3] Ibid
[4] Ibid
[5] Ibid
[6] Ibid
[1] Ibid
[2] Ibid
[3] Ibid
[4] Ibid
[1] Jeremy Jackson, (scientist), Wikipedia, https://en.wikipedia.org/wiki/Jeremy_Jackson_(scientist)
[2] Ibid
[3] Ibid
[4] Ibid
Back to All Articles