Live from Husson University's Gracie Theatre in Bangor, It's Maine Public Radio's "Maine Calling"
Published on: April 9, 2019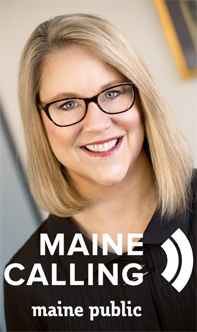 "Maine Calling" Host, Jennifer Rooks
BANGOR, MAINE - The Gracie Theatre at Husson University will be the site of a live broadcast of Maine Public Radio's Maine Calling program on Thursday, April 11, 2019, from 1 – 2 p.m. Anyone interested in watching the broadcast is welcome to attend. The broadcast is free and open to the public.
The topic of the April 11 edition of Maine Calling is entrepreneurship in Maine. Jennifer Rooks will be hosting the program. During the show, listeners will learn about entrepreneurship from prominent experts. They'll also hear from Maine entrepreneurs about how they got their business started in Maine. Resources and programs that have successfully launched new businesses will also be discussed.
"The spirit of entrepreneurship shows up in different parts of our state," said Cindy Han, producer of Maine Calling. "We are looking forward to bringing our show to the campus of Husson University in Bangor. Our conversation will touch upon how Bangor and the rest of the state continue to experience economic growth fueled by local entrepreneurs." 
The guests slated to appear on this show include Dr. Brien Walton, director of the Richard E. Dyke Center for Family Business and an assistant professor of entrepreneurship at Husson University. Walton is also the CEO of Acadia Capital Management II, Inc., a certified Community Development Entity that provides federal New Markets Tax Credits to investors in distressed communities and Opportunity Zones.
Joining Walton on the panel will be Tom Rainey, executive director of the Maine Center for Entrepreneurial Development and Jennifer Sporzynski a senior vice president for business and workforce development at Coastal Enterprises Inc.
Call-in participants will include Darrin Coffin, CEO and chairman of Indian Township Enterprises and Kyle Poissonnier, owner of Katalyst and founder of Elykssor Clothing.
Maine Calling is an interactive radio program that airs live Monday through Friday from 1:00 to 
2:00 p.m. and rebroadcast at 8 p.m. The show brings interesting conversations on a wide variety of topics to the people of Maine. 
Listeners and members of the Gracie Theatre audience are encouraged to participate in the conversation by asking questions during the live show. 
"Husson University is the home of Maine's largest College of Business. Since our graduates have successfully opened over 100 businesses, having a show about entrepreneurship on our campus is a natural fit for us," said Marie Hansen, Ph.D., JD, dean of Husson University's College of Business. "We want to provide students and small business owners with the understanding and knowledge they need to start a new business or make their existing business more successful." To learn more about the Bachelor of Science degree with a concentration in entrepreneurship and small business management at Husson University click here.
About Maine Public: Maine Public is Maine's premier, independent media resource, dedicated to creating exceptional opportunities for the communities it serves to engage with critical issues, compelling stories and quality entertainment. Maine Public is renowned for creating award-winning programs, as well as airing content from PBS, NPR, and other independent producers. Formed in 1992, Maine Public is an independently owned and operated nonprofit organization with office and studio locations in Bangor, Lewiston, and Portland, Maine. For more information, visit MainePublic.org. 
Completed in October of 2009, The Gracie is Husson University's center for the fine and performing arts. Located at 1 College Circle in Bangor, Maine, this beautiful 500-seat theatre is considered one of the state's premier performance venues. In addition, The Gracie also serves as a learning platform for students from the New England School of Communications in digital audio; sound mixing; set design and construction; lighting; acting and electronics. Learn more at GracieTheatre.com.
For more than 120 years, Husson University has prepared future leaders to handle the challenges of tomorrow through innovative undergraduate and graduate degrees. With a commitment to delivering affordable classroom, online and experiential learning opportunities, Husson University has come to represent superior value in higher education. Our Bangor campus and off-campus satellite education centers in Southern Maine, Wells, and Northern Maine provide advanced knowledge in business; health and education; pharmacy studies; science and humanities; as well as communication. In addition, Husson University has a robust adult learning program. According to a recent tuition and fee analysis by U.S. News & World Report, Husson University is the most affordable private college in New England. For more information about educational opportunities that can lead to personal and professional success, visit Husson.edu.
Back to All Articles