2019 Husson University Culture Night Featured International Students, Food, Fashion, Music and Dance
Published on: April 11, 2019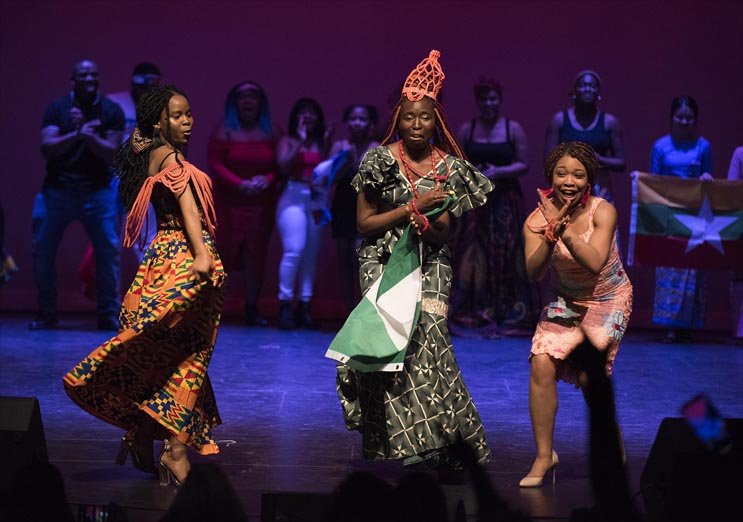 BANGOR, MAINE - Husson students from a variety of countries and international traditions shared expressions of their cultures on Friday, April 5, 2019 at 7:00 p.m. at the Gracie Theatre as part of the University's 2019 Culture Night. More than 300 Husson University students attend this exciting and colorful talent showcase. It's widely considered one of Husson's most popular student events.
Activities included a fashion show, food, music, and dance performances from cultures around the world. Many of the students wear traditional apparel from their native lands during the event.
"Events like these are an important part of today's college experience," said Dr. Lynne Coy-Ogan, senior vice president for academic affairs and provost at Husson University. "Students who develop cultural understanding and sensitivity have a better chance of achieving success in today's multinational global economy."
This annual event is hosted by Husson University's African Student Association and sponsored by the Husson University's Student Life and Student Activities Offices. 
The African Students Association is a multicultural student group at Husson University that promotes cultural and social awareness. The organization seeks to facilitate better communication between African students and other members of the university community, while encouraging activities that build bridges of understanding.
Husson University's Office of Student Life is charged with providing a variety of activities and services that enhance and extend the educational experience of Husson students. Within student life is the Office of Student Activities. This department provides Husson students with a wide variety of activities and programs designed to engage and enrich the campus community. Working closely with Student Government and the University's 40+ clubs/organizations, students are encouraged to get involved in the many educational, cultural, and social programs Husson offers.
No tickets were required. The event was free and open to the public.
For more than 120 years, Husson University has prepared future leaders to handle the challenges of tomorrow through innovative undergraduate and graduate degrees. With a commitment to delivering affordable classroom, online and experiential learning opportunities, Husson University has come to represent superior value in higher education. Our Bangor campus and off-campus satellite education centers in Southern Maine, Wells, and Northern Maine, provide advanced knowledge in business; health and education; pharmacy studies; science and humanities; as well as communication. In addition, Husson University has a robust adult learning program. According to a recent analysis by U.S. News & World Report, Husson University is the most affordable private college in New England. For more information about educational opportunities that can lead to personal and professional success, visit Husson.edu.
Back to All Articles