With Guts, Sound, Lotion and UFOs, Husson University is Supporting the 2019 Maine Science Festival
Published on: March 12, 2019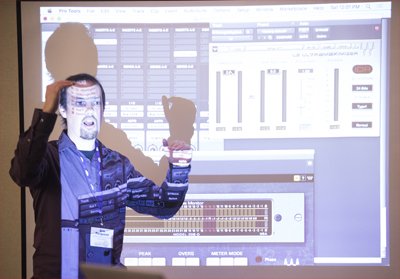 BANGOR, MAINE – Husson University students and faculty will be sharing their in-depth knowledge of science with members of the public on March 16-17 as part of the Maine Science Festival. 
From 9 a.m. - 4 p.m. on March 16, Husson University will demonstrate scientific concepts and provide information to visitors at two booths as part of "Exploration Stations: Engage-Examine-Experiment" in the Cross Insurance Center Ballroom. The hands-on experience is called "From Mouth to Gut – How Science Helps Us Stay Healthy," and will feature the knowledgeable faculty members from Husson University as they help explain the wonders of the human digestive track. Participating Husson faculty members will include Assistant Professor Therese Anderson, MS, and Assistant Professor Emily Messina, PhD, from the College of Science and Humanities. Joining them will be Dr. Erin Owen an associate professor from the College of Science and Humanities.
Assisting the faculty members will be Nick Eddy and Riley Bolin, two undergraduate students guided by Valerie Sauda MSN, RN – BC, an assistant professor in the School of Nursing. The students have both worked with Dr. Messina in her laboratory and will be helping Maine Science Festival attendees understand how regular handwashing can help prevent the spread of disease.
The booth will feature microscopes and examples of common microbes every person has inside them. After visiting the booth, students will better understand the important contributions microbiologists make to healthcare and how nurses take care of patients using their work.
Also offering hands-on activities at the exploration stations will be Husson University School of Pharmacy graduate students who are members of the Rho Chi Society. The members of this international honor society for pharmaceutical sciences will be offering a learning experience called "The Make Your Own Lotion and Pill Counting Challenge." The hands-on activities will provide young people with the opportunity to combine chemical compounds in order to make their own lotion and learn about the practice of pharmacy. The Husson graduate students will also be available to answer questions and provide fact sheets on a variety of topics.
At 7:30 p.m. on March 16, 2019, the Maine Science Festival's 2019 headliner will be at Husson University's Gracie Theatre. Host/reporter Wendy Zukerman and senior producer Kaitlyn Sawrey from Science Vs will be this year's presenters. Science Vs is a podcast that examines fads, trends, and widely held opinions to find out what's fact, what's not, and what's somewhere in between. Their examinations are conducted in ways that take science seriously and makes it understandable for anyone who listens.
Their presentation at the Gracie Theatre will be "Science vs UFOs." As the Science Vs team says, "There are a lot of strong opinions, but then there's SCIENCE. Science Vs is your team of friendly fact checkers that will blow up your firmly held opinions and replace them with science."
Immediately following their show, Zukerman and Sawrey will conduct a moderated question and answer session with the audience.
In keeping with the Maine Science Festival's mission to keep the festival accessible, tickets for "Science vs UFOs" will be $10 for students and $17 for members of public who purchase tickets in advance. Tickets will cost an additional $5 if they are purchased at the door. All tickets are general admission.
More About Zukerman and Sawrey:
Wendy Zukerman is the host and executive producer of Science Vs. Previously, she worked for the Australian Broadcasting Corporation, where she originally created the program. Kaitlyn Sawrey is the senior producer of Science Vs. Previously she was the executive producer of youth current affairs show 'Hack' on triple j in Australia. Kaitlyn was the founding producer of Science Vs for the Australian Broadcasting Corporation.
The Physics of Sound
Husson's participation in the 2019 Maine Science Festival concludes on Sunday, March 17 from 1 – 2 p.m. at the Queen City Cinema Club with a presentation by Eric Ferguson, MM, an assistant professor with the University's New England School of Communications. His presentation, "Seeing Sound," will introduce the audience to the fundamental physics of sound. As part of the presentation, Ferguson will demonstrate technologies employed by audio engineers to make the invisible visible. Meters, oscilloscopes, spectrographs, and waveform editors will illustrate basic concepts and help audience members understand how sound is produced by musical instruments and manipulated by audio professionals. Kate Dickerson from the Maine Science Festival will moderate the event. The presentation is suited for students in middle school or high school. 
"Events like the Maine Science Festival can profoundly enrich and inspire the next generation of student scientists," said Senior Vice President for Academic Affairs and Provost Lynne Coy-Ogan, EdD. "This event serves to plant the seeds of inspiration and nurture the curiosity of young people so that one day, with the benefit of education, they can reach their full potential and achieve a lifetime of career success." 
Continuing, Coy-Ogan observed: "The Maine Science Festival also helps to showcase the variety of science-related expertise available at Husson University. We're proud to support this educational effort and help make the festival a great experience for students of all ages."
For more than 120 years, Husson University has prepared future leaders to handle the challenges of tomorrow through innovative undergraduate and graduate degrees. With a commitment to delivering affordable classroom, online and experiential learning opportunities, Husson University has come to represent superior value in higher education. Our Bangor campus and off-campus satellite education centers in Southern Maine, Wells, and Northern Maine, provide advanced knowledge in business; health and education; pharmacy studies; science and humanities; as well as communication. In addition, Husson University has a robust adult learning program. According to a recent analysis by U.S. News & World Report, Husson University is the most affordable private college in New England. For more information about educational opportunities that can lead to personal and professional success, visit Husson.edu.
Back to All Articles