Husson University Students and Alumni to Compete in Wheelchair Basketball
Published on: March 29, 2019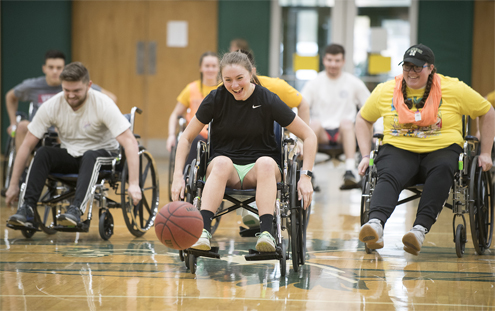 Bangor, Maine - Husson University's Organization of Physical Therapy Students (OPTS) is hosting the 21st Annual Wheelchair Basketball Tournament at Newman Gymnasium at One College Circle in Bangor, Maine on Saturday, March 30, 2019 from 12 – 4 p.m. 
"This tournament raises funds for Alpha One, an organization in Bangor that advocates for and helps physically and mentally challenged individuals overcome the barriers that prevent them from living ordinary lives," said Maxell Post, a Husson University physical therapy student and the president of OPTS. "Funds are also being raised to provide a scholarship opportunity for physical therapy graduate students at Husson University. Graduate students will now be able to attend professional and educational conferences because of this scholarship." 
Teams comprised of Husson University physical therapy (PT) and occupational therapy (OT) students will be participating in this event. Also participating will be a team of alumni and staff members from Husson University's Advancement department.
"For Husson University alumni, like myself, being a part of a wheelchair basketball team is a lot of fun," said Readell Orff, DPT, a physical therapist in the rehabilitation department at Northern Light Health in Bucksport. "Not only do I get to rekindle relationships with my fellow graduates, I get to meet current students."
"Usually, I only see current students in a clinical setting," continued Orff. "As wheelchair basketball competitors, we all get to know each other. This informal networking opportunity with alumni can sometimes lead to enhanced career direction and future employment opportunities for participating Husson students."
Two physical therapy businesses are sponsoring the alumni team this year. They are Performance Physical Therapy and Kidz in Motion. Brad Libbey, DPT, Class of 2013 owns Performance Physical Therapy. Karen Huhn, PT, PhD, chair of Husson University's School of Physical Therapy, owns Kidz in Motion.
The event is free and open to the public. Those in attendance will enjoy multiple games of wheelchair basketball. Food, drink and raffle ticket purchases all support Alpha One and the scholarship fund for PT students. Local area businesses are donating the raffle prizes. While this year's slate of prizes is still being determined, in past years prizes have included gift cards to area restaurants, hand-made pottery, hand-made organic lotions and soaps, a bicycle, and much more. 
Anyone attending this event can purchase raffle tickets. Individuals must be present to win. Raffle tickets cost $1 for one, $4 for five, $7 for 10 and $10 for 15. 
In addition to being fun, this competition serves an important educational purpose. It provides Husson physical therapy and occupational therapy students with a greater appreciation of the mobility challenges confronting the physically disabled. Persons with mobility issues will someday be the future clients of these Husson PT and OT students.
"Physical therapy is all about helping people live their lives to the fullest," said Post. "My peers and I may be treating patients in the future who'll want to continue to be active even though they have a mobility issue. If wheelchair basketball has taught me anything, it's that having a mobility issue doesn't mean you can't be an athlete. Anyone who experiences wheelchair basketball quickly realizes it's not an easy sport. It requires a lot of upper body strength. I think this tournament will give everyone who participates a greater appreciation for the athleticism required to play this sport."
If you need more information about the event, please contact Maxell Post via email at postm@husson.edu. 
Husson University's Organization of Physical Therapy Students promotes academic excellence, public service, and professional networking through a series of meeting and fundraising events. The group is dedicated to promoting healthy life styles, raising awareness of disability-related issues and encouraging professionalism within the discipline of physical therapy.
OPTS members are all students in the School of Physical Therapy at Husson University. This School is dedicated to developing skilled and knowledgeable practitioners who can work with clients on an independent and collaborative basis. Husson's Doctor of Physical Therapy program consists of a three-year pre-professional phase, followed by a three-year professional phase.
The School of Physical Therapy is part of Husson University's College of Health and Education. Offering degrees in counseling, nursing, physical therapy and occupational therapy, the College of Health and Education helps prepare students for professional success in a variety of healthcare careers.
For more than 120 years, Husson University has prepared future leaders to handle the challenges of tomorrow through innovative undergraduate and graduate degrees. With a commitment to delivering affordable classroom, online and experiential learning opportunities, Husson University has come to represent superior value in higher education. Our Bangor campus and off-campus satellite education centers in Southern Maine, Wells, and Northern Maine provide advanced knowledge in business; health and education; pharmacy studies; science and humanities; as well as communication. In addition, Husson University has a robust adult learning program. According to a recent analysis by U.S. News & World Report, Husson University is the most affordable private college in New England. For more information about educational opportunities that can lead to personal and professional success, visit Husson.edu.
Back to All Articles