Fresh Check Day at Husson University Focuses on Suicide Prevention
Published on: March 26, 2019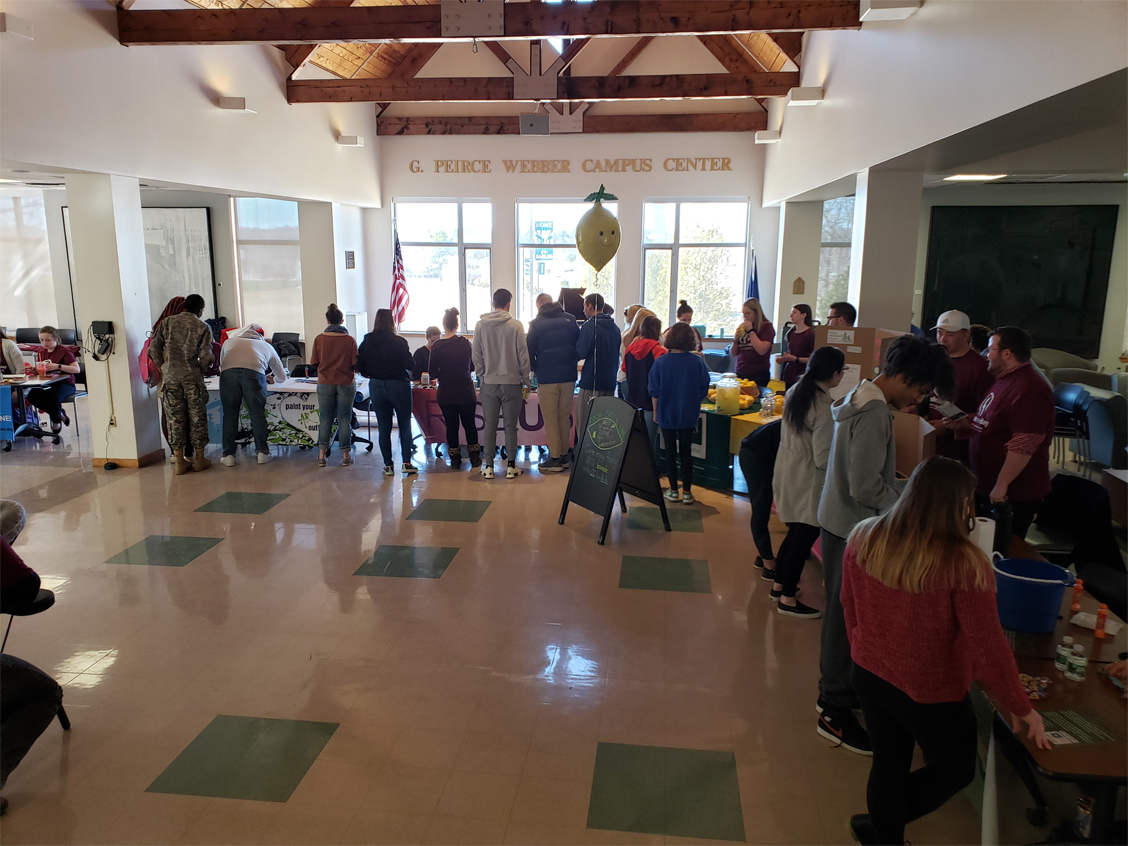 BANGOR, MAINE - Husson will be holding its second annual Fresh Check Day at the G. Peirce Webber Campus Center in Peabody Hall on the University's Bangor campus on March 27, 2019 from 11 a.m. -1 p.m. Initially created by the Jordan Porco Foundation, Fresh Check Day is an event designed to promote positive mental health and suicide prevention. The event will feature interactive booths, peer-to-peer messaging, support from multiple campus departments and groups, free popcorn, exciting prizes, and giveaways. Fresh Check Day aims to create a bridge between students and the mental health resources available on campus and in the Greater Bangor area. 
According to the National Institute of Mental Health, "Suicide is a major public health concern. Over 40,000 people die by suicide each year in the United States. It is the 10th leading cause of death overall. Suicide is complicated and tragic but it is often preventable. Knowing the warning signs for suicide, and how to get help, can help save lives."[1]
This year's Fresh Check Day booths will include: (in alphabetical order)
9 out of 10
At Ease (Staffed by Husson's Student Veteran Association)
Elephant in the Room (Staffed by the Mabel Wadsworth Center)
Paint Your Art Out
Rise Up (Staffed by Rape Response Services)
U Belong 
There will also be opportunities for students to relieve stress. A ball pit at that students can play in is being provided by U Belong. In addition, there will be two massage therapists providing chair massages to students for the majority of the event. The massage therapists are volunteering their time and services.
"There is no shame in getting help when you need it," said Colleen M. Owens, LCPC, director of counseling services at Husson University's Wellness Center. "If you are considering taking your
own life, the most important thing you can do is get assistance. Medication, counseling or a combination of both have a proven track record of helping people learn to cope with challenging personal issues and situations."
Husson University encourages students who are experiencing emotional or psychological distress to speak to a professional. Any student who feels he or she needs assistance can speak confidentially to one of the trained professional counselors located on campus at the University's Wellness Center. They are available to provide free, time-limited services to all Husson University students. Husson counselors work to provide a confidential, objective, and supportive environment that allows students to better understand the sources of their problems and identify ways to solve them.
Mental illness is more common than people think. According to the National Alliance on Mental Illness, one out of every five adults in the United States experiences a mental illness at some point during their life.[1] In fact, 43.8 million U.S. adults experience mental illness in a given year.[2] 
Fresh Check Day is a growing national initiative designed to prevent suicide and increase awareness of mental health issues. The first Fresh Check Day took place in 2012.[3] The event has grown significantly since then. "Over the past year, there were more than 300 Fresh Check Days at more than 150 colleges and universities in 37 states, impacting more than 40,000 college students,"[4] according to the event's website.
More information about Fresh Check Day at Husson University can be found at http://freshcheckday.com/schools/husson-university/. To learn more about counseling services at Husson University, contact Colleen Owens at owensc@husson.edu or call 207-941-7184.
If you or someone you know is thinking about suicide, please call the National Suicide Prevention Lifeline at 1-800-273-TALK (8255).
The Jordan Porco Foundation's mission is to prevent suicide, promote mental health, and create a message of hope for young adults. They accomplish this by providing engaging and uplifting peer-run programs. Their programs strive to start a conversation about mental health that reduces stigma while encouraging help-seeking and supportive behaviors. The Jordan Porco Foundation is named in memory of the co-founder's son, Jordan. Jordan died by suicide in 2011 as a college freshman. What started as two grieving parents' vision has grown into a nationally respected Foundation that helps tens of thousands of young adults across the country. Learn more at jordanporcofoundation.org.
For more than 120 years, Husson University has prepared future leaders to handle the challenges of tomorrow through innovative undergraduate and graduate degrees. With a commitment to delivering affordable classroom, online and experiential learning opportunities, Husson University has come to represent superior value in higher education. Our Bangor campus and off-campus satellite education centers in Southern Maine, Wells, and Northern Maine, provide advanced knowledge in business; health and education; pharmacy studies; science and humanities; as well as communication. In addition, Husson University has a robust adult learning program. According to a recent analysis by U.S. News & World Report, Husson University is the most affordable private college in New England. For more information about educational opportunities that can lead to personal and professional success, visit Husson.edu.
[1] "Mental Health Facts in America," National Alliance on Mental Illness, https://www.nami.org/NAMI/media/NAMI-Media/Infographics/GeneralMHFacts.pdf.
[2] Ibid
[3] Fresh Check Day, "Impact", https://freshcheckday.com/impact/
[4] Ibid
[1] Suicide Prevention, "Introduction," https://www.nimh.nih.gov/health/topics/suicide-prevention/index.shtml, as of March 22, 2019.
Back to All Articles