Big Data Career Opportunities to be the Focus of Data Analytics Panel Discussion at Husson University
Published on: March 26, 2019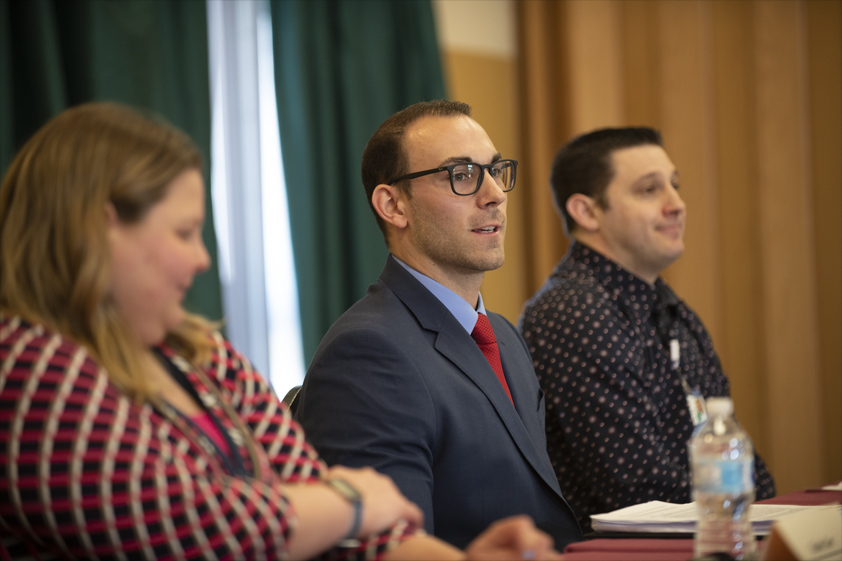 Sam Thomas, Audit Staff Accountant, Baker Newman Noyes
Bangor, Maine - Husson University will be sponsoring a panel discussion about "Careers in Data Analytics" with four leaders from leading area organizations at the Richard E. Dyke Center for Family Business at 64 Kagan Drive in Bangor on March 27, 2019 from noon - 1 p.m. The event is free and open to the public. Food will be provided.
Data Analytics is a fast growing career field. According to PricewaterhouseCoopers (PwC), it's estimated that there will be 2.7 million job postings for data scientists and analysts by 2020.[1] Research by Indeed.com found that from January 2015 to January 2018, job postings for data scientists rose 75 percent, while job searches for data scientist roles rose 65 percent.[2] Typical mid-career data scientists earn about $119,000 per year, according to staffing agency Robert Half Technology.[3]
"Professionals who understand data analytics are in demand," said James Westhoff, director of Career Services at Husson University. "This is a unique opportunity for anyone who has an interest in pursuing a job in this career field to hear what it's like to work in data analytics and speak with working professionals."
The four professionals who will comprise the panel include (in alphabetical order):
Heather Dorr, a supervisor of regulatory programs at Northern Light Health. Earning a Bachelor of Science in health care studies in 2011 from Husson University sparked Dorr's initial interest in healthcare organization management. The degree also provided her with a strong foundation and understanding of healthcare issues. Three years later, she completed an MBA with a concentration in health care administration from the University.
As the supervisor of regulatory programs, Dorr, manages Northern Light Health's certification initiatives and provides operational support to relevant internal stakeholders on key federal, state, and other regulatory requirements. She is responsible for the programs that ensure the organization is in full compliance with all regulations affecting the delivery of healthcare services and for generating reports that show the success of the organization's efforts in adhering to these requirements. 
Jon Racine, a senior business intelligence analyst at Northern Light Health.
Racine earned a Bachelor of Science in business administration with a concentration in marketing from Husson University in 2011. As a senior business intelligence analyst, Racine is responsible for aggregating and conditioning data into a usable format. In short, he transforms data into knowledge. This includes developing and automating processes associated with data entry into Northern Light Health's computer system. He also collaborates with business partners to document processes and build data models. In addition, Racine is responsible for supporting customers of the Enterprise Information Management team via the help desk. He was one of Eastern Maine Healthcare Systems' service team chairs and peer-to-peer program leads. 
Sam Thomas, an audit staff accountant at Baker Newman Noyes. Sam Thomas completed a Master of Business Administration (MBA) degree with a concentration in accounting and finance from Husson University in 2018. As a Baker Newman Noyes audit staff accountant, Thomas is responsible for helping to conduct audits of large and medium-sized companies in a variety of industries. He analyzes and tests financial transactions for proper financial reporting, compliance with policies and adequacy of internal controls. In this role, Thomas works both independently and as part of a team with professionals at all levels, including the senior managers at client companies. 
Tim Stormann, senior internal auditor with Northern Light Health. As a senior internal auditor, Stormann plans and conduct audits covering all aspects of medical claims processing performed by third party administrators (TPAs), and any vendors used by those TPAs, for Northern Light Health. He conducts post-payment claims audits on adjudicated medical claims to assure these claims were processed in accordance with the Northern Light Health Summary Plan Description. Stormann also conducts audits on all other aspects of medical claim processing (e.g., health reimbursement account (HRA) activity, explanation of benefit (EOB) reporting, etc.). In addition, he reviews and analyzes error trends in claims processing while researching, documenting and reporting audit findings. Senior internal auditors at Northern Light Health must have strong background in data analytics. Prior to his current position, Stormann managed Acadia Hospital's data analytics team for more than two years.
The event is free and open to the public. For more information, please contact James Westhoff, director of career services at 207.992.4909 or westhoffj@husson.edu. Those interested in attending are encouraged to arrive early since seating is limited.
For more than 120 years, Husson University has prepared future leaders to handle the challenges of tomorrow through innovative undergraduate and graduate degrees. With a commitment to delivering affordable classroom, online and experiential learning opportunities, Husson University has come to represent superior value in higher education. Our Bangor campus and off-campus satellite education centers in Southern Maine, Wells, and Northern Maine, provide advanced knowledge in business; health and education; pharmacy studies; science and humanities; as well as communication. In addition, Husson University has a robust adult learning program. According to a recent analysis by U.S. News & World Report, Husson University is the most affordable private college in New England. For more information about educational opportunities that can lead to personal and professional success, visit Husson.edu.
[1] "What's next for the data science and analytics job market?," PricewaterhouseCoopers (PwC), Section 6: You'll think about how to hire for tomorrow's needs, not just today's, https://www.pwc.com/us/en/library/data-science-and-analytics.html
[2] "This Is America's Hottest Job," Bloomberg, May 18, 2018, https://www.bloomberg.com/news/articles/2018-05-18/-sexiest-job-ignites-talent-wars-as-demand-for-data-geeks-soars
[3] Ibid
Back to All Articles