Relive the Rock and Roll Magic of Fleetwood Mac with "Rumours" at Husson University's Gracie Theatre
Published on: March 15, 2019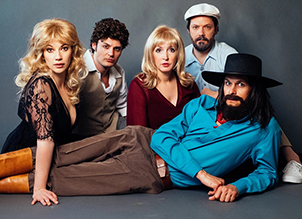 The Gracie Theatre at Husson University is bringing the music of one of the world's most beloved bands of all time to Bangor. Rumours – The Ultimate Fleetwood Mac Tribute Show will take the stage for two nights on March 22 and 23, at 7:30 p.m. each evening. The show is part of The Gracie's Bangor Savings Bank 2018 – 2019 season with show sponsorship provided by the Dead River Company.
"For the first time in The Gracie's history, we had a sellout show four months in advance of the concert date. Since there was so much interest in this show, we added a second night, which is very exciting," said Jeri Misler, managing director of the Gracie.
Rumours - The Ultimate Fleetwood Mac Tribute Show has meticulously put together a performance that captures all of the details of the original supergroup. The show recreates the band's legendary persona, from 1975-1987, in all its youthful glory. Everything from period accurate equipment and costumes, to spot-on characterizations and musical performances, will be part of this tribute. Rumours takes you back to a time when music was still an unbridled cultural experience and bands weren't afraid to put on a show. 
The band is comprised of Jesika Miller as Stevie Nicks, Rebecca Fishman as Christine McVie, Ned Brower as Mick Fleetwood, Taylor Locke as Lindsey Buckingham, and Nicholas Johns as John McVie. The concert will feature 32 of Fleetwood Mac's amazing hits including "Gypsy," "Stop Draggin' My Heart Around," "Go Your Own Way," "Tusk," and "Landslide."
Rumours was formed in Los Angeles, California in the summer of 2012. Shortly after they finished their residency at the legendary Roxy, LA, they were asked to be on AXS TV's "World Greatest Tribute Bands." Their popularity continues to rise as they tour the country bringing back the look and sound of Fleetwood Mac of thirty years ago. 
In recognition of the quality of the Rumours concert experience, Richard Dashut, Fleetwood Mac's producer sent a letter to the group that said, "It's been said imitation is the sincerest form of flattery. I say THANK YOU!"
Rumours - The Ultimate Fleetwood Mac Tribute Show will be at the Gracie Theatre on Friday, March 22 and Saturday, March 23, at 7:30 p.m. each night. Ticket prices range from $25.50-$39.00. Group discounts are available for groups of 12 or more. To purchase tickets or for more information about group rates, call the Gracie Box Office at (207) 941-7888 or visit www.gracietheatre.com. The Gracie Theatre is located at One College Circle in Bangor, Maine.
The Gracie's season is made possible with support from Bangor Savings Bank. The theatre also gratefully acknowledges the generous support provided throughout the season by additional show sponsors including Downeast Toyota, Pepsi and The Dead River Company. 
Completed in October of 2009, The Gracie is Husson University's center for the fine and performing arts. This beautiful 500-seat theatre is considered one of Maine's premier performance venues. In addition, The Gracie also serves as a learning platform for students from the New England School of Communications in digital audio; sound mixing; set design and construction; lighting; acting and electronics. 
For more than 120 years, Husson University has prepared future leaders to handle the challenges of tomorrow through innovative undergraduate and graduate degrees. With a commitment to delivering affordable classroom, online and experiential learning opportunities, Husson University has come to represent superior value in higher education. Our Bangor campus and off-campus satellite education centers in Southern Maine, Wells, and Northern Maine provide advanced knowledge in business; health and education; pharmacy studies; science and humanities; as well as communication. In addition, Husson University has a robust adult learning program. According to a recent tuition and fee analysis by U.S. News & World Report, Husson University is the most affordable private college in New England. For more information about educational opportunities that can lead to personal and professional success, visit Husson.edu.
Back to All Articles