Employers Seeking to Hire Husson Students will be at Healthcare/Non-Profit/Social Services Career Fair
Published on: March 26, 2019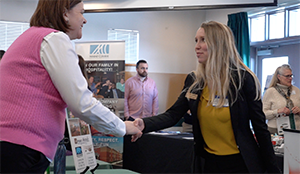 WHAT: Husson University will be holding a career fair from 1 – 5 p.m. on Tuesday, March 26, 2019 in the G. Peirce Webber Campus Center located in Peabody Hall on the educational institution's Bangor campus. This is an outstanding opportunity for students and other individuals interested in internships or employment opportunities in the healthcare, non-profit sector and social services to network and meet hiring professionals in their chosen fields. All Husson University students, regardless of their major are encouraged to participate.  
There is no cost to attend. Students, veterans and members of the public are all welcome.
WHY: According to the State of Maine's Center for Workforce Research and Information, the projected fastest growing employment sector between 2016 and 2026, at 9.2 percent, will be healthcare support occupations. In close second will be healthcare practitioners and technical occupations at 8.9 percent.
The demand for skilled healthcare professionals in Maine is significant. A study conducted by the Center for Health Affairs revealed that, without intervention, Maine could be short 2,700 nurses by 2025.  
Maine needs a qualified, trained, and experienced healthcare workforce. With programs in nursing, occupational therapy, physical therapy, pharmacy, counseling, health sciences, biology, and business with concentrations in healthcare management, Husson University is ready to help connect students with employers in their chosen fields.    
WHO: Companies participating in the career fair include (in alphabetical order):
Bangor Area Homeless Shelter
Camp Takajo/Tripp Lake Camp
Community Health and Counseling Services
Covenant Health
Down East Community Hospital
Fedcap
Genesis HealthCare
Houlton Regional Hospital
Kennebec Behavioral Health
MaineGeneral Health

 

MaineHealth

 

MERT Enterprises Inc.
Motivational Services
North County Healthcare
Northern Light Health
Pathways of Maine
Penobscot Community Health Care
Penquis
Spurwink Services
State of Maine – Department of Health & Human Services
Sweetser
The Summer Camp, Inc.
United Cerebral Palsy of Maine
Wellpath
Wings for Children and Families
WHEN: Tuesday, March 26, 2019
1 p.m. – 5 p.m.
WHERE: G. Peirce Webber Campus Center 
Husson University
Peabody Hall
1 College Circle
Bangor, ME 04401
HOW: No appointments are required. Individuals interested in participating in the career fair can walk in and meet with company representatives anytime between 1 p.m. – 5 p.m. at the G. Peirce Webber Campus Center on Monday, March 19, 2018.
Interested participants who have questions or need additional information should call James Westhoff, Husson University's director of career services at 207-992-4909 or email him at westhoffj@husson.edu.
For more than 120 years, Husson University has prepared future leaders to handle the challenges of tomorrow through innovative undergraduate and graduate degrees. With a commitment to delivering affordable classroom, online and experiential learning opportunities, Husson University has come to represent superior value in higher education. Our Bangor campus and off-campus satellite education centers in Southern Maine, Wells, and Northern Maine, provide advanced knowledge in business; health and education; pharmacy studies; science and humanities; as well as communication. In addition, Husson University has a robust adult learning program. According to a recent analysis by U.S. News & World Report, Husson University is the most affordable private college in New England. For more information about educational opportunities that can lead to personal and professional success, visit Husson.edu.
Back to All Articles