Husson Students Speak to Employers about Eco-Friendly Careers at University's First Green Jobs Fair
Published on: March 7, 2019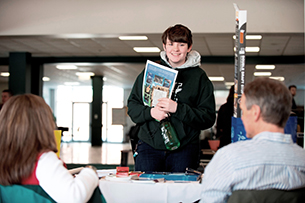 Husson University held its inaugural Green Jobs Fair on Wednesday, March 6, 2019 from 11 a.m. – 2 p.m. in the G. Peirce Webber Campus Center located in Peabody Hall on the educational institution's Bangor campus. Organized by AmeriCorps, the job fair provided students and other individuals, interested in internships or employment, with the opportunity to meet with representatives from a variety of environmentally friendly organizations. 
"Events like the Green Jobs Fair not only promote the sustainability industry, they also increase awareness of high paying, fulfilling jobs," said Johanna Holman with AmeriCorps. "Like the Green New Deal, we're hoping to help people become employed and combat climate change at the same time."
This was the first time Husson University hosted a Green Jobs Fair. All Husson University students, regardless of their major, were encouraged to participate.
A variety of business and volunteer organizations had booths at the event. Representatives from renewable energy, farming, government, environmental monitoring, engineering, management, and other environmental and sustainability-related organizations were all present. 
There was no cost to attend and no need to register in advance. The event was open to students, veterans and members of the public.
Employment Opportunities with Green Companies
According to projections by the Bureau of Labor Statistics (BLS), occupations related to helping the environment or conserving natural resources will experience some of the strongest job growth over the next decade. Two occupations that the BLS believes will have the fastest employment growth from 2016 to 2026 are solar photovoltaic installers (105-percent increase) and wind turbine service technicians (96-percent increase).
"Companies that incorporate environmental stewardship into their business model need to find qualified job applicants, just like other companies," said Dr. Tom Stone, an associate professor who co-directs the Environmental Science program at Husson University. "Our Green Jobs Fair was focused on connecting these companies with job applicants who share the same environmental values." 
For more than 120 years, Husson University has prepared future leaders to handle the challenges of tomorrow through innovative undergraduate and graduate degrees. With a commitment to delivering affordable classroom, online and experiential learning opportunities, Husson University has come to represent superior value in higher education. Our Bangor campus and off-campus satellite education centers in Southern Maine, Wells, and Northern Maine, provide advanced knowledge in business; health and education; pharmacy studies; science and humanities; as well as communication. In addition, Husson University has a robust adult learning program. According to a recent analysis by U.S. News & World Report, Husson University is the most affordable private college in New England. For more information about educational opportunities that can lead to personal and professional success, visit Husson.edu.
Back to All Articles