Etiquette Dinner at Husson University to Assist in Students' Professional Development
Published on: March 20, 2019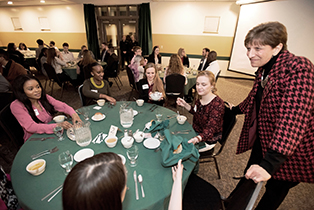 Which fork is the "fish fork?" Should I raise my pinkie when drinking tea?
Husson University will be hosting an etiquette dinner on March 25, 2019 from 5:30 p.m. to 7:00 p.m. at the Richard E. Dyke Center for Family Business, at 64 Kagan Road in Bangor. The event is designed to teach Husson students some of the finer points of good table manners. Mastering these skills will help the students make positive impressions when interviewing or attending business meetings at formal banquets and restaurants. 
"Facilitating professional development is what this dinner is all about," said James Westhoff, the director of career services at Husson University's Center for Student Success. "Students are often required, whether it is for employment or an internship, to go to lunch or dinner with firm executives or partners. Many students are not aware of the finer points of dining etiquette or the need to dress appropriately in order to make a good impression. This etiquette dinner will help students understand the conventions and expectations associated with professional behavior that convey good manners and respect for others."
The students are required to attend the dinner in professional attire. The event begins with an overview of proper etiquette, followed by a four-course meal. Ms. Jean Papalia of A+ Etiquette will coach the students on appropriate table manners. Everything from the proper use of napkins, utensils, conversation, and personal behavior will be covered during the event. This formal training gives students the opportunity to feel more confident in professional social situations.  
Many Americans would benefit from training like this. A 2014 CBS News/Vanity Fair poll showed that most of the people in our country are unaware of the basic dining etiquette associated with tableware. When asked, "Where does the bread plate go?" Only 29 percent were able to answer correctly that the bread plate goes on the left. Eighteen percent thought that it went on the right and a whopping 51 percent didn't know.
"Husson University is committed to helping our students achieve professional success," continued Westhoff. "More than 95 percent of our graduates are employed or accepted to graduate school within one year of graduation. Providing students with this etiquette training is just one more way our University is working to help ensure our students have the skills they need to excel in the workplace." 
For more than 120 years, Husson University has prepared future leaders to handle the challenges of tomorrow through innovative undergraduate and graduate degrees. With a commitment to delivering affordable classroom, online and experiential learning opportunities, Husson University has come to represent superior value in higher education. Our Bangor campus and off-campus satellite education centers in Southern Maine, Wells, and Northern Maine, provide advanced knowledge in business; health and education; pharmacy studies; science and humanities; as well as communication. In addition, Husson University has a robust adult learning program. According to a recent analysis by U.S. News & World Report, Husson University is the most affordable private college in New England. For more information about educational opportunities that can lead to personal and professional success, visit Husson.edu.
Back to All Articles