Healthcare Management Experts to Share Insights and Experience with Husson Students Looking for Success
Published on: February 26, 2019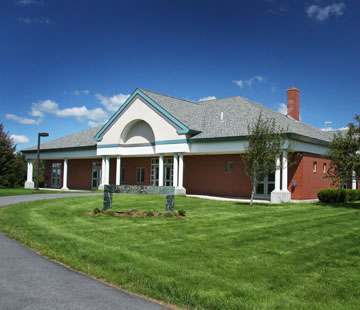 Bangor, Maine - Husson University will be sponsoring a healthcare management career panel discussion with four alumni leaders from area healthcare organizations at the Richard E. Dyke Center for Family Business at 64 Kagan Drive in Bangor on February 27, 2019 from 1 - 2 p.m.
"This a great event for anyone who wants inside information on what it takes to succeed with today's healthcare organizations," said James Westhoff, director of Career Services at Husson University. "Our panel will talk about their own personal journeys toward becoming healthcare leaders after graduating from Husson. They'll also talk about the important skills and attributes they look for when hiring individuals at their companies." 
The four healthcare professionals who will comprise the panel include (in alphabetical order):
Kelly Cross, a preregistration manager at Northern Light Eastern Maine Medical Center. Cross earned a Bachelor of Science in accounting in 2014 from Husson University. That same year, she also completed a Master of Business Administration (MBA) degree from Husson.  Northern Light Eastern Maine Medical Center is one of the area's premier healthcare facilities. It serves communities throughout central, eastern, and northern Maine. Their staff of more than 450 physicians provide three-quarters of the primary-care services in the Bangor area, along with specialty and intensive care services. Northern Light Eastern Maine Medical Center is a level II trauma center. 
As the preregistration manager, Cross helps ensure that patients can go directly to appointment locations, without having to wait in registration lines, by making sure the necessary paperwork is completed and waiting for patients at their healthcare providers' offices. Her unit ensures that the information in the Electronic Medical Record is as accurate as possible during the registration process, by verifying emergency contacts and confirming insurance eligibility for upcoming services.
Heather Dorr, a supervisor of regulatory programs at Northern Light Health. Earning a Bachelor of Science in health care studies in 2011 from Husson University sparked Dorr's initial interest in healthcare organization management. The degree also provided her with a strong foundation and understanding of healthcare issues. Three years later, she completed an MBA with a concentration in health care administration from the University. 
As the supervisor of regulatory programs, Dorr, manages Northern Light Health's certification initiatives and provides operational support to relevant internal stakeholders on key federal, state, and other regulatory requirements. She is responsible for the programs that ensure the organization is in full compliance with all regulations affecting the delivery of healthcare services and for generating reports that show the success of the organization's efforts in adhering to these requirements.
Mark Hankinson, chief operating officer (COO) at Bucksport Regional Health Center. Hankinson has a degree in physical therapy from Northeastern University. He also earned an MBA from Husson University in 2010. As the chief operating officer at Bucksport Regional Health Center, Hankinson is responsible for planning, organizing, directing and coordinating programs, systems, policies and procedures to ensure a smooth running operation that supports the delivery of services. 
Prior to being the COO at Bucksport Regional Health Center, Hankinson was the vice president of operations at Blue Hill Memorial Hospital. In this role, he was responsible for planning, organizing and directing clinic operations associated with the physician practice, ancillary departments and support services departments at Blue Hill Memorial Hospital and the Maine Coast Memorial Hospital (MCMH). He was also responsible for overseeing designated clinic operations and for monitoring productivity and overall effectiveness. Before working at Blue Hill Memorial Hospital, Hankinson was a therapy coordinator for Home Health and Hospice at Community Health and Counseling Services (CHCS).  
Andrew VanEss, wellness program manager at Northern Light Beacon Health. VanEss earned a Bachelor of Science in healthcare studies from Husson University in 2010. A year later, he completed his Master of Business Administration (MBA) at Husson. As the wellness program manager at Beacon Health, VanEss is responsible for organizing, managing and evaluating the functions of the wellness programs the organization offers to Northern Light Employee Health Plan members and other customers across Maine. In addition, he serves as an advocate for employee and community health education and prevention along with Beacon Health and Northern Light Health members, strategic partners, community partners and statewide networks. 
VanEss's team develops wellness strategies to support all populations at risk of developing disease and for those who want to maintain their health. This includes encouraging employees to participate in wellness activities, health coaching, disease management programs, and biometric screenings. 
The event is free and open to the public. For more information, please contact James Westhoff, director of career services at 207.992.4909 or westhoffj@husson.edu. Those interested in attending are encouraged to arrive early since seating is limited.
For more than 120 years, Husson University has prepared future leaders to handle the challenges of tomorrow through innovative undergraduate and graduate degrees. With a commitment to delivering affordable classroom, online and experiential learning opportunities, Husson University has come to represent superior value in higher education. Our Bangor campus and off-campus satellite education centers in Southern Maine, Wells, and Northern Maine, provide advanced knowledge in business; health and education; pharmacy studies; science and humanities; as well as communication. In addition, Husson University has a robust adult learning program. According to a recent analysis by U.S. News & World Report, Husson University is the most affordable private college in New England. For more information about educational opportunities that can lead to personal and professional success, visit Husson.edu.
Back to All Articles