'Til Death Do Us Part: Late Nite Catechism 3 Brings Laughs to the Gracie Theatre Just in Time for Valentine's Day
Published on: January 23, 2019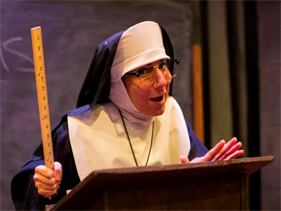 'Til Death Do Us Part: Late Nite Catechism 3 is making its way to Husson University's Gracie Theatre on February 15, 2019 at 7:30 p.m. just in time for Valentine's Day. In this hilarious one-woman show, "Sister" offers up hilarious lessons on the sacraments of marriage and the last rites, including her own wacky version of The Newlywed Game. Sponsored by Bangor Savings Bank, this show is part of the Gracie's successful seventh season.
"'Til Death Do Us Part: Late Nite Catechism 3 is the newest show in the Late Nite Catechism series and a great date night for valentines of all ages. The show is part stand-up, part improv and one-hundred-percent hilarious," says Jeri Misler, managing director of the Gracie Theatre.
Having written all of the plays, Maripat Donovan is considered the creative genius behind the Late Nite Catechism series. She originated the role of "Sister" and has toured internationally, receiving rave reviews for her work in Chicago, Boston, Providence, New York, Toronto, Philadelphia, Seattle, Portland, London and Dublin. Donovan won the Drama Critics Circle Award for Best Solo Performance in Los Angeles for her work on Late Nite Catechism. She was also nominated for the coveted Outer Critics Circle Award in New York for Outstanding Solo Performances.
Playing the role of "Sister Mary Christina" in 'Til Death Do Us Part: Late Nite Catechism 3 at the Gracie Theatre will be Denise Fennell. She was first discovered by Maripat Donovan when she was appearing as "Tina" in the Off-Broadway production of Tony n' Tina's Wedding. Donovan trained Fennell personally for the Late Nite Catechism role. She is now a veteran of the series and has played to rave reviews across the US and Canada.
Fennell recently completed a run of Shear Madness at The Stages Repertory Theatre in Houston, Texas. She has also appeared in the Off-Broadway company of Shear Madness in New York City. Fennell is probably best known for her portrayal of "Sister" in the Late Nite Catechism series and in Jane Wagner's award-winning comedy The Search for Signs of Intelligent Life in the Universe.
'Til Death Do Us Part: Late Nite Catechism 3 will be presented at the Gracie Theatre on Friday, February 15, 2019 at 7:30 p.m. Ticket prices range from $25.00 to $33.80. Group discounts are available for groups of 12 or more. To purchase tickets or for more information about group rates, call the Gracie Box Office at (207) 941-7888 or visit www.gracietheatre.com. The Gracie Theatre is located at One College Circle in Bangor, Maine. 
The Gracie's season is made possible with support from Bangor Savings Bank. The theatre also gratefully acknowledges the generous support provided throughout the season by additional show sponsors including Downeast Toyota, Pepsi and The Dead River Company.
Completed in October of 2009, The Gracie is Husson University's center for the fine and performing arts. This beautiful 500-seat theatre is considered one of Maine's premier performance venues. In addition, The Gracie also serves as a learning platform for students from the New England School of Communications in digital audio, sound mixing, set design and construction, lighting, acting and electronics.
For more than 100 years, Husson University has prepared future leaders to handle the challenges of tomorrow through innovative undergraduate and graduate degrees. With a commitment to delivering affordable classroom, online and experiential learning opportunities, Husson University has come to represent superior value in higher education. Our Bangor campus and off-campus satellite education centers in Southern Maine, Wells, and Northern Maine provide advanced knowledge in business; health and education; pharmacy studies; science and humanities; as well as communication. In addition, Husson University has a robust adult learning program. According to a recent analysis by U.S. News & World Report, Husson University is the most affordable private college in New England. For more information about educational opportunities that can lead to personal and professional success, visit Husson.edu.
Back to All Articles