Husson University School of Occupational Therapy's Second Annual Evidence-Based Practice Symposium
Published on: December 11, 2018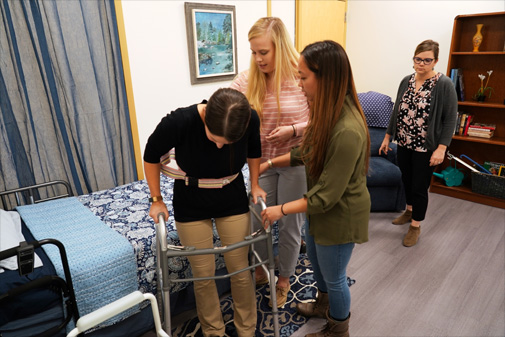 BANGOR, MAINE – Every Husson University occupational therapy (OT) student enrolled in the five-year Master of Science in occupational therapy program completes a three-semester evidence-based practice course series. These OT students will be presenting their findings on a range of topics of interest to clinicians and the public on December 13, 2018, from 4:00 p.m. - 6:30 p.m. at the Richard E. Dyke Center for Family Business on Husson University's Bangor campus. This free and informative event is open to Husson University students, faculty, staff, area healthcare providers and members of the public.
Student posters and oral presentations will cover the most current evidence on a range of
clinical conditions that impact children and adults, such as upper extremity amputation,
concussion in college athletes, management of scoliosis and more.
According to the American Occupational Therapy Association, Inc., evidence-based practice
integrates the best research with occupational therapy professionals' clinical expertise and
clients' preferences, beliefs and values. This treatment approach helps OT professionals
provide care that blends both the clients' perspectives with best clinical practices recommended by the scientific community.
"Students work hard to master the critical thinking and clinical reasoning needed to be excellent healthcare professionals," said Laurie Mouradian, ScD, ATR, OTR/L, chair of Husson University's School of Occupational Therapy. "The process of doing an in-depth literature review on a clinical topic helps students become more informed consumers of that literature. Preparing and presenting their findings gives students the opportunity to share the information they have gained with area clinicians. Our long-term goal is to partner students with community-based healthcare providers. We want our students' work to enhance the delivery of healthcare to patients with real-life clinical issues"."This is a big event for our students and they do a very professional job of presenting their projects," said Paula Tingley, Ed.D., NCC, interim dean of Husson University's College of Healthand Education. "Anyone interested in seeing how a Husson University education transforms students' lives should attend this event. The mastery of scientific knowledge on display by these soon-to-be OT graduates is a tribute to the education they received at Husson University."
More About Husson University
For more than 100 years, Husson University has prepared future leaders to handle the
challenges of tomorrow through innovative undergraduate and graduate degrees. With a
commitment to delivering affordable classroom, online and experiential learning opportunities,
Husson University has come to represent superior value in higher education. Our Bangor
campus and off-campus satellite education centers in Southern Maine, Wells, and Northern
Maine provide advanced knowledge in business; health and education; pharmacy studies;
science and humanities; as well as communication. In addition, Husson University has a robust
adult learning program. According to a recent analysis by U.S. News & World Report, Husson University is the most affordable private college in New England. For more information about educational opportunities that can lead to personal and professional success, visit Husson.edu.
Back to All Articles