Computer Science Education Week 2018 at Husson University
Published on: December 3, 2018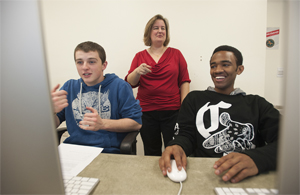 BANGOR, MAINE - Husson University will be celebrating Computer Science Education Week in the G. Peirce Webber Campus Center in Peabody Hall on Thursday, December 6, 2018 from 11:30 a.m. - 12:30 p.m. with a demonstration of a Microsoft HoloLens device, as part of an augmented reality/virtual reality (AR/VR) demonstration by the University's student technology club.
"This demonstration will help students better appreciate some of the career options and applications that are being developed in the field of mixed reality," said Dr. Laura Gurney, an assistant professor of integrated technology at Husson University. "Developing mixed reality presentations, including augmented reality, virtual reality, and augmented virtuality requires graduates who are skilled in computer science including computer vision, computer graphics, and human computer interaction. Here at Husson University, our integrated technology program is helping students prepare for this growing career field."
The job search website Indeed.com has noticed a significant uptick in job postings for virtual reality (VR) specialists. In 2014, there were only two virtual reality job postings per 1 million job ads.[1] Currently, there are 18 job posting for every million jobs - an increase of about 800%.[2] Among job seekers, there was only one VR job search per million in 2014.[3] Today, there is an average of 19 VR job searches per million - an increase of 1,800%.[4]
This AR/VR demonstration in the campus center is part of Computer Science Education Week (CSEdWeek). This year, CSEdWeek takes place from December 3 - December 9, 2018.
This annual event is dedicated to inspiring students to take an interest in computer science. Originally conceived by the Computing in the Core coalition, Code.org® organizes CSEdWeek as a grassroots campaign supported by partners and educators worldwide.
According to the website associated with this weeklong educational event, there are 180,300 CSEdWeek / Hour of Code events that will be taking place around the world.
Gurney feels that it's important to provide young people with computer science education. "Digital technology has changed the world. As computers become integrated into every aspect of modern life, it becomes increasingly important for people to have an understanding of computer science. This knowledge is now an essential part of participating in our economy and ordering basic goods and services."
In addition to the campus center demonstration, Dr. Gurney will be traveling to local middle schools and elementary schools to introduce younger students to coding as a potential future career option. On December 4, 2018, she will be holding two sessions at the Brewer Community School at 92 Pendleton Street in Brewer, Maine from 11:50 a.m. - 12:20 p.m. and then again from 12:30 p.m. - 1:00 p.m. The following day, (Wednesday, December 5, 2018) Dr. Gurney will be at the James F. Doughty School at 143 5th Street in Bangor, Maine from 3 – 4 p.m.  
"Husson University is dedicated to helping high school students learn about the benefits of a college education for their future," said Dr. Marie Hansen, dean of Husson University's College of Business. "It's important they see the potential for a variety of fulfilling career options in IT available in the state of Maine."
For more than 100 years, Husson University has prepared future leaders to handle the challenges of tomorrow through innovative undergraduate and graduate degrees. With a commitment to delivering affordable classroom, online and experiential learning opportunities, Husson University has come to represent superior value in higher education. Our Bangor campus and off-campus satellite education centers in Southern Maine, Wells, and Northern Maine provide advanced knowledge in business; health and education; pharmacy studies; science and humanities; as well as communication. In addition, Husson University has a robust adult learning program. According to a recent analysis by U.S. News & World Report, Husson University is the most affordable private college in New England. For more information about educational opportunities that can lead to personal and professional success, visit Husson.edu.
[1] "Virtual Reality Jobs Jump In The Job Market," Forbes, Karsten Strauss, May 11, 2016, https://www.forbes.com/sites/karstenstrauss/2016/05/11/virtual-reality-jobs-jump-in-the-job-market/#7d01fe607548
[2] Ibid
[3] Ibid
[4] Ibid
Back to All Articles