"The Little Prince" Gets Royal Treatment by Husson University's Student Theatre Group
Published on: November 27, 2018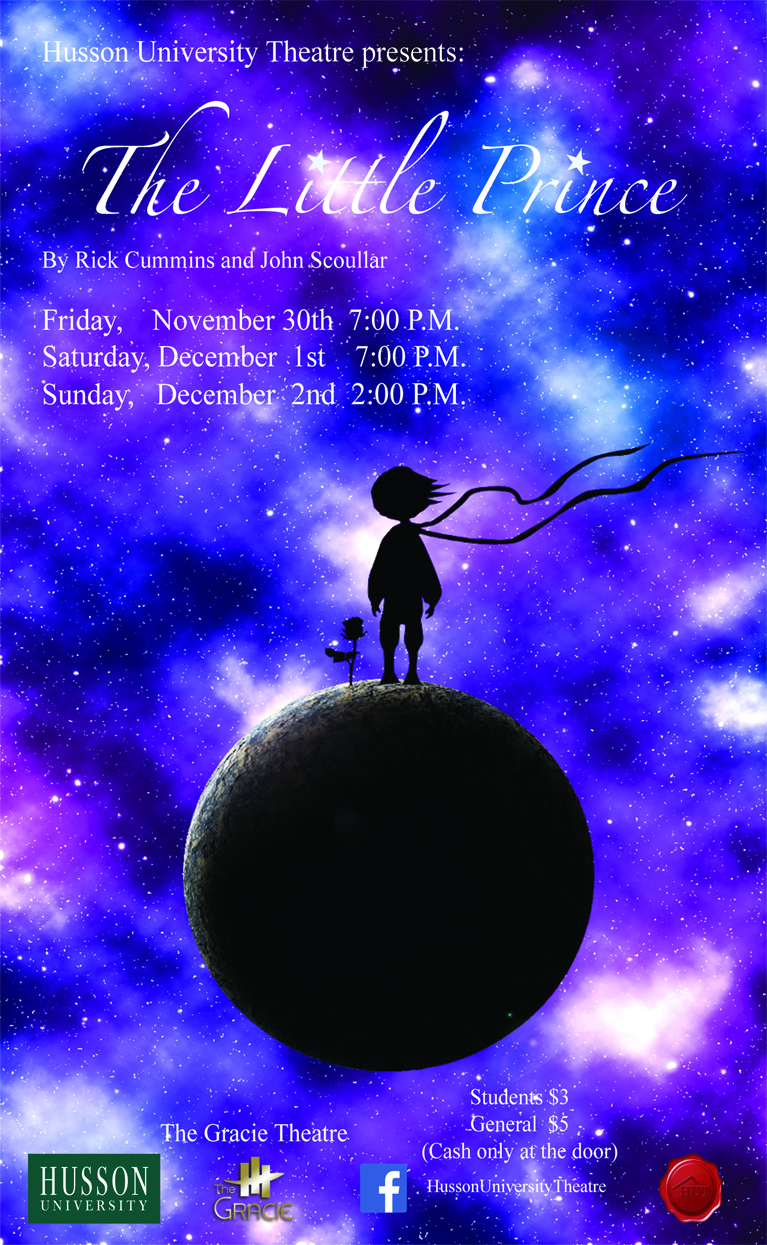 BANGOR, MAINE - The students of Husson University will be performing Rick Cummins and John Scoullar's The Little Prince on Friday, November 30 through Sunday, December 2. This production about love, laughter, and grief, will take place in the Gracie's Black Box Theatre located on Husson University's Bangor campus.
This play, based on the beloved children's book by French author Antoine de Saint-Exupéry, tells the story of a world-weary and disenchanted aviator whose sputtering plane strands him in the Sahara Desert. A mysterious, regal "little man" appears and says, "Please, sir, draw me a sheep." During their two weeks together in the desert, the little prince tells the aviator about his adventures through the galaxy, how he met a snake and a fox who wished to be tamed, and about a very special flower in a garden of roses on his own tiny planet.
From each, the prince gains a unique insight which he shares with the aviator: "It is only with the heart that one can see rightly." At length, both the "little man" and the aviator must go home - each with a new understanding of how to laugh, cry, and love again.
"The Little Prince pushes the audience to look deep within themselves, listen to their hearts, and find their own reason for living. Isn't that what we strive and work toward in our daily lives?" said senior student director Erryn Bard. She's enrolled in the New England School of Communications' (NESCom) Bachelor of Science in entertainment production program. 
Previous Husson University Theatre student productions include John Cariani's Almost, Maine, Diana Son's Stop Kiss, and Doubt by John Patrick Shanley. A production of Tribes by Nina Raine is scheduled for May 2019. Each production is fully designed, directed, acted and produced by Husson students, many of whom are enrolled in NESCom's entertainment production program. This major is designed to provide students with hands-on training in technical theatre fields.
Performances will take place Friday, November 30 and Saturday, December 1 at 7 p.m. and on Sunday, December 2 at 2 p.m. Tickets are available at the door an hour before curtain and are $3 for students of any age and $5 for adults.
Husson University Theatre (HUT) is an entirely student-run organization and the official student theatre company of Husson University. It allows students to act as directors, designers, and performers in productions of their own choosing. Husson students are responsible for all aspects of the company's operations. This includes all of the production roles from acting on stage, to crew roles backstage, and box office management.
Tickets can only be purchased at the door with cash prior to the performance. Those interested in getting the best seats are encouraged to arrive early. Ticket sales begin one hour before show time. This production is appropriate for students and adults of all ages.
For more information about HUT and the upcoming production of The Little Prince, please contact Erryn Bard at barde@husson.edu or the Gracie Theatre box office at 207-941-7888. Information is also available at GracieTheatre.com.
Completed in October of 2009, The Gracie is Husson University's center for the fine and performing arts. This beautiful 500-seat theatre is considered one of Maine's premier performance venues. In addition, The Gracie also serves as a learning platform for students from the New England School of Communications in digital audio, sound mixing, set design and construction, lighting, acting and electronics.
For more than 100 years, Husson University has prepared future leaders to handle the challenges of tomorrow through innovative undergraduate and graduate degrees. With a commitment to delivering affordable classroom, online and experiential learning opportunities, Husson University has come to represent superior value in higher education. Our Bangor campus and off-campus satellite education centers in Southern Maine, Wells, and Northern Maine provide advanced knowledge in business; health and education; pharmacy studies; science and humanities; as well as communication. In addition, Husson University has a robust adult learning program. According to a recent analysis by U.S. News & World Report, Husson University is the most affordable private college in New England. For more information about educational opportunities that can lead to personal and professional success, visit Husson.edu.
Back to All Articles