Second Annual Walk for Warmth 5K to Help Purchase Home Heating Oil for Needy Families this Winter
Published on: November 16, 2018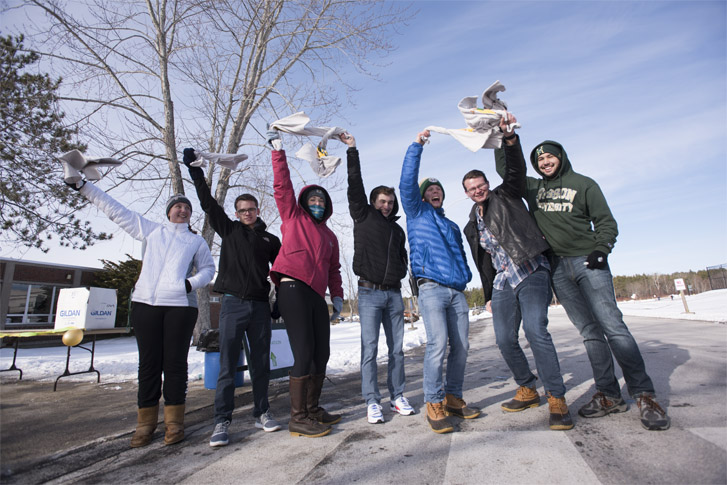 BANGOR, MAINE - Husson University Student Government, in partnership with the United Way of Eastern Maine, will be sponsoring their second annual Walk for Warmth on Sunday, November 18, 2018. Registration for this five kilometer (5K) fun run and walk opens at 9 a.m. on the university's Bangor campus at the Newman Gymnasium. The walk begins at 10 a.m. Last year the "Walk for Warmth" raised $1,500 to help local Bangor families pay for heating oil during the winter.
"We're very proud of this event and excited to offer it again this year," said Cameron Clark, a senior in Husson University's Bachelor of Science in accounting degree program and student government president. "It's a wonderful chance to help Maine families. I urge every Husson student to participate in this event and help give back to our community."
"Every year, Husson students devote thousands of hours of volunteer work to a variety of worthy non-profit organizations. We feel it's our responsibility to help make our community a better place," concluded Clark. 
As of Monday, October 29, 2018, the statewide average cash price for No. 2 heating oil was $3.02 per gallon[1] That's an increase of 16.6 percent compared to last year.[2]
Nearly two-thirds of Maine households use fuel oil as their primary energy source for home heating, more than any other state in America.[3]
If you are interested in registering online, prior to the event, please visit www.raceentry.com/races/walk-4-warmth. For more information, contact Husson University Student Government at Peabody Hall, Room 121, call (207) 941-7107 or email student government at studgov@husson.edu.
Registration is $10 for students with a Husson ID and $15 for community members. All money raised will be distributed by the United Way of Eastern Maine to local families in need of heating assistance. The first 75 registrants will receive a free Walk for Warmth t-shirt. Entrants can also purchase raffle tickets on the day of the event for a chance to win a variety of prizes.
For more than 100 years, Husson University has prepared future leaders to handle the challenges of tomorrow through innovative undergraduate and graduate degrees. With a commitment to delivering affordable classroom, online and experiential learning opportunities, Husson University has come to represent superior value in higher education. Our Bangor campus and off-campus satellite education centers in Southern Maine, Wells, and Northern Maine provide advanced knowledge in business; health and education; pharmacy studies; science and humanities; as well as communication. In addition, Husson University has a robust adult learning program. According to a recent analysis by U.S. News & World Report, Husson University is the most affordable private college in New England. For more information about educational opportunities that can lead to personal and professional success, visit Husson.edu.
[1] Governor's Energy Office, "Current Heating Fuel Prices," http://www.maine.gov/energy/fuel_prices/
[2] Ibid
[3] US Energy Information Administration (EIA), "Maine", https://www.eia.gov/state/analysis.php?sid=ME
Back to All Articles