Husson University Publishes "Grant's 12 Laws of Human Motivation"
Published on: November 14, 2018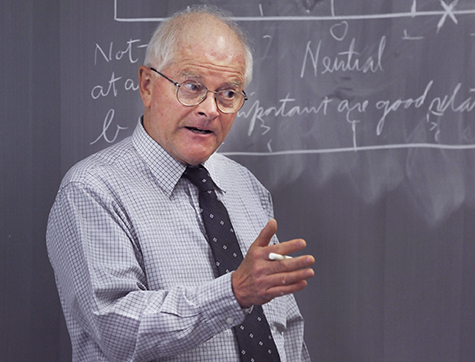 BANGOR, MAINE – Husson University announced today that it has published a new, groundbreaking book on human motivation written by Dr. Phil Grant, professor emeritus. Grant has discovered some basic "laws" of human behavior, previously unidentified by the scientific community. 
"There are many diverse theories and practices out there for interpreting human motivation," said Grant. "Many of these theories are contradictory. This book provides some much needed theoretical synthesis and clarity."
In this book, Grant articulates a set of basic, universal truths about satisfaction, performance, rewards, sacrifice, change, effort and more. These "Laws of Human Motivation" describe how to maximize human behavior and how different forces can enhance or detract from an individual's performance. This is one of a very few times motivation phenomena have been elevated to the status of scientific law.
According to Grant, "This approach is more comprehensive, more precise, more explanatory, more rigorous, more theoretically sound, more capable of prediction, more internally consistent and more application-oriented than any previous work in the field."
The content of this book is all based on the effort-net return (ENR) theory that Grant first proposed in the 1970s. Grant discovered these "laws" over a 40-year span while working through the nuances of this theory with a cost-benefit perspective. ENR uses cost-benefit analysis to generate insights into human behavior. It shows how people allocate their efforts to optimize their satisfactions.
Dr. Marie Hansen, dean of the College of Business at Husson University feels that this approach has useful applications for organizations interested in improving employee performance. "All people make decisions in life, on a conscious or subconscious level, about how to allocate their time and effort in order to achieve positive results."
"A better understanding of the forces that affect organizations can help businesses effectively motivate their employees. Beyond the workplace, Phil's laws also help explain human motivations for people in all sorts of circumstances; regardless of their economic standing, geographic location and the conditions they might be operating under," concluded Hansen.
The 12 laws that Grant articulates in the book are:
The Law of Declining Marginal Performance
The Law of Declining Marginal Reward
The Law of Escalating Marginal Sacrifice
The Law of Satisfaction Optimization
The Law of Motivation Change
The Law of Motivation Sensitivity
The Law of Motivation Extremes
The Law of Reward/Cost Function Vertical Transposition'
The Law of Penalty Function Imposition
The Law of Constrained Motivation
The Law of Effort Distribution
The Law of Marginal Reward Optimization
This social science book is primarily designed for teachers, social scientists and managers. It is recommended that readers carefully read the book's preface and introduction in order to fully appreciate the book's content.  
Individuals interested in obtaining a copy of the book can contact Dr. Phil Grant directly at pcgrant@myfairpoint.net or purchase a copy online through Amazon.
About Dr. Phil Grant
Dr. Phil Grant (retired) is a professor emeritus at Husson University in Bangor, Maine. Over his 42-year career at the University, Grant served in various capacities including head of business administration and academic dean. Grant taught graduate and undergraduate classes in human resource management, organizational behavior, operations management and managerial economics. In 2010, Husson awarded Grant an Honorary Doctorate of Business Administration degree for his contributions to the University. Five years later, Husson created its first endowed chair in his honor. The faculty position is called the Dr. Phil Grant Distinguished Professorship in Management and Economics.
During his tenure at Husson University, Grant engaged in part-time consulting. As a consultant, he helped clients with supervisory training and other human resource issues. These interactions provided Grant with the opportunity to apply many of the principles of his effort-net return model of human motivation and conduct research into this topic. Since 1977, Grant has written and published over 200 academic/professional articles and 12 management and economics books. 
His previous book, The Mathematics of Human Motivation, was published in 2008. He is currently working on a new book, The Greatest Mistake in Contemporary Economic Thinking.
About Husson University
For more than 100 years, Husson University has prepared future leaders to handle the challenges of tomorrow through innovative undergraduate and graduate degrees. With a commitment to delivering affordable classroom, online and experiential learning opportunities, Husson University has come to represent superior value in higher education. Our Bangor campus and off-campus satellite education centers in Southern Maine, Wells, and Northern Maine provide advanced knowledge in business; health and education; pharmacy studies; science and humanities; as well as communication. In addition, Husson University has a robust adult learning program. According to a recent analysis by U.S. News & World Report, Husson University is the most affordable private college in New England. For more information about educational opportunities that can lead to personal and professional success, visit Husson.edu.
Back to All Articles