Boy Scouts Honor Dr. Robert A. Clark and Husson University
Published on: November 13, 2018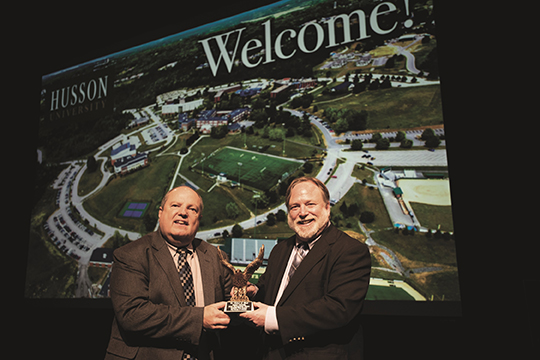 Pictured from left to right, President of Husson University Dr. Robert Clark with Executive Director of Communications and Master of Ceremonies of the event Eric Gordon
BANGOR, MAINE - The Boy Scouts of America - Katahdin Area Council recently presented Dr. Robert A. Clark and Husson University with their Distinguished Citizen Award at their annual dinner at the Anah Shrine in Bangor. The Distinguished Citizen Award is presented to individuals or institutions who have exemplified themselves in outstanding professional accomplishment, and are recognized by their peers as having achieved an exceptional level of leadership and success in their chosen profession. Honorees exemplify the ideals of Scout Oath and Law.
"Recognizing distinguished citizenship delivers a message to our youth that character counts. The lives of distinguished citizens set examples that serve to inspire our youth to lead, to accept responsibility, and to care about principles and causes beyond self-interest. Dr. Clark and Husson University are two examples of outstanding character and humility," said Scott Harvey, scout executive/CEO for the Boy Scouts of America - Katahdin Area Council.
In accepting the award, Dr. Clark talked about how Scouting helped him learn to set goals and achieve results. "As a scout, my troop and I scaled the heights of Mount Katahdin. Working together as a team, we were able to reach the summit. At Husson University, we scale the summit of education by working together to provide students with an outstanding learning environment in a setting that emphasizes character building, compassion, service to others and the importance of social responsibility. We are honored to receive this award."
More About Dr. Robert A. Clark
On January 1, 2010, Dr. Robert A. Clark, CFA, became the sixth president of Husson University. Clark is a Maine native and grew up in Albion, ME. He earned a Bachelor of Arts in Spanish, a Bachelor of Science in business administration, and a Master of Business Administration (MBA) from the University of Maine. In addition, Clark has a doctorate in finance from Purdue University. He is also a Chartered Financial Analyst (CFA).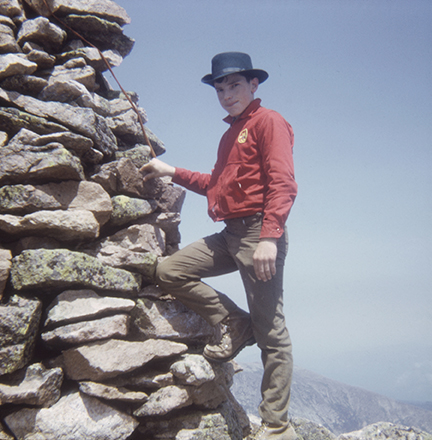 Prior to joining Husson University, Clark was the vice president of strategic initiatives and dean of the Schroeder Family School of Business Administration at the University of Evansville in Indiana. He has also held academic appointments as a faculty member in finance and global business at Butler University; the University of Tampa, and the University of Vermont. In addition, he has served as a U.S. Army Administrative Officer, consultant, pension administrator and controller. Clark has served as a Fulbright Scholar at the Norwegian School of Management and as a guest faculty member at the Business and Economics University in Vienna.  He has published articles on securities market regulation and emerging markets in a number of academic journals.
More About Husson University
For more than 100 years, Husson University has prepared future leaders to handle the challenges of tomorrow through innovative undergraduate and graduate degrees. With a commitment to delivering affordable classroom, online and experiential learning opportunities, Husson University has come to represent superior value in higher education. Our Bangor campus and off-campus satellite education centers in Southern Maine, Wells, and Northern Maine provide advanced knowledge in business; health and education; pharmacy studies; science and humanities; as well as communication. In addition, Husson University has a robust adult learning program. According to a recent analysis by U.S. News & World Report, Husson University is the most affordable private college in New England. For more information about educational opportunities that can lead to personal and professional success, visit Husson.edu.
Back to All Articles