A Carpenters Christmas Brings Holiday Classics to Husson University's Gracie Theatre
Published on: November 28, 2018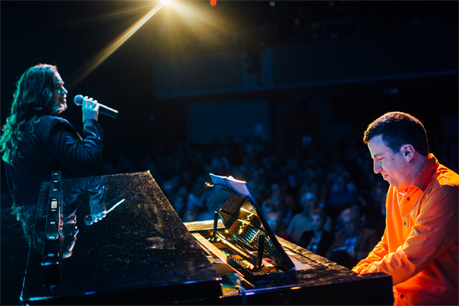 BANGOR, MAINE - Classic hits by The Carpenters and other holiday favorites will be performed by Chicago-based singer, Lisa Rock and her six-piece band at Husson University's Gracie Theatre on Saturday, December 8, 2018 at 4 p.m. and 7:30 p.m. 
While Richard and Karen Carpenter were best known for over a dozen chart-topping hits, they also won over their fans with their interpretations of well-known Christmas melodies. Based on the music of The Carpenters' two holiday albums and variety shows, A Carpenters Christmas features the unforgettable "Merry Christmas Darling," the jazzy "Santa Claus is Comin' to Town," and other Carpenters' classics.
"If you close your eyes, you can hear Karen Carpenter's voice when Lisa Rock sings," notes Jeri Misler, managing director of the Gracie Theatre. "Her renditions capture all of the warmth and joy that were part of these unforgettable songs when they were first recorded."
Rock goes beyond the music in her concert. She draws in the crowd with anecdotes about Karen and Richard Carpenter, their lives, and the backstory behind some of their songs. The performance is so engaging, the audience can't help but sing along as they share in the memories of The Carpenters and their music.
This is the ninth season for the Close to You: The Music of the Carpenters band. To date, they have performed over 250 shows in 39 states. Learn more about them at closetoyouonline.com. They are considered by many to be the best Carpenters tribute band in the nation. 
Tickets for A Carpenters Christmas are $25.50 - $37.00 at GracieTheatre.com or by calling the box office at (207) 941-7888. The Gracie Theatre is located at 1 College Circle in Bangor, Maine.
The Gracie's season is made possible with support from Bangor Savings Bank. The theatre also gratefully acknowledges the generous support provided throughout the season by additional show sponsors including Downeast Toyota, Pepsi and The Dead River Company.
This season, the Gracie is offering a "You Pick 4" plan that allows patrons to sculpt their own season package. When a patron selects any four shows, the prices of each ticket is automatically reduced by 15-20 percent. Patrons who select this plan will be offered individual discounts for some of the other shows in the season, and have their choice of seats in our premium section for the plan shows.
This "You Pick 4" offer is only available at the Gracie Theatre box office by calling 941-7888, or by stopping by the box office located in the Beardsley Meeting House on the Husson University campus. Single show tickets are available at their regular prices. Ticket prices range from $28-49.00 depending on the show and are available by calling (207) 941-7888 or online at GracieTheatre.com.
Completed in October of 2009, The Gracie is Husson University's center for the fine and performing arts. This beautiful 500-seat theatre is considered one of Maine's premier performance venues. In addition, The Gracie also serves as a learning platform for students from the New England School of Communications in digital audio, sound mixing, set design and construction, lighting, acting and electronics.
For more than 100 years, Husson University has prepared future leaders to handle the challenges of tomorrow through innovative undergraduate and graduate degrees. With a commitment to delivering affordable classroom, online and experiential learning opportunities, Husson University has come to represent superior value in higher education. Our Bangor campus and off-campus satellite education centers in Southern Maine, Wells, and Northern Maine provide advanced knowledge in business; health and education; pharmacy studies; science and humanities; as well as communication. In addition, Husson University has a robust adult learning program. According to a recent analysis by U.S. News & World Report, Husson University is the most affordable private college in New England. For more information about educational opportunities that can lead to personal and professional success, visit Husson.edu.
Back to All Articles