Husson University's Women's Philanthropy Council Luncheon Celebrates 50 Years at One College Circle
Published on: October 17, 2018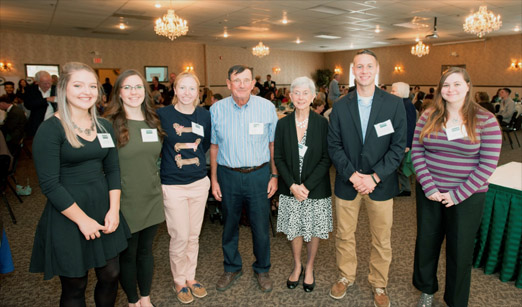 Bangor, Maine - There is often a lot of personal satisfaction associated with giving to others. In many instances, however, donors feel disconnected from the people they help. Philanthropists often send donations to non-profit organizations without ever having the opportunity to meet the people they're helping.
On October 19, 2018, at the Anah Shrine at 1404 Broadway in Bangor from 11:30 a.m. – 1:30 p.m., the Husson University Women's Philanthropy Council will hold an event that changes all of that. During the event, student scholarship recipients will sit at the same tables as their scholarship donors. This will give them the opportunity to say "thank you" to the people who helped make their education possible. The luncheon also gives students the opportunity to learn more about philanthropy and why people choose to "pay it forward" by supporting education.
"This annual luncheon gives scholarship donors the opportunity to meet and learn about the students who are benefiting from their generosity," said Sarah Robinson, vice president for advancement at Husson University. "Both the philanthropists and the young adults in attendance have found this experience to be deeply moving."
This year's luncheon theme is "Yesterday, Today and Tomorrow." Speakers at the luncheon will focus on the impact scholarships have had, and will continue to have, on Husson students. This luncheon is the first of a series of events that will celebrate the 50-year anniversary of Husson University at One College Circle in Bangor.
The speakers include:
Dan Hutchins – Class of 1983. A current member of Husson University's Board of Directors, Hutchins retired after 32 years of service as an audit partner with PricewaterhouseCoopers (PwC). He will share his thoughts on the Husson University of yesteryear and what inspired him to create a scholarship for today's students.


Alyssa M. Murano – Class of 2020. Murano is a junior who is currently enrolled in Husson's Bachelor of Science in Healthcare Studies/Master of Science in Occupational Therapy program. She has been named to the President's List twice and the Dean's List once. Murano is a Carlisle Family Scholarship recipient. She'll talk about her father who studied at Husson University while she was in high school and how she personally witnessed the transformative power of education. His experience and her experiences watching the impact occupational therapy had on her brother inspired her to go into occupational therapy. She'll discuss the Husson University of today and the impact it's making on students pursuing career success at One College Circle. 
Robert A. Clark, PhD, CFA – President of Husson University. Clark will talk about scholarships as they apply to Husson University's vision and values. He will share his thoughts on the growth of scholarships at Husson University and the importance of helping to make education possible for future generations of students.
Mary Hollister, a member of the executive council of Husson University's Women's Philanthropy Council, will serve as the master of ceremonies. In addition to welcoming everyone to the event, she'll talk about why this annual luncheon is so important. Sarah Cary Robinson, Vice President for Advancement, will introduce the speakers.
Last year, nearly 100 student scholarship recipients attended the luncheon. Many of the students present at the luncheon face significant financial challenges. The scholarships they receive help them reach their full academic and career potential. Some of the scholarship recipients would be unable complete their degrees and go on to find personal and professional success without the educational resources provided by donors.
In fact, two out every five first-year Husson students receive Pell Grants. That means that 40 percent of the university's incoming class qualifies to receive need-based financial assistance from the U.S. government to help pay for college. This number increases over time. Forty-five percent of Husson students qualify for Pell Grants at some point during their academic career.[1]
The financial assistance provided by donors helps Husson students complete their education. Instead of spending time working to pay for college, students can instead focus on their studies. This helps students succeed at college and in life.
Two corporate sponsors from last year are helping to make this event possible. They are Bar Harbor Trust Services and the Pepsi Bottling Group. New sponsors helping to make this year's luncheon possible include the Grant Realty Corporation, Floris Properties, John T. Cyr & Sons, Inc., and Freightliner of Maine, Inc.
In addition to supporting the luncheon, Bar Harbor Trust Services helps to manage Husson's charitable gift annuity program. The Pepsi Bottling Group is supporting the construction of a new College of Business building on Husson's Bangor campus.
The luncheon is sponsored by the Husson University Women's Philanthropy Council. Council members are a group of community leaders, alumni and friends of the university, who inspire women to give of their time, talent and resources. They also work to develop women as philanthropists in an effort to benefit today's students, as well as future generations.
For more than 100 years, Husson University has prepared future leaders to handle the challenges of tomorrow through innovative undergraduate and graduate degrees. With a commitment to delivering affordable classroom, online and experiential learning opportunities, Husson University has come to represent superior value in higher education. Our Bangor campus and off-campus satellite education centers in Southern Maine, Wells, and Northern Maine provide advanced knowledge in business; health and education; pharmacy studies; science and humanities; as well as communication. In addition, Husson University has a robust adult learning program. According to a recent analysis by U.S. News & World Report, Husson University is the most affordable private college in New England. For more information about educational opportunities that can lead to personal and professional success, visit Husson.edu.
# # #
[1] Data in the paragraph is from the 2017-2018 academic year.
Back to All Articles