Husson University Hosts Second Annual Women's Student Leadership Summit
Published on: October 17, 2018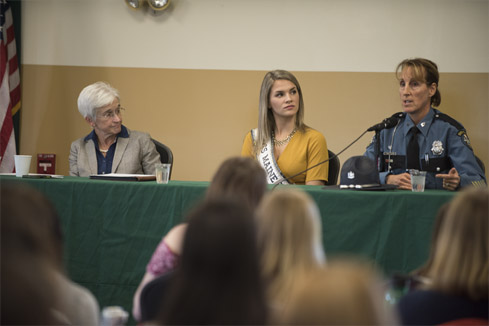 BANGOR, MAINE - Husson's Student Women's Leadership Association and the Office of Student Life will be hosting the second annual Women's Leadership Summit on Friday, October 19, 2018 from 1 - 4 p.m. at the Richard E. Dyke Center for Family Business at 64 Kagan Drive on the University's Bangor. Maine campus. Female students from Husson University, Eastern Maine Community College and Thomas College will attend.
This year's theme is "firsts" and features a panel discussion with three Maine women who broke barriers. Members of the panel include:
Susan Hunter, the first woman president of the University of Maine
Detective Lauren Edstrom, the first woman to be named "Trooper of the Year" by the Maine State Police
Marina Gray, the first woman to be named Miss Maine USA, while serving in the military.
"We are pleased to present our Second Annual Women's Student Leadership Summit," said Pamela Kropp-Anderson, dean of student life at Husson University. "This event is designed to help these young women find their own paths to leadership. The stories that our remarkable panel will be sharing are diverse and powerful."
Each of the individuals on the panel will share their personal stories, talk about their individual paths toward leadership, and take questions from the student audience. The panel will be facilitated by Dr. Lynne Coy-Ogan, senior vice president for academic affairs and provost.
Prior to the panel discussion, students will be participating in a one-hour student leadership training session conducted by Catherine Menyhart, a senior facilitator for Personal Leadership Seminars. Menyhart will be helping students better understand what leadership looks like in young women's lives. She will also strive to help the students in attendance find a few of their own leadership "firsts."
For more information please contact Pamela Kropp-Anderson, Dean of Student Life at kroppandersonp@husson.edu.
About the Husson University Women's Student Leadership Association (HUWSLA)
This new women's student leadership program provides practical skills workshops, leadership training, and networking opportunities.
Starting in their sophomore year, HUWSLA is designed to engage female students in the leadership process. It encourages community action, volunteerism, personal growth and leadership skills while building self-esteem and independence. HUWSLA members must complete two semesters at Husson or transfer to Husson with a minimum of 30 credit hours. They must also have a cumulative grade point average (GPA) of 2.5 or higher and be in good social standing with the institution.

About Husson University
For more than 100 years, Husson University has prepared future leaders to handle the challenges of tomorrow through innovative undergraduate and graduate degrees. With a commitment to delivering affordable classroom, online and experiential learning opportunities, Husson University has come to represent superior value in higher education. Our Bangor campus and off-campus satellite education centers in Southern Maine, Wells, and Northern Maine provide advanced knowledge in business; health and education; pharmacy studies; science and humanities; as well as communication. In addition, Husson University has a robust adult learning program. According to a recent analysis by U.S. News & World Report, Husson University is the most affordable four-year private college in New England. For more information about educational opportunities that can lead to personal and professional success, visit Husson.edu.
Back to All Articles