Homecoming to Include Ribbon-Cutting Ceremony for NESCom Recording Studio
Published on: October 18, 2018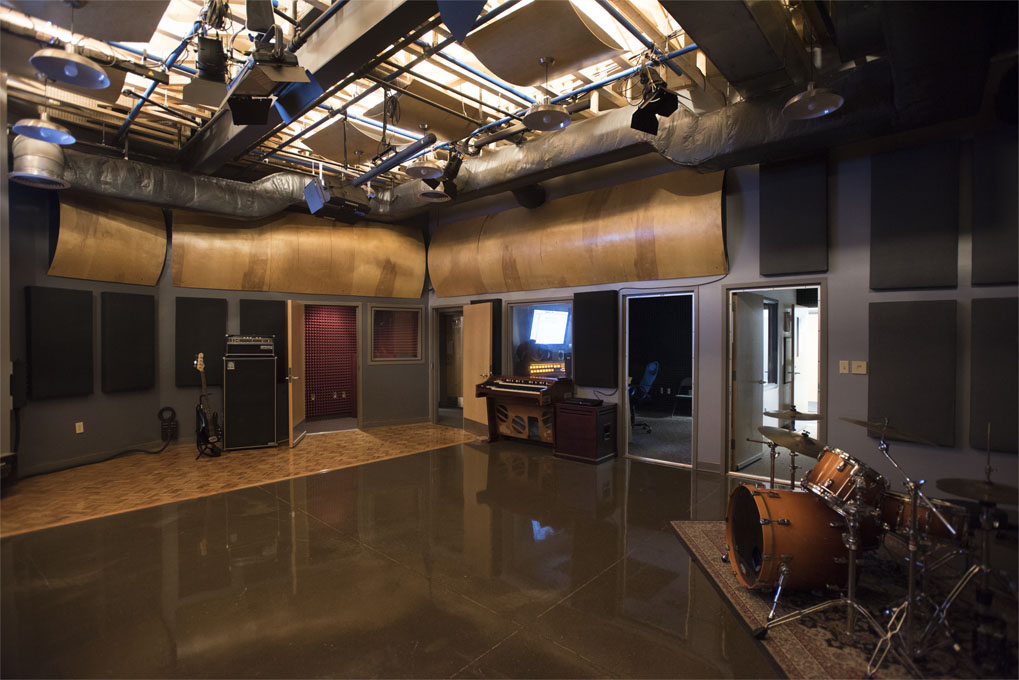 BANGOR, MAINE - Husson will mark the opening of a completely redesigned recording studio at the New England School of Communications (NESCom) with a ribbon-cutting ceremony on Saturday, October 20, 2018 at 9:30 a.m. Members of the public and the Husson University community interested in attending the ceremony should gather at the Wildey Communications Center on the University's Bangor campus.
"Working with Lou Clark, an acoustical engineering consultant from New Hampshire, we were able to add custom-designed sound baffles and diffusers, new lighting, and a refinished floor," said Edward Goguen, assistant professor and academic director for the New England School of Communications. "NESCom has a talented faculty and we've been well-known for years for our world-class technology & equipment. Now we have an impressive recording space to add to that history…and it's all for the students' benefit."                         
The improved sound quality in this new facility will not only enhance the quality of student projects, it will also enhance NESCom students' educational experience. "Husson University is dedicated to experiential, hands-on learning," continued Goguen. "Providing students with the opportunity to learn their craft in professional-grade facilities will help ensure they're fully prepared for the challenges they'll face after graduation."
NESCom alumni can be found in professional recording studios in Nashville, Los Angeles, New York, Maine, and beyond. Their work has earned them Emmy and Grammy awards.
One remarkable aspect to the new design was how inexpensive it was accomplished. While $25,000 was invested in materials and supplies, significant savings were realized through the volunteer efforts of Joshua Small, audio curriculum coordinator and instructor at the New England School of Communications. Without Small's efforts, the cost to redesign this studio could have cost more than $100,000 due to the specialized sound knowledge required from studio designers and contractors.
"Josh built and installed many of the redesigned studio's physical attributes including the sound baffles, diffusers and lighting. His willingness to go above and beyond to enhance the educational experience of our students is commendable and appreciated. Students at Husson University are lucky to have an instructor like Josh who cares so much about their educational experience," said Dr. Marie Hansen, dean of the New England School of Communications.
"While Husson University has small class sizes, we still provide students with a big experience. Students get to learn on the best equipment from faculty who care about their success. The small class sizes ensure that students get the individual attention they deserve," said Lynne Coy-Ogan, senior vice president for academic affairs and provost at Husson University.
The New England School of Communications® (NESCom) prepares students for careers in the broad field of communications. We educate students in the applied technology and content consistent with the platforms that they will be using in their professions. Our instruction is designed to give students the critical knowledge and the technical skills they'll need to be successful in their chosen careers.  
The school is home to approximately 350 students working toward Bachelor of Science degrees in communications technology, mass communications and entertainment production. Students within the communications technology degree may choose a concentration in audio engineering, live sound technology or video production. Individuals pursuing a mass communications degree may choose a concentration in journalism, marketing communications, radio broadcasting or sports journalism.
For more than 100 years, Husson University has prepared future leaders to handle the challenges of tomorrow through innovative undergraduate and graduate degrees. With a commitment to delivering affordable classroom, online and experiential learning opportunities, Husson University has come to represent superior value in higher education. Our Bangor campus and off-campus satellite education centers in Southern Maine, Wells, and Northern Maine provide advanced knowledge in business; health and education; pharmacy studies; science and humanities; as well as communication. In addition, Husson University has a robust adult learning program. According to a recent analysis by U.S. News & World Report, Husson University is the most affordable private college in New England. For more information about educational opportunities that can lead to personal and professional success, visit Husson.edu.
Back to All Articles