Husson University School of Pharmacy to Hold 10th Annual White Coat Ceremony
Published on: September 25, 2018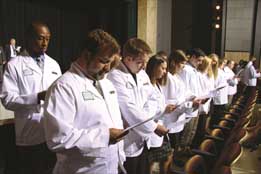 BANGOR, MAINE - Husson University's School of Pharmacy (HUSOP) will be holding a white coat ceremony on October 14, 2018 at 12 p.m. (noon) at the Gracie Theatre. During the ceremony, white medical coats are presented to first-year pharmacy students. This symbolizes the beginning of the professional phase of their studies. 
The white coat ceremony is a tradition that is conducted at schools of pharmacy across the country. The donning of the white coat indicates to the wearer that he or she has earned the right to pursue a Doctor of Pharmacy (PharmD) degree and a career in pharmacy. After receiving their white coats, HUSOP students recite 'The Oath of a Pharmacist' in which they vow to adhere to the highest standards of ethics, integrity and professionalism as they provide service to the community. 
"For the 10th consecutive year, first-year pharmacy students will enter the Gracie Theatre carrying their white coats and exit with them on," said Rhonda Waskiewicz, EdD, OT, the interim dean of Husson University's School of Pharmacy. "This ceremony says to students, 'You have earned the right to pursue this degree and Husson has confidence that you possess the skills and abilities to become successful professional pharmacists.'"  
The ceremony is open to all first-year pharmacy students, their families and guests. Dr. Lynne Coy-Ogan, senior vice president for academic affairs and provost will be present at the ceremony. Husson University School of Pharmacy faculty, administration, and staff will also be in attendance. 
"Becoming a pharmacist is a demanding career path," said Coy-Ogan. "It requires countless hours of study, an in-depth understanding of pharmacy science, and the ability to pass a rigorous national exam to work in the field. The students participating in this white coat ceremony should be commended for their commitment to the profession and their desire to work with the public. At Husson University we fully support students as they work to achieve career success."
The keynote speaker at the white coat ceremony will be Noah Nesin, MD, FAAFP, the vice president of medical affairs at Penobscot Community Health Center (PCHC).
About the Speaker
Noah Nesin, M.D., FAAFP, has been a family doctor in Maine since 1986, first in a private, solo practice and then in federally qualified health centers. He has served as chief of staff at Penobscot Valley Hospital, medical director of Health Access Network in Lincoln, Maine, and chief quality officer at PCHC.
Throughout his career, Nesin has led efforts in evidence-based prescribing practices and in practice transformation to improve efficiency and the judicious use of healthcare resources. He has mentored physician assistants, nurse practitioners, medical students, and family practice residents throughout his career.
Nesin is the current chair of the Academic Detailing Advisory Committee, the body that oversees the Maine Independent Clinical Information Service. He also sits on the Advisory Committee for the Lunder Dineen Health Education Alliance of Maine. Nesin is a member of the Prescription Monitoring Program Policy Advisory Group, a member of the Board of the Maine Public Health Association, and serves on the board of the Dan Hanley Center for Health Leadership. In addition, Nesin served on Maine's Opiate Collaborative in 2016 and is a member of AHRQ's National Integration Academy Council.
About Husson University
For more than 100 years, Husson University has prepared future leaders to handle the challenges of tomorrow through innovative undergraduate and graduate degrees. With a commitment to delivering affordable classroom, online and experiential learning opportunities, Husson University has come to represent superior value in higher education. Our Bangor campus and off-campus satellite education centers in Southern Maine, Wells, and Northern Maine provide advanced knowledge in business; health and education; pharmacy studies; science and humanities; as well as communication. In addition, Husson University has a robust adult learning program. According to a recent analysis by U.S. News & World Report, Husson University is the most affordable private college in New England. For more information about educational opportunities that can lead to personal and professional success, visit Husson.edu.
Back to All Articles