Husson University Integrated Technology Program to Host State Police Drone Demonstration
Published on: September 26, 2018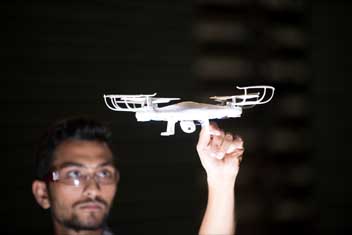 Husson University's Integrated Technology program, one of the state's leading educational programs in computer information systems, software development, and web design and development, will be providing students with an opportunity to learn more about drones and their applications to law enforcement. In addition to speaking with Husson integrated technology students, Major Chris Grotton and Sergeant Darren Foster of the Maine State Police will be demonstrating the use of drones to students in Husson University's Newman Gymnasium on October 4, 2018 from 2 p.m. – 3:30 p.m. The event is only open to Husson students.
"We want to give the students in our integrated technology program the opportunity to explore the ethical, legal, and practical uses of business technologies. This includes drones, 3D printing and robotics," said Laura Gurney, an assistant professor of integrated technology at Husson University. "Bringing experienced technology users to campus, especially those who have been part of the policy-making process, provides our students with in-depth insight that they wouldn't ordinarily be able to obtain." 
Drones, also known as unmanned aerial vehicle or UAVs, have become increasingly popular. More applications are being found for these useful products every year. Understanding the policies and regulations for UAVs in Maine is important for anyone who plans to use these devices professionally.
That's why Husson was delighted to learn that Major Grotton agreed to talk about the process the state went through in order to create policies and regulations about the governmental use of drones. This information will help students better understand the policy development process associated with the use of drones by state government and law enforcement. 
"This exciting new technology is creating opportunities for law enforcement and public safety professionals to perform critical tasks more safely, effectively and efficiently than ever before," said Major Christopher Grotton of the Maine State Police - Support Services Division. "Using this technology requires understanding and sensitivity. It is vital that we carefully balance its value against the valid privacy concerns of the public we serve. We must be good stewards of the public trust. Partnering with stakeholders to ensure that Maine has effective safeguards in place has been, and continues to be, a critical piece of this initiative."
Grotton earned his Bachelor of Science in criminal justice and his Master of Business Administration (MBA) in risk management from Husson University.
More about Husson University's Integrated Technology Program
The Bachelor of Science in Integrated Technology from Husson University is designed to provide students with the skills they need to help organizations achieve business goals by creating computer information systems and new software. The program is also a great platform for students interested in pursuing a career in web design and development. Students gain an in-depth understanding of enterprise software and specialized utility programs. In addition, the hands-on curriculum teaches students to effectively analyze customer needs and develop solutions.
Once enrolled in the program, student learn how to identify issues and problems, collect and analyze data, summarize and present findings, manage projects and create positive client interactions. Graduates of integrated technology program are highly trained professionals with expertise in areas ranging from building direct hardware interfaces to enterprise application development.
More About Husson University
Students interested in learning more about the integrated technology program can visit https://www.husson.edu/college-of-business/school-of-hospitality-sport-and-tourism-management/integrated-technology/ or contact our Office of Admissions at (207) 941.7000 or admit@husson.edu.
For more than 100 years, Husson University has prepared future leaders to handle the challenges of tomorrow through innovative undergraduate and graduate degrees. With a commitment to delivering affordable classroom, online and experiential learning opportunities, Husson University has come to represent superior value in higher education. Our Bangor campus and off-campus satellite education centers in Southern Maine, Wells, and Northern Maine provide advanced knowledge in business; health and education; pharmacy studies; science and humanities; as well as communication. In addition, Husson University has a robust adult learning program. According to a recent analysis by U.S. News & World Report, Husson University is the most affordable private college in New England. For more information about educational opportunities that can lead to personal and professional success, visit Husson.edu.
Back to All Articles