Emmy Award Winner Ed Asner to Perform On Stage at the Gracie Theatre
Published on: September 17, 2018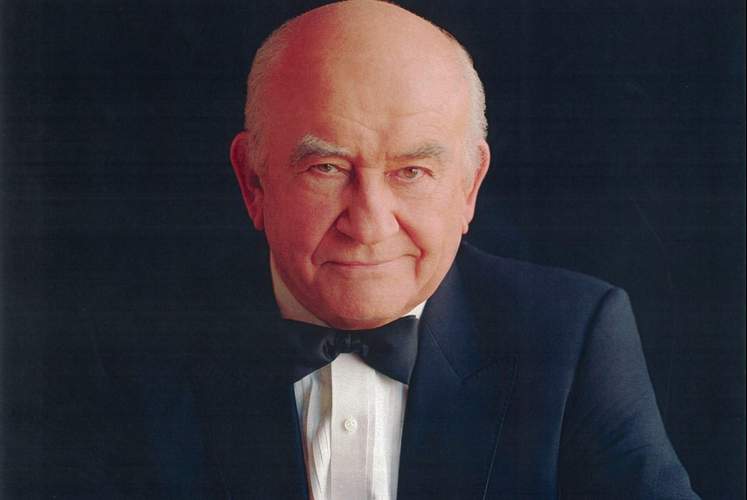 BANGOR, MAINE - The Gracie Theatre at Husson University kicks off its seventh season of shows on October 4 with Ed Asner starring in his one-man show A Man and His Prostate. Asner is best known for his work on The Mary Tyler Moore Show, its spin-off series Lou Grant, his role as Santa Claus in the comedy film Elf, and as the voice of elderly widower Carl Fredricksen in the Pixar Animation Studios' film UP. There is a 1 p.m. matinee performance and a 7 p.m. evening performance.
"A Man and His Prostate is a comedic staged reading, written by and about Ed. Weinberger, that takes one on a journey of pain, anatomy, and laughter - not necessarily in that order," said Asner. Weinberger, a famous screenwriter and television producer, is best known for his work on the Mary Tyler Moore Show (writer and producer), Doc (producer), Phyllis (writer and producer), The Betty White Show (producer), and Taxi (creator, writer, and producer.)
The audience for the matinee performance at 1 p.m. will be a combination of members of the Husson community, invited guests from the Greater Bangor Area medical community, and the general public. The evening performance at 7 p.m. is open to the general public. 
"Having Mr. Asner here on our stage is an incredible honor," says Jeri Misler, managing director of the Gracie Theatre. "When I heard about this show, I knew it would be the perfect fit for Husson since many of our students are in health programs. The show will also delight anyone who grew up watching the iconic Mary Tyler Moore television show."
The performance all revolves around one life-changing week in a foreign hospital. Events that week include a rectal exam, enemas, the fear of post-surgery impotence, and sex after 70.
More About Ed Asner
Ed Asner is a television legend. He is the winner of eight Emmy Awards for his acting and has been nominated 27 times over the course of his 60 years as a television, film and stage performer. Developing his craft in Chicago and New York, Asner established himself as a solid and versatile actor. He was regularly featured in roles on the big screen and in such landmark television series as The Outer Limits, Gunsmoke, The Wild Wild West, Ironside, and Mission Impossible. He has more than 100 television credits.
In addition, Asner made a name for himself as a trade unionist and a political activist. He served two terms as the president of the Screen Actors Guild, from 1981-1985. During this period, he was an outspoken critic of former SAG President and US President Ronald Reagan for his Central American policy. He lives in Los Angeles.
More About Ed Weinberger
The show is based on Ed Weinberger's real-life experiences with prostate cancer. Weinberger began his career in the early 1960s with Dick Gregory and wrote for such diverse comedians as Bob Hope, Richard Pryor and Johnny Carson (for five years on The Tonight Show). He also executive-produced and created Amen, Sparks, and Good News. He has won three Golden Globe Awards, a Peabody, and nine Emmys. In 2000, he received the Writer's Guild of America Lifetime Achievement Award. He lives in Los Angeles.
More About the Gracie Theatre
The Gracie's season is made possible with support from Bangor Savings Bank. The theatre also gratefully acknowledges the generous support provided throughout the season by additional show sponsors including: Downeast Toyota, Pepsi and The Dead River Company.
This season, the Gracie is offering a "You Pick 4" plan which allows patrons to sculpt their own season package. When a patron selects any four shows, the prices of each ticket are automatically reduced by 15-20 percent. Patrons who select this plan will be offered individual discounts for some of the other shows in the season and have their choice of seats in our premium section for the plan shows. 
This "You Pick 4" offer is only available at the Gracie Theatre box office by calling (207) 941-7888, or by stopping by the box office located in the Beardsley Meeting House on the campus of Husson University in Bangor. Single show tickets are also available at their regular price. Ticket prices range from $28-49.00 depending on the show and are available by calling (207) 941-7888 or online at www.gracietheatre.com. 
Completed in October of 2009, the Gracie is Husson University's center for the fine and performing arts. This beautiful 500-seat theatre is considered one of Maine's premier performance venues. In addition, the Gracie also serves as a learning platform for students from the New England School of Communications in digital audio, sound mixing, set design and construction, lighting, acting and electronics. For more information, visit GracieTheatre.com.
For more than 100 years, Husson University has prepared future leaders to handle the challenges of tomorrow through innovative undergraduate and graduate degrees. With a commitment to delivering affordable classroom, online and experiential learning opportunities, Husson University has come to represent superior value in higher education. Our Bangor campus and off-campus satellite education centers in Southern Maine, Wells and Northern Maine provide advanced knowledge in business; health and education; pharmacy studies; science and humanities; as well as communication. In addition, Husson University has a robust adult learning program. For more information about educational opportunities that can lead to personal and professional success, visit Husson.edu.
Back to All Articles