The Gracie Theatre at Husson University Announces Its Seventh Season
Published on: August 7, 2018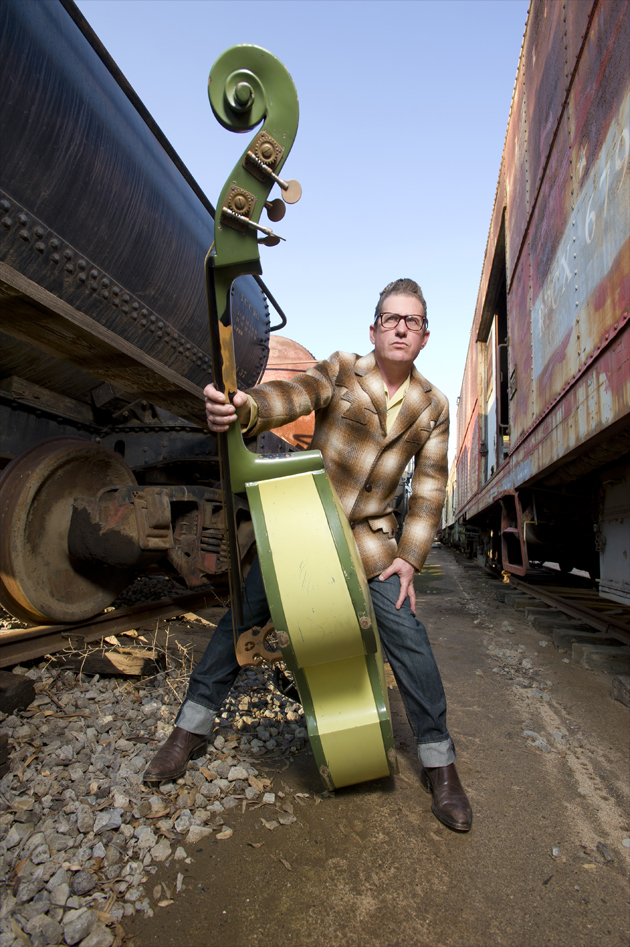 The Stray Cat – Lee Rocker
BANGOR, MAINE - The upcoming seventh season of show at Husson University's Gracie Theatre is shaping up to be its most exciting yet. Together with founding sponsor Bangor Savings Bank, The Gracie kicks off its season on October 4 with Ed Asner starring A Man and His Prostate. Asner is best known for his work on The Mary Tyler Moore Show, its spin-off series Lou Grant, and his role as Santa Claus in the comedy film Elf.
A Man and His Prostate is a compelling comedy. It's based on the true-life experiences of Asner's longtime friend Ed Weinberger, a well-known screenwriter and television producer. The play takes the audience on a journey of pain, anatomy and laughter, although not necessarily in that order. Asner believes that the play has a universal appeal. "Believe it or not, it is just as appealing to women as it is to men," he said.
On Saturday, October 20, 2018, the Gracie will host a performance by The Association as part of this year's Homecoming festivities. Alumni, friends of the university and the public are all welcome to enjoy this performance featuring one of the '60s most successful bands. The Association has sold millions of records. They earned six gold and three platinum records for a variety of cherished hit songs including Cherish, Windy, and Never My Love.
Concert Pianist Michael Hawley will be coming to the Gracie Theatre on Friday, November 3, 2018. Hawley won first place, tying with Victoria Bragin, at the Third International Piano Competition for Outstanding Amateurs, hosted by the Van Cliburn Foundation in 2002.
Hawley's talents extend well beyond the piano. Educated at Yale and MIT, he has held industrial positions at Bell Labs, IRCAM in Paris, Lucasfilm and NeXT. For many years Hawley was the Alex W. Dreyfoos Professor of Media Technology at the Massachusetts Institute of Technology (MIT). In addition, Hawley is an exceptional photographer. His work can be seen in the book Bhutan: A Visual Odyssey Across the Last Himalayan Kingdom.
If you're a fan of the American rockabilly band Stray Cats, then you won't want to miss the solo concert, The Stray Cat – Lee Rocker, on November 10, 2018. Rocker made his mark singing, playing, standing on, spinning and rocking his giant upright bass as part of the legendary, Grammy-nominated band the Stray Cats. The group sold nearly 10 million albums and garnered an astounding 23 gold and platinum records worldwide. As part of this concert, Rocker and his band will perform Stray Cats hits like Sexy and Seventeen, Stray Cat Strut and Rock this Town. He'll also perform a variety of other post-Stray Cat songs that he performed with music legends Ringo Starr, George Harrison, John Fogerty and The Rolling Stones.
As the Gracie season heads into December, many people start thinking about Christmas music. And what would Christmas be without music by The Carpenters? To help kick off the holiday season, The Gracie will host Close to You: A Carpenters Christmas on Saturday, December 8, 2018. Singer Lisa Rock and her six-piece band are keeping The Carpenters' holiday traditions alive with their spot-on renditions of unforgettable Christmas tunes. The concert will feature timeless Carpenters classics like Merry Christmas Darling and Santa Claus is Comin' to Town. With songs that inspire cheer and joy, this concert is perfect for the holidays. 
There will be "mass" hysterical laughter in the house when Late Night Catechism 3: "Till Death Do Us Part comes to the Gracie on February 15, 2019. This is the latest "class" in the sinfully funny Late Night Catechism series. After teaching countless students in the audience about the saints, sins, limbo and more, Sister will be offering up hilarious lessons on the Sacraments of Marriage and the Last Rites, including her own wacky version of the Newlywed Game. Classroom participation is a must so be sure to bring along your significant other, and your sense of humor, for a late night session with America's feistiest couples counselor.
Make plans to rediscover the glorious music of Fleetwood Mac when Rumours, the Ultimate Fleetwood Mac Tribute comes to the Gracie Theatre on March 23, 2019. You'll hear the songs and performances that made Fleetwood Mac one of the most beloved bands of all time. Personally endorsed by Fleetwood Mac founding member, Mick Fleetwood, Rumours, the Ultimate Fleetwood Mac Tribute, recreates the band's legendary persona, in all of its youthful glory.
The season's performances conclude on April 4, 2019 with Black Violin takes the stage. Wil B. and Kev Marcus combine their classical training and hip-hop influences to create a distinctive multi-genre sound. After serving as the house band for the ESPN's hosted 82nd Annual Heisman Memorial Trophy Presentation, the network recently selected Black Violin's track "Stereotypes" to promote the upcoming 2017 U.S. Open. Black Violin is currently writing and recording their next studio album, due out in 2018. The band's most recent record, Stereotypes, debuted at #1 on the Billboard Classical Crossover Chart and #4 on the Billboard R&B Chart. NPR praised the album and band, saying "their music will keep classical music alive for the next generation." Black Violin brings classical music into the 21st century. Parents interested in introducing their children to classical music should definitely consider attending this performance.    
The Gracie's season is made possible with support from Bangor Savings Bank. The theatre also gratefully acknowledges the generous support provided throughout the season by additional show sponsors including: Downeast Toyota, Pepsi and The Dead River Company.
This season, the Gracie is offering a "You Pick 4" plan which allows patrons to sculpt their own season package. Starting August 8, when a patron selects any four shows, the prices of each ticket are automatically reduced by 15-20 percent. Patrons who select this plan will be offered individual discounts for some of the other shows in the season, and have their choice of seats in our premium section for the plan shows. 
This "You Pick 4" offer is only available at the Gracie Theatre box office by calling 941-7888, or by stopping by the box office located in the Beardsley Meeting House on the Husson University campus. Single show tickets are available on August 27 at regular price. Ticket prices range from $28-49.00 depending on the show and are available by calling (207) 941-7888 or online at www.gracietheatre.com. 
Completed in October of 2009, the Gracie is Husson University's center for the fine and performing arts. This beautiful 500-seat theatre is quickly earning a reputation as one of Maine's premier performance venues. In addition, the Gracie also serves as a learning platform for students from the New England School of Communications in digital audio, sound mixing, set design and construction, lighting, acting and electronics. For more information, visit GracieTheatre.com.
For more than 100 years, Husson University has prepared future leaders to handle the challenges of tomorrow through innovative undergraduate and graduate degrees. With a commitment to delivering affordable classroom, online and experiential learning opportunities, Husson University has come to represent superior value in higher education. Our Bangor campus and off-campus satellite education centers in Southern Maine, Wells and Northern Maine provide advanced knowledge in business; health and education; pharmacy studies; science and humanities; as well as communication. In addition, Husson University has a robust adult learning program. For more information about educational opportunities that can lead to personal and professional success, visit Husson.edu.
Back to All Articles