President of Husson University Elected to Board of Council for Higher Education Accreditation
Published on: August 16, 2018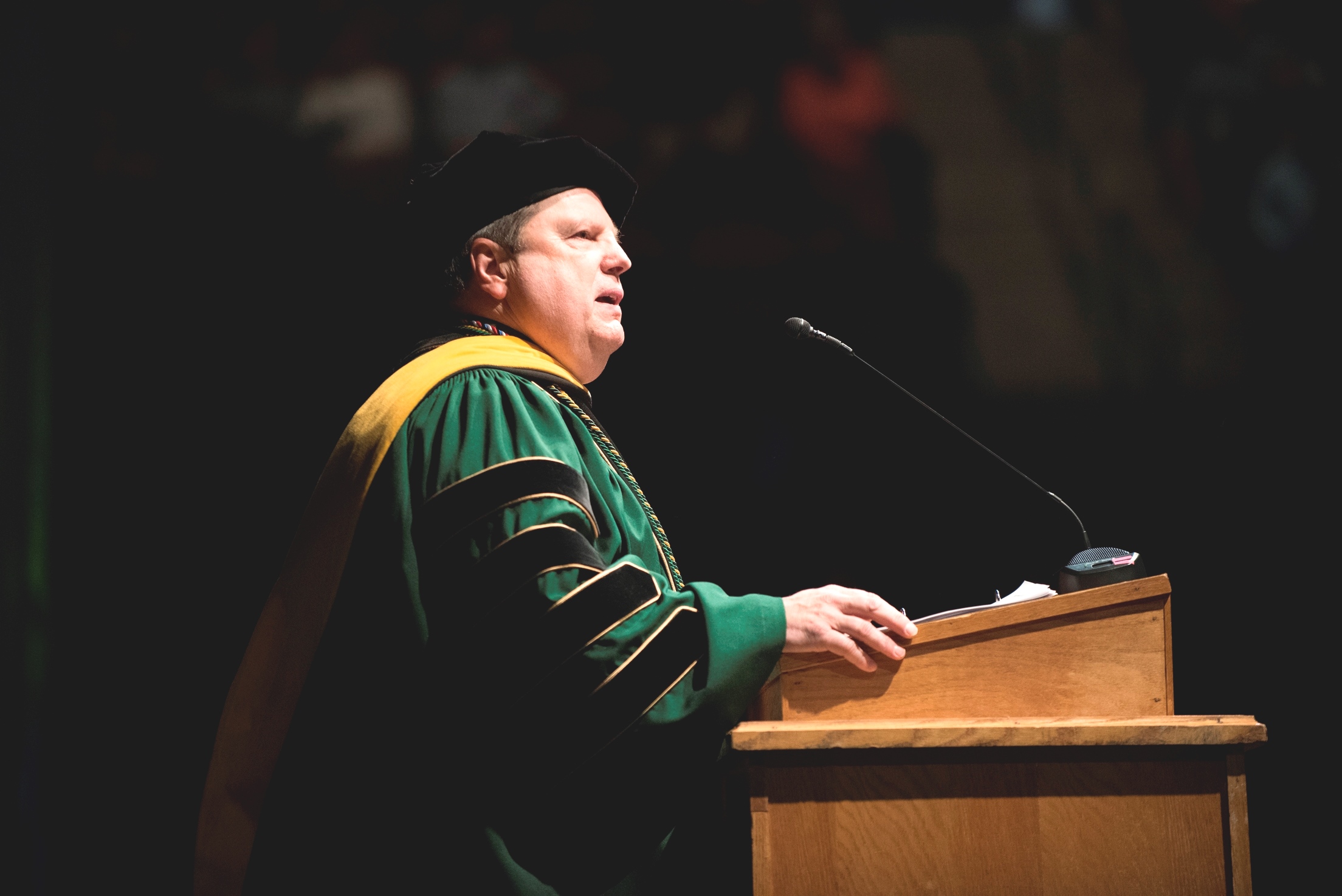 BANGOR, MAINE - Husson University announced today that President Robert A. Clark, PhD, CFA, has been elected to the Board of Directors of the Council for Higher Education Accreditation (CHEA) for a three-year term, effective July 1, 2018.
With headquarters in Washington, D.C., CHEA is a national advocate and institutional voice for promoting academic quality through accreditation. Representing 3,000 degree-granting colleges and universities, CHEA recognizes 60 institutional and programmatic accrediting organizations.[1] It serves as a national voice for accreditation and quality assurance to the U.S. Congress, the U.S. Department of Education, the general public, opinion leaders, students, and families.[2] CHEA also represents the U.S. accreditation community to international audiences.[3] 
As a member of the Board of Directors, Clark will be responsible for reviewing and approving the organization's long-term and short-range plans; providing fiscal oversight; recruiting, orienting and developing new board members; hiring and evaluating the performance of the CHEA president; evaluating organizational performance; and establishing policies that help effectively manage the organization.
"I'm honored to be elected as a member of the CHEA board," said Clark. "As a member of the Board, I look forward to advancing the importance of accreditation at colleges and universities nationwide. It's important that all colleges and universities be held accountable for meeting quality standards. The public deserves to have consistent, reliable information about academic quality and student achievement in order to make informed educational choices."
What is Accreditation?
Accreditation in higher education is a collegial process of self and peer review designed to improve academic quality and public accountability of institutions and programs.[4] This quality review process occurs on a periodic basis, usually every 3 to 10 years. It involves three major activities: a self-study by an institution or program using the standards or criteria of an accrediting organization, a peer review of an institution or program to gather evidence of quality, and a decision or judgment by an accrediting organization to accredit, accredit with conditions or not accredit an institution or program.[1]
"Accreditation is more important than ever in every facet of higher education," said CHEA President Judith Eaton. "We are grateful that individuals like Dr. Clark serve on the board of directors and play an important role in helping CHEA address the critical issues ahead."
Dr. Robert A. Clark is the sixth president of Husson University. He is a Maine native having grown up in Albion, Maine. Clark earned a Bachelor of Arts (BA) in Spanish, Bachelor of Science in business administration, and an MBA from the University of Maine. He earned his PhD in Finance from Purdue University. He is also a Chartered Financial Analyst (CFA).
Clark's assignment prior to his appointment at Husson was as vice president of strategic initiatives and dean of the Schroeder Family School of Business Administration at the University of Evansville in Indiana. He has also held academic appointments as a faculty member in finance and global business at Butler University; the University of Tampa, and the University of Vermont. In addition, Clark has served as a U.S. Army administrative officer, consultant, pension administrator and controller. He has also served as a Fulbright Scholar at the Norwegian School of Management and as a guest faculty member at the Business and Economics University in Vienna. Clark has published articles on securities market regulation and emerging markets in a number of academic journals.
The Council for Higher Education Accreditation (CHEA) serves higher education, students and the public through advocacy and leadership in assuring academic quality through accreditation. CHEA's members are accredited degree-granting colleges and universities. CHEA recognizes institutional and programmatic accrediting organizations in the United States. For more information, visit CHEA.org.
For more than 100 years, Husson University has prepared future leaders to handle the challenges of tomorrow through innovative undergraduate and graduate degrees. With a commitment to delivering affordable classroom, online and experiential learning opportunities, Husson University has come to represent superior value in higher education. Our Bangor campus and off-campus satellite education centers in Southern Maine, Wells, and Northern Maine provide advanced knowledge in business; health and education; pharmacy studies; science and humanities; as well as communication. In addition, Husson University has a robust adult learning program. According to a recent analysis by U.S. News & World Report, Husson University is the most affordable private college in New England. For more information about educational opportunities that can lead to personal and professional success, visit Husson.edu.
[1] Ibid
[1] Council for Higher Education Accreditation, "Accreditation and Recognition: CHEA at a Glance," https://www.chea.org/about
[2] Ibid
[3] Ibid
[4] Ibid
Back to All Articles