Husson University Part of Prestigious National Initiative to Support Teaching and Learning
Published on: August 27, 2018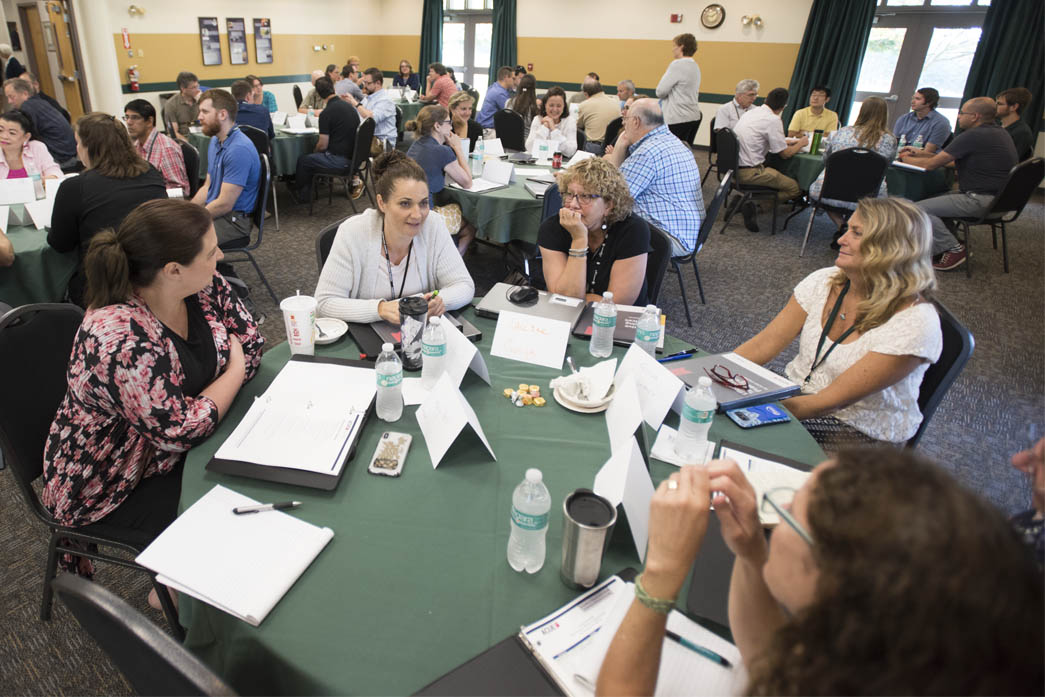 Husson University announced today that they were only one of 26 colleges across the country selected by the Council of Independent Colleges (CIC), in partnership with the Association of College and University Educators (ACUE), to join the national Consortium for Instructional Excellence and Career Guidance. This new initiative is preparing up to 500 faculty members to use evidence-based teaching practices shown to promote student success while embedding career guidance into their existing courses.
The initial training session for Husson faculty took place at the Richard E. Dyke Center for Family Business on Monday, August 27, 2018 from 8:30 a.m. to 11:30 a.m.
"A grant given to Husson University allowed us to provide this training to a variety of faculty members," said Dr. Lynne Coy-Ogan, Husson University's senior vice president for academic affairs and provost. "We were honored to provide our faculty with access to this nationally recognized program."
The program was designed to help faculty in multiple disciplines enhance their instructional skills. These enhanced skills will then be used to improve Husson students' motivation, learning, and persistence. Faculty members that successfully met the program's requirements earned a nationally recognized Certificate in Effective College Instruction that is co-endorsed by ACUE and the American Council on Education (ACE). This training session and those at the other 25 colleges and universities were made possible by a $1.2 million grant from the Strada Education Network.
Fifty-three Husson faculty members will participate in this professional development series during the 2018-19 academic year. The program includes 25 online modules across five units of study which are aligned to ACUE's Effective Practice Framework.
"Having been selected to receive this special grant is a testimony to Husson University's dedication to providing students with an outstanding education at an affordable price. Being able to bring this grant funded program to our campus highlights our faculty's commitment to teaching and its critical role in improving the student learning experience," said Dr. Robert A. Clark, CFA, president of Husson University.
ACUE's courses in effective teaching practices are based on more than three decades of research that shows how effective teaching improves learning for all students. Elizabeth Vigue, the Coordinator of Curriculum and Assessment at Husson University, was the course facilitator on August 27. She led the participating faculty through 25 learning modules and mentored them in the use of their new skills.
Aligned with the latest research in cognition and adult learning, ACUE's courses address over 200 evidence-based teaching practices, covering how to design an effective course; establish a productive learning environment; use active learning techniques; promote higher-order thinking; and utilize assessments to inform instruction and promote learning. One of the course modules, "Embedding Career Guidance," helped faculty member learn how to provide frequent, course-embedded information about specific careers.
"Husson University prepares our graduates to be work-ready on day one. Being able to provide our students with information about specific careers, as part of our classroom instruction, will help ensure they're going into the professional field that's best suited to their skills and interests. As Northern New England's premier professional educator, we want to do everything we can to make sure our students achieve career success," concluded Coy-Ogan.
The Association of College and University Educators (ACUE) believes that all college students deserve an extraordinary education and that faculty members play a critical role in their success. In partnership with institutions of higher education nationwide, ACUE supports and credentials faculty members in the use of evidence-based teaching practices that drive student engagement, retention, and learning. Faculty members who complete ACUE courses earn certificates in effective college instruction endorsed by the American Council on Education. ACUE's Community of Professional Practice connects college educators from across the country through member forums, podcasts, and updates on the latest developments in the scholarship of teaching and learning. To learn more, visit acue.org. 
For more than 100 years, Husson University has prepared future leaders to handle the challenges of tomorrow through innovative undergraduate and graduate degrees. With a commitment to delivering affordable classroom, online and experiential learning opportunities, Husson University has come to represent superior value in higher education. Our Bangor campus and off-campus satellite education centers in Southern Maine, Wells, and Northern Maine provide advanced knowledge in business; health and education; pharmacy studies; science and humanities; as well as communication. In addition, Husson University has a robust adult learning program. According to a recent analysis by U.S. News & World Report, Husson University is the most affordable private college in New England. For more information about educational opportunities that can lead to personal and professional success, visit Husson.edu
Back to All Articles