On a Husson campus far, far away from South Korea, there were PAINT WARS
Published on: July 25, 2018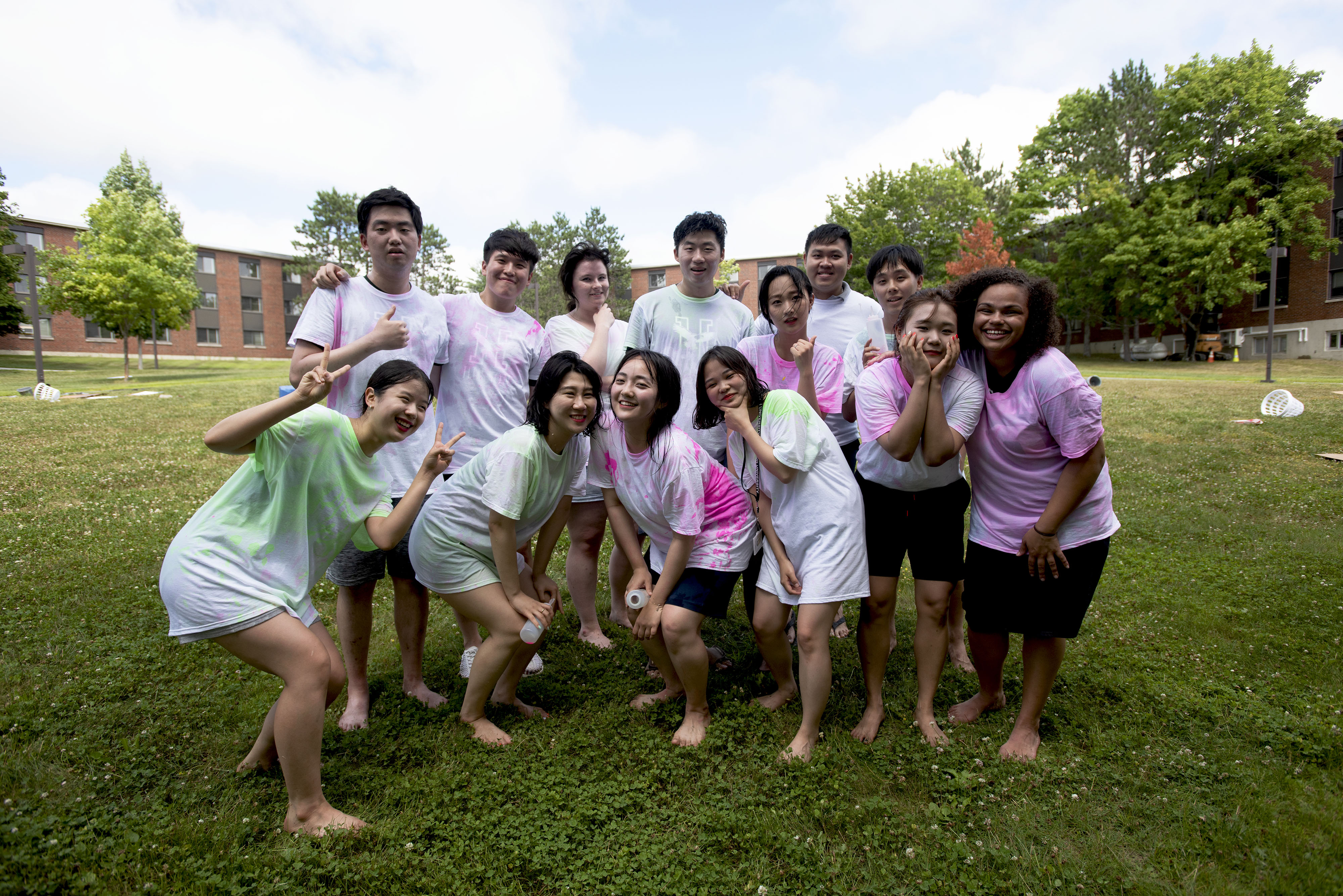 BANGOR, MAINE - In Seoul, South Korea, television viewers used to tune in every week to a program called the Infinite Challenge. During its heyday, 13 - 17 percent of Korean television viewers watched this show every Saturday night.[1]It was the most-watched free-to-air television program on Saturday evenings, and the most viewed non-drama program in South Korea every week.[2]
Infinite Challenge was largely unscripted. Filmed in almost-secrecy, it followed a similar format of challenge-based reality television programs.[3]Unlike American-based reality television, the challenges were often ridiculous or impossible to achieve.[4]As a result, the program was considered more of a satirical comedy.[5]
In the spirit of the Infinite Challenge, Husson University held a paint war competition on their Bangor campus with the students of Kookmin University in Seoul, South Korea on Wednesday, July 25, 2018. The Kookmin students are visiting Husson as part of the University's Summer English Enrichment (SEE) program.  
A paint war is similar to a massive water balloon fight. The students were given white shirts to wear and then split into two teams - a red team and a blue team. The red team had balloons filled with red dye while the blue team had balloons filled with blue dye. The goal of the game was to cover the opposing team in your team's color. The team whose color was most prevalent when time expired, won the competition.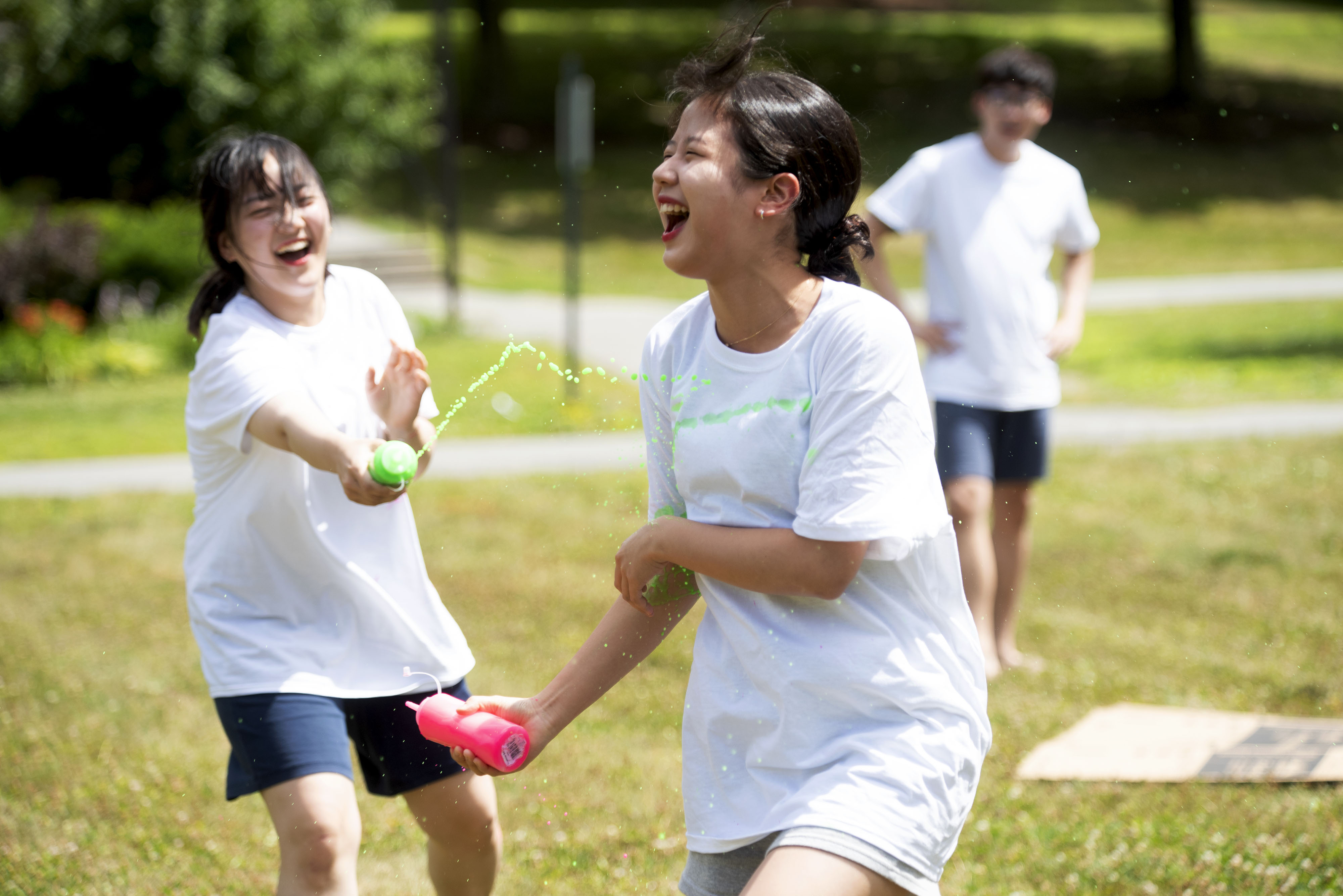 "This event was fun to watch and even more fun to participate in," said Shariena Hill, coordinator for Husson University's Summer English Enrichment (SEE) program. "Besides giving students from South Korea the opportunity to improve their language skills and learn about America, the SEE program also provides members of our Husson University community with an opportunity to learn more about Korean culture. Our paint war was a taste of the Infinite Challengehere in America."
On Friday July 27, 2018, at 7 p.m. in the G. Peirce Webber Campus Center in Peabody Hall, Husson University will be hosting an evening gala for the Kookmin University students that marks the conclusion of the program. With a black, white and gold theme, the students will be presented with certificates of completion in diploma covers, along with gold tassels for graduation mortarboards. Students will also receive white roses as tokens of friendship. Husson University staff who participated in the SEE program will deliver speeches as part of the event.
More about the SEE Program
This year, 11 students from Kookmin University in Seoul, South Korea participated in Husson University's Summer English Enrichment (SEE) program. The program focused on providing these students with opportunities to improve their English-language skills and learn more about America. The SEE program began on July 8 and will run through July 28. 
Students who participated in Husson's SEE program spent three hours each morning studying English in a traditional classroom setting. In the afternoon, they participated in activities that allowed them to put their English skills to use as they learned more about U.S. culture, customs and traditions.
Activities included everything from everyday experiences like riding the bus, visiting restaurants, and shopping, to taking in some of the sights at Acadia National Park and Bar Harbor. During their stay, students had the opportunity to visit Freeport and Old Orchard Beach. 
The SEE program is part of an ongoing exchange program partnership with Kookmin University. Kookmin is a private university located in Seongbuk-gu, Seoul, South Korea. It is the sixth largest university in Seoul with over 18,100 students, 1,700 faculty members and an administrative staff of 440 people. This is the fifth anniversary of the SEE program at Husson University.
The Office of International Initiatives at Husson University helped create the SEE program and the partnership with Kookmin University. Initiatives like these are an important part of today's college experience. Students who develop cultural understanding and sensitivity have a better chance of achieving success in today's multinational global economy.
For more than 100 years, Husson University has prepared future leaders to handle the challenges of tomorrow through innovative undergraduate and graduate degrees. With a commitment to delivering affordable classroom, online and experiential learning opportunities, Husson University has come to represent superior value in higher education. Our Bangor campus and off-campus satellite education centers in Southern Maine, Wells and Northern Maine provide advanced knowledge in business; health and education; pharmacy studies; science and humanities; as well as communication. In addition, Husson University has a robust adult learning program. For more information about educational opportunities that can lead to personal and professional success, visit husson.edu.
…and may the paint be with you, always.
---
[1]"Infinite Challenge," Wikipedia, https://en.wikipedia.org/wiki/Infinite_Challenge
Back to All Articles